Driving down Capitol Boulevard recently you may have noticed a gap in the trees near the intersection of Capitol and Tumwater Valley Drive. No, this isn't another big box drive-thru going in or new hotel, it's part of an intentional and well-planned revitalization of the old Olympia brewery district. John Bourdon, owner of Sandstone Distillery, is at the forefront of this new venture, a dream he's been actively pursuing for the past five years.
"We're always looking at what's going to be next. We moved into our current space and it felt huge, but we knew we were going to outgrow it," John shares. "So where do we want to be next? There are many places, but nothing is as cool as the old brewery."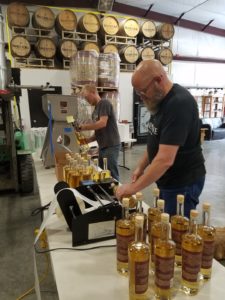 Most people would agree, the old Olympia Brewery has deep roots in our community and most are eager for it to come back to life. However, John quickly found this was no easy task. First, he explored the original buildings at the base of Tumwater Falls but found it was not economically feasible for Sandstone to restore them. But John didn't give up on his idea. The cellars building next to the Schmidt House looked promising too."I thought what we could do would be like Pike Place Market, open year-round with great views. That was my vision," he says. But with the lease in hand he realized it was more than he could take on as an independent small business owner.
Persistence may be John's middle name because he didn't let this knock his idea down. The administrative buildings for the Olympia Brewery were next on the list. Unfortunately, they contain large amounts of asbestos and the current owner hasn't even begun the process to mitigate them. Scratch that idea, too.
Last, John explored the warehouse buildings in the valley near the train tracks. "Get some water to them and they are good to go. There's even one with an elevator," he explains. "We would move there tomorrow if we could." But, when former owner, The Miller Brewing Company, left the site they took the railroad crossing privileges with them so the public can't even access the space without a large amount of money being spent to change these regulations.
This story, however, has a happy ending. Or, rather, it is a happy ending just beginning to be written. After a chance meeting with John Peters of the Craft District, LLC, Sandstone Distillery was offered a proposition they just couldn't refuse. A premier ten-acre parcel of land bordering Capitol Boulevard was being purchased by the development group who wanted to do something different. Instead if a chain or big-box store, the Craft District, LLC is committed to bringing back the spirit and history of the original brewery district with Sandstone Distillery as the anchor.
Even at their current location outside Tenino, Sandstone has shown strong ties to the history of this area. Local historical pieces are showcased in their tasting room with an education for anyone willing to listen. The new space on Capitol Boulevard will allow them to expand on this and coordinate with the Olympia Tumwater Foundation to share more. "It's going to be bigger and better than what we have because they have thousands of documents and other artifacts. Right now, the Foundation just doesn't have a place to display them."
The plan is to have exhibits rotate in the new distillery every three or four months, giving the public a place to learn about the brewery districts' history.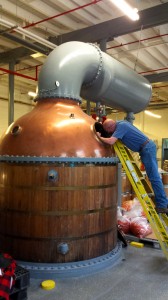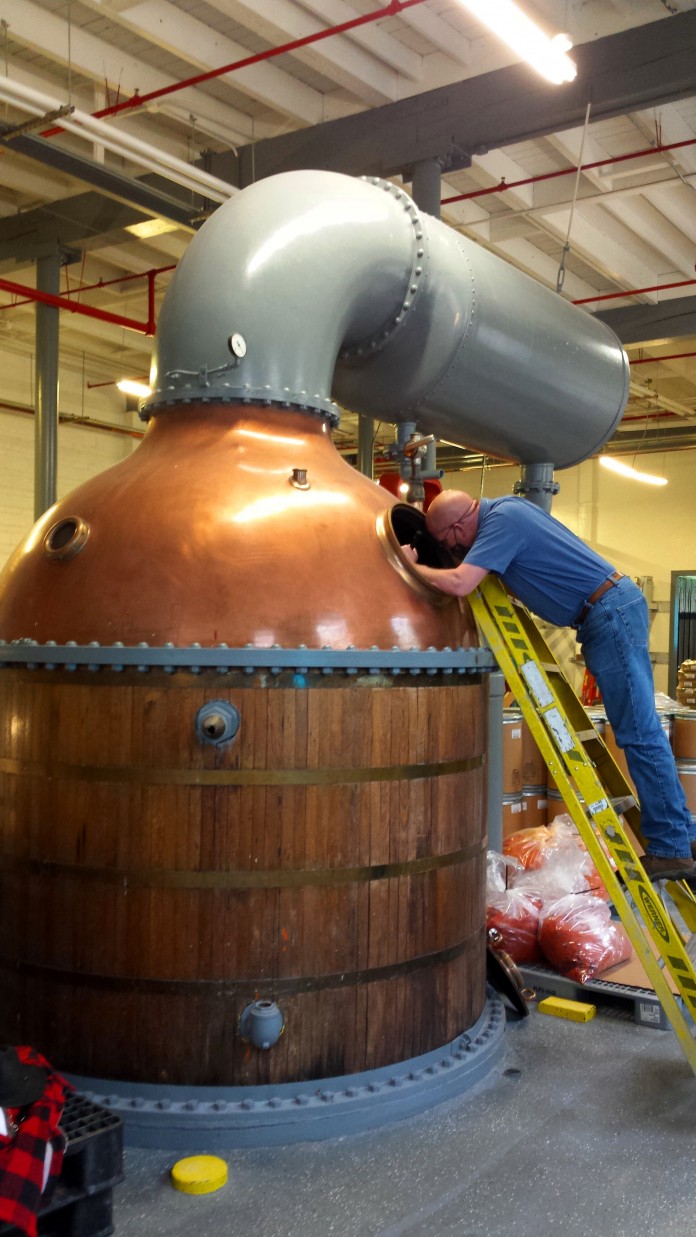 The centerpiece will be a giant still dating back to the 1940's from the I.P. Callison & Sons Mint Factory of Chehalis, which John is planning to restore. (Full story here)
The buildings in the new Craft District will house not only Sandstone Distillery, but also a local brewery, a bistro, cidery, shrubbery and an outdoor amphitheater. "It's going to be this amazing thing and every time we turn around, it's going to be something even better," John enthuses. The City of Tumwater has been actively involved in the restoration of this district and they have engaged not only local, but also state and federal partners in this project. Fortunately, the old Brewhouse on the shores of Capitol Lake is now in the possession of the City of Tumwater, and they are leveraging all resources in their efforts to restore this historic site.
Making this move is a big step for Sandstone and with it comes a lot of added expense. John decided to involve the community in the investment with his Click-A-Brick campaign. "The reason we chose this route is because we aren't looking for a hand-out, but we do need some help. And the more we thought about it and heard people's stories from the Olympia Brewery, we knew this was a good fit."
Designed to allow the community to be an integral part of the revitalization project, Sandstone has two different bricks that are available for individuals or businesses to purchase and will be displayed both inside and outside the new building. "We're not just asking for money. It's a $100 brick that most everyone can participate in. You can go back to this for years with your children and say, 'We helped bring this back to life.'" The outdoor bricks will be laser-engraved, and the indoor bricks will feature an engraved brass plate.
Sandstone Distillery has even trademarked the phrase "It's STILL the Water" and plans to create something special and reminiscent of the past in the precious few original Olympia Beer barrels the Foundation had in their possession. "As a matter of fact, I have the original beer recipe. It's dated 1896, before the original brewhouse was even built," John shares. Sandstone plans to use that recipe to make their new flagship spirit, Olympia Whiskey.
Although ground has just broken on the project, John says the goal is to be moved in and open to the public before next year's Artisan Brewfest. "I believe with this complex, it will light a fire under other people to keep doing more to bring this area back to life," he says. "It's all about family and history. This business is something I can hand down that my son loves and enjoys too. And, with any luck, it will be handed down through generations to come and continue to be a part of the community for a long time."
Sandstone Distillery
842 Wright Rd. SE in Tenino (for now!)
360-264-1901
Sponsored