When Natasha Beale was growing up as the granddaughter of Madelin White, owner of Merle Norman Cosmetics, Wigs, and Day Spa, she had no idea one day she would be working in the business.
Natasha, a Timberline High School graduate, is now 23 and manages the Merle Norman side of the salon. In fact, when Natasha first started working at Merle Norman, Madelin says she could hardly get her to wear any lipstick. "I said some day you're going to come through here and you're going to wear the brightest lipstick there ever was, trust me. And she does."
It's because of her own experiences and how far she's come that Natasha finds working here so amazing. "Helping women feel better about themselves, whether it's a new mascara or a full face of new cosmetics, makes you feel better because you're making them feel good about themselves."  And these aren't just clients to her. Natasha says they become more like friends or family.  Sometimes even with multiple generations visiting the Lacey store. For Natasha, it's these close relationships that are valued above all else. "It's honestly the clients. I heard my grandmother say that my entire life, and I never really understood it until after working here about a year," Natasha explains.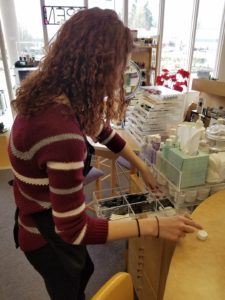 Aside from the wonderful people, it's also about the wonderful products. Merle Norman Cosmetics, Wigs, and Day Spa has been a fixture in this community for over 40 years and offers a full range of make-up and skin-care items. Natasha says she's lucky in her position because she gets to play with all different kinds of make-up on a variety of faces. "I love the creation. I definitely find that makeup is an art and I definitely love doing the makeovers. The longer I've worked here, the more and more I love it here."
Whether you want to try a different shade of lipstick, face moisturizer, or get a whole new look for a special event, Natasha and the whole Merle Norman team is here to help. With free makeovers and an assortment of looks that can be created, Merle Norman Cosmetics, Wigs, and Day Spa is the place to go.
Don't forget to check out their three awesome hair dressers & massage therapist!  They have a full line of wigs and hair pieces.
Merle Norman Cosmetics, Wigs and Day Spa
3925 – 8th Ave SE in Lacey
360-491-4911
Sponsored