Step through the doors of newly opened Tipsy in downtown Olympia and you'll wonder if you were magically transported to your favorite bar in New Orleans.  Without needing to leave the city limits, you can sip a hurricane-inspired Perfect Storm and wrap your lips around a Cajun chicken po'boy, all the while listening to favorite tunes from the piano bar.
It's time to relax and unwind. No need to hurry. Bring your friends. Tipsy is a pleasing addition to our area's culinary choices and it's right downtown.
Owners Jenna and Jonas Rodriguez love New Orleans. They've created many of their favorite memories there. Spending time at Lafitte's Blacksmith Shop Bar reminded them that is possible to have good food, great cocktails and a welcoming atmosphere that encourages people to linger – all in one location. Co-owners Jerry and Malissa Antonelli shared their enthusiasm and vision. The four developed a partnership that has been planning, organizing, painting, installing and making ready Tipsy, located at 514 Capitol Way, next door to Batdorf and Bronson. You'll find thoughtful decorations from Art House Designs and pieces from The Olympia Furniture Company.
A little over three years ago the Rodriguez' were living in Albuquerque, New Mexico. Jenna was in school studying for her psychology degree and Jonas was working in the film industry. He was in the art department doing set decoration for the popular show Breaking Bad. Hours were long. They thought, "Let's do something together."
They considered moving to New Orleans, but after a detour to Olympia, they decided to stay. They liked what they saw and found the community very friendly. The two couples met here and became friends. As the idea of moving ahead with a bar evolved, Tipsy began to come into focus.
Let's start with the drinks. Tipsy has created thirty-one signature cocktails, all original recipes. Bar Manager Chris Waggoner has made a plethora of syrups to satisfy many tastes. Liqueurs from Salish Sea Organic Liqueurs are incorporated into a number of their beverages. Find peppermint liquor in the Man Called Jonas or the honeybush liquor in the Moscow HoneyBerry. There's a Tipsy version of the classic Manhattan named La Louisiane. It's rye whiskey and sweet vermouth but with Benedictine and Creole bitters and an absinthe rinse. Maybe you are in the mood for an adult daiquiri slushy. Three machines are swirling behind the bar. The magnificent wooden bar was designed and installed by Jerry himself.
You'll get hungry at Tipsy, too. Bar snacks are available (check out the sweet potato fries and more). But, there is also a menu of full meals. With the help of chef Joe Rubio, there's soulful southern food. There's a lively jambalaya (with a vegetarian option) and a red beans and rice that is vegan friendly.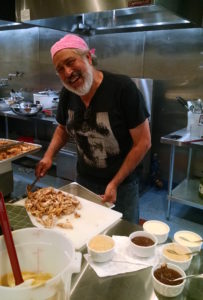 It's full-on comfort food with options like meatloaf and fried shrimp po'boy sandwiches and a fresh catch of the day. Jonas is especially excited about the green chili cheeseburger. The green chilies come from his aunt's business called Paulita's. She roasts Hatch green chilies, a New Mexican speciality, and you can order from her on line. But, you can get your first taste at Tipsy.
Did I mention desserts? How about a piece of moist, spicy humming bird cake or a slice of that southern classic chess pie? So many choices. You'll just have to go more than once.
We live in an interesting world. A portion of most days includes time with various screens. Nevertheless, we desire connections that are truly face-to-face. The popularity of smallish neighborhood bars and eateries reminds us that taking time to eat and to be together is integral for optimal living. Tipsy fits the bill. Let them do the cooking, you catch up with friends and family. They even do the dishes.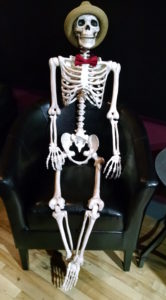 When I'm traveling, which is frequently, I often go to a bar and peruse the cocktail menu, searching for a mixture that tempts my taste and mood. Then I like to check out the bar food menu. How nice to have a new option right here in my own town.
Tipsy is way closer than New Orleans! I'll likely run into someone I know or some friend I just haven't met yet. Ask piano player Larry Hill to play your special song. Smile and enjoy.
Laissez les bons temps rouler.
That's Cajun French for 'Let the good times roll.' Sounds good to me.
Tipsy's grand opening is August 10, 2017. Tipsy is open 2:00 p.m. to midnight Monday through Saturday and until 10:00 p.m. on Sundays. Remember metered parking downtown is free after 5:00 p.m. and on the weekends.
Sponsored