It's a tale as old as time, song as old as rhyme, beauties and beasts of Thurston County are about to hit the streets! Hundreds of pets and their owners are expected, in costume, to prance through downtown Olympia for this year's Pet Parade. The 88th annual event's "Beauties & Beasts" theme is sure to impress spectators with music, creative ensembles, and variety of animals on display on August 19.

Local 4-H groups started the parade in 1929 as a fun, creative way to show their pets to the community with an early title of the "Pet and Doll Parade." This parade continued for almost a decade when The Olympian became the official host of the event in 1939. Since it's humble beginnings, the parade has grown exponentially by including annual themes for costumes and a growing number of participants of all shapes, sizes and species.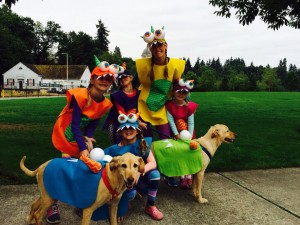 While some costumes are purchased, many of the outfits and floats are created meticulously by hand to fit the annual theme perfectly. For many community members, this is an event they prepare for months in advance to make the best possible costume to display for the contest. It's a tradition of animal pageantry in downtown Olympia that can't be missed.
Each year, local businesses partner as sponsors for the parade, offering prizes for the most custom created costumes. "There are five grand prizes, each valued at $250 and 36 additional prizes," explains The Olympian's strategic account executive, Karen McClennen. With this year's theme of Beauty and Beasts, the parade is sure to be chalk full of prize winning costumes and floats that display a wide variation on the theme.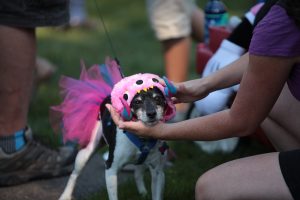 Judges include selected community members that enjoy doing the job so much that they return to the task time and time again. "As a judge for the last two years, I learned from talking with participants how beloved this parade is," explains Becci Welsh. "Many people travel from out of town, even out of state, to participate. Each year has a new theme and families spend a great deal of time and creativity on the costumes. With ice cream sponsored by the Olympia Downtown Association, it is well worth attending."
The costume contest and parade have some necessary guidelines participants should be aware of. "Keep pets under control at all times," describes McClennen. "Participants should bring water for their pets before and after the parade and pick up after their pets. The only restrictions are no motorized/battery vehicles are allowed and no commercial entries or politicking."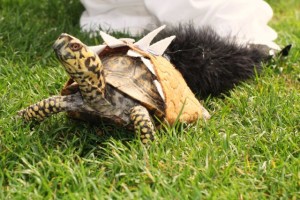 Three years ago, The Olympian added a reader contest to the Pet Parade urging kids in the community to submit an original design to represent the annual theme. The winner's artwork is used for event t-shirts, ribbons and given a cover feature in the newspaper. This year's winner, JamiEllen LeDuc, age 12, received a $50 gift card for her incredible entry.
This year's event will begin staging at 8:00 a.m. at Heritage Park. The official parade starts at 10:00 a.m. and ends triumphantly at Sylvester Park. From there, prizes, ice cream and goody bags will be given out to the parading participants for their efforts. Spectators are encouraged to come early to scour a prime location for the best view from the sidewalks.
Thrifty Thurston highlights inexpensive family fun in Thurston County. The weekly series focuses on family-friendly activities throughout our community. If you have a suggestion for a post, send us a note at submit@thurstontalk.com. For more events and to learn what's happening in Olympia, Lacey, Tumwater and the surrounding area, visit our complete events calendar.