Keith Edgerton loves sports, spending his free time surfing, kayaking, swimming, paddle-boarding, hiking and cycling. For the last three years he has coached the high school girls' team for the Olympia Lacrosse Club. For many of us, it is hard enough to motivate ourselves to hit the gym a couple times per week, so Keith's dedication to living an active lifestyle is admirable. What makes it even more remarkable is that twelve years ago he became legally blind.

Keith was born with a degenerative disease called Retinitis Pigmentosa. He only has half of the one-hundred-twenty-million rods most of us have, affecting his night and peripheral vision. He describes it as if he were looking at the world through a milkshake straw. He says, "People assume everything is blurry, which is a misconception. Ninety-percent of those who have vision impairments have some amount of vision left. Only ten-percent are fully blind."
When Keith had to stop driving, it was a serious blow to his sense of self. He explains, "I just couldn't picture what it would be like not to drive. I was a single parent, and I lived eight miles from town…but it ended up being the best thing that ever happened to me, figuring out how to live without driving. It's been hard at times…I've felt despair, but it's also brought a real richness to my life."
In order to make the lifestyle changes necessary to remain independent, Keith did a year's worth of mobility training through the state of Washington. He says, "I did it completely blind, wearing occluded glasses and using a cane, which was terrifying and really awesome at the same time. My final exam was getting from one end of Seattle to the other. Having the ability to use a cane has transformed my life…I have such confidence in getting around with it, even in pitch black."
Keith did not always have such positive outlook on life. "I was scared to death of going blind for years," he says. "It paralyzed me. I had a counselor that had me go toward that scary spot, so I'd always be okay with where I am. He didn't want me to project an awful future because maybe it wouldn't be awful. He encouraged me to interview people who were blind to see if their lives were ruined. I did and it was amazing. Their lives were not ruined. [Now I] really encourage people to go toward what they're scared about. It sets you free."
That passion for encouraging others is what inspired Keith to start his most recent venture. He was home sick last spring, and when he turned on the TV, it was featuring Camp Abilities in Brockport, New York. The camp was started twenty-two years ago to combat the high rate of obesity for kids with visual impairments. The Americans with Disabilities Act prohibits the exclusion of kids with disabilities from school sports, but many are still not allowed to play because they are deemed unsafe. At camp, kids learn both how to play sports safely and how to be advocates for themselves by showing P.E. teachers and coaches how to include them.
With the support of the founder, Lauren Lieberman, Keith decided to launch a camp branch in Olympia right away. The closest camp in the Pacific Northwest was in Oregon, sponsored by the Northwest Association for Blind Athletes, and though they had plans to start one in Washington, it would not have happened until at least 2018. Keith did not want to wait. He quickly created a sponsoring non-profit and reached out to Saint Martin's University, which agreed to be the location for the camp.
Keith successfully pulled together volunteers, equipment and donations and launched Camp Abilities Olympia last August. Fifty volunteers supported nine athletes for a weekend camp, featuring seven different sports. He says, "It was a tremendous amount of work, but one of the most rewarding things I've ever done. Many of these kids had never played sports. They were all at different stages of their visual impairment, and all excelled. Most went on to play multiple school sports this year, which absolutely lights me up and makes me feel great."
The second summer of camp will take place August 7-11, with campers ranging in age from 9-18. They have eleven campers signed up with enough spots for twenty-four. No child will be turned away for lack of ability to pay. "I know there are visually-impaired kids in Thurston County who are not coming to camp," Keith shares. "I really want to reach them…we have full and partial scholarships available."
Campers will learn ten sports, including track & field, kickball, baseball, soccer and Goalball, which was developed in 1946 for military veterans who lost their vision during wartime. Most of the sports involve using a ball that has a special sound, while other sports like track & field pair up campers with sighted volunteers who guide them. This year, they have added rock climbing at Cirque Climbing Gym, hiking at Woodard Bay with Olympia Mountaineers Club and kayaking and paddle-boarding at Boston Harbor Marina.
All of the sports are done completely blind, so even kids who have partial vision wear blindfolds in order to level the playing field. Keith explains that this can be a stretch for some of the kids that have more vision, but that it ultimately helps them feel more empowered.
Volunteers for camp come from all over and many are future special education teachers from local universities. Keith says, "Finding staff and volunteers is easily the hardest part. My parents are coming again this year – they thought it was the best thing ever – they're both retired teachers. I'm not exaggerating; I really think that the volunteers got as much out of the camp last year as the kids."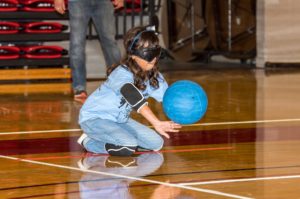 With Camp Abilities Keith has found his true calling. He shares, "What I'm learning as a 47-year-old man is that I want to help – it's what makes me happiest. If I can help a kid see the potential in themself, to not have any obstacle stop them, there's nothing else in life that can really top that. It's been a lot of work, but I feel really fantastic."
If you have a child who would like to participate as a camper or if you are interested in volunteering, please visit the Camp Abilities website or contact Keith at campabilitiesoly@outlook.com.
To learn more about Keith and his journey, check out his 2015 TEDx Olympia presentation.