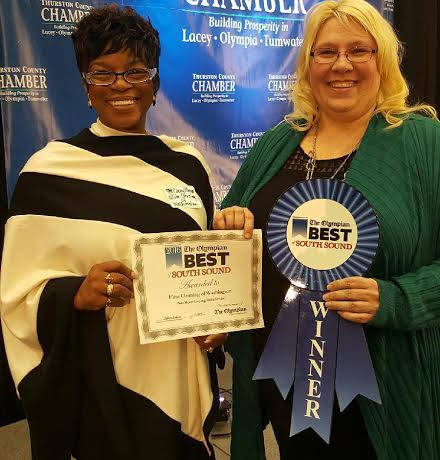 When I was a kid, I wanted to be an astronaut, spy, professor or chef. Instead, I've worked in libraries, office buildings, state agencies and from home (in my pajamas).
If your career path wanders as well, consider working for—and with—the Best of the South Sound winner Elite Cleaning of Washington. They hire commercial and residential cleaners for full- or part-time shifts, train internally and are always on the lookout for eager new talent.
Owner Scottiejo McNulty partners with ASAP Business Solutions when recruiting staff. After being successfully vetted by the job placement officers, McNulty meets interviewees at the Olympia office. If hired, employees undergo six weeks of comprehensive paid training.
"I basically pay for performance," McNulty explains, with rates varying by supervisory capacity, weekly hours and bonuses. Part-time is considered anything below 30 hours a week and full-time cleaners work 30 hours or more.
Leadership mentors are assigned to 3-5 staff members and check in regularly. These senior staff receive a pay raise as do promoted supervisors.
Additional money can be made after each year of service, on-going client bonuses, referral bonuses and Perfection Bonuses from zero quality issues or absences in a prescribed period of time. Employees can also receive Kudos Dollars for each happy client's 'kudos' report which are redeemable for cash.
McNulty admits that "cleaning is an art as well as a science." With that in mind, she strives to match staff to customers, use the best—and greenest—products, and reward her employees for all their hard work.
If this sounds like a possible next step for you, call Scottiejo or her assistant Cheryl at 360-529-2277 or contact ASAP Business Solutions directly at 360-423-0036. Find testimonials, galleries and information about Elite Cleaning of Washington on their website or Facebook page for more information.
Sponsored