For those of us living in the Pacific Northwest, the seasons are not always well defined. The first day of summer can be cold and rainy, not unlike a day in mid-February. Instead, we look to more concrete signs that summer has arrived such as the opening of the swimming beach at Long Lake, the lawn chairs set along Capitol Way for the Capital Lakefair parade and of course, Music In the Park.
Music in the Park is celebrating its 38th season this year and will kick off the concert series with Abbey Road LIVE, a Beatles Tribute band. The series, sponsored and orchestrated by the Olympia Downtown Association, has been an important part of summer in Olympia for many families, becoming a summer tradition.
Anne Larsen, development manager at South Puget Sound Community College Foundation has been enjoying Music in the Park with her family for as long as her kids can remember. "I love Music in the Park. It is a great way to meet up with friends and when the kids were young it was a great evening activity," shares Anne. Now that her children are older, she enjoys visiting a new downtown spot for Happy Hour and then listening to a local band. "It is a perfect cap to a summer day."
I asked Kim Combs, Event and Volunteer Coordinator at the Olympia Downtown Association, why the series has achieved such longevity. "We are a community that thrives on arts, culture and entertainment," explains Kim. "Pair a variety of music genres with our beautiful Pacific Northwest summer evenings and you have a very popular and family friendly event in downtown Olympia."
Many families come early and enjoy a picnic at Sylvester Park before the concert begins. Area restaurants often run dinner specials for concertgoers and those that just want to enjoy the festive evening atmosphere. Concert nights are the perfect opportunity to explore all that downtown Olympia has to offer. The city is filled with families and spectators of all ages, browsing local shops, visiting eateries and enjoying each other. A few local assisted living facilities also shuttle residents to Sylvester Park to enjoy the concerts. It is fantastic to watch downtown Olympia come alive with people of all ages roaming the tree-lined streets, celebrating summer.
Each weekly concert, held every Wednesday night at 7:00 p.m. starting July 5, is a different genre so there is a wide range of music to meet nearly every taste. The Olympia Downtown Association has a small but passionate planning committee who begin accepting talent submissions each December for the following season. They typically receive over 80 submissions. Groups are judged on their origin, with preference given to local talent or those with a local connection, genre, and budget. Once the groups are narrowed down to 20, the selection committee looks closely at the musicians and vocalists, paying special attention to how their sound will project in an open-air park setting.
Variety is the spice of life and the ultimate goal of the selection committee. They love to bring back crowd favorites but in most cases, will leave one to two years in between performances to keep the lineup fresh. One fan favorite is The Commanders, the Air Force Band of the Golden West, who will perform this summer for the second time. The Commanders hail from Travis Air Force Base, CA and enjoy the attendees of Music in the Park who are passionate and supportive of our local military community. The ODA appreciates the military community as well and listened when the attendees said, "Bring those guys and gals back!"
This year's lineup includes a little bit of everything including bluegrass, jazz, country, rock and golden oldies.  Which week will be your favorite? A full lineup and schedule can be found at the ODA's website.  Additional special performances will be held on Friday, August 4 (featuring Wally & the Beaves) and Saturday, August 19 (featuring The Commanders) at the Port Plaza, expanding the venue for more people to enjoy the gorgeous summer nights.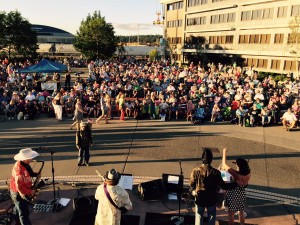 Along with the music and the beauty of an outdoor venue, the concert series gives downtown a chance to showcase businesses new and old. A visit to the concert series lends itself well to a stop at the new Hawley's Gelato and Coffee, which stays open late enough for an après concert dessert. Everything you need for a picnic can be purchased at the Little General Food Store or Pantry at 222 Market just a few short blocks away. I am envisioning a cheese platter from The Mouse Trap and a box of chocolate from Bittersweet Chocolates adorning my picnic blanket.
Parking is free after 5:00 p.m. throughout downtown Olympia. Park near the public restrooms on Water Street at Heritage Park and enjoy the short stroll to the venue as there are currently no public restrooms at Sylvester Park. For the complete lineup visit the Music in the Park page on the ODA's website at or visit the Thurston Talk Events calendar here.
Sponsored