In today's political climate, some people shrug their shoulder and moan, "What's the use?" Not Betty Hummel or Phyllis Clausen. Both women refuse to idly sit by and instead eagerly participate in local activism.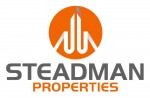 Recently they braved the wet elements and attended the March for Science. This is just one of the many activities of Grey Resistance Indivisible, a group of like-minded people concerned about social justice, what is happening on the political landscape, democracy and other issues.
Hummel and Clausen know that individuals in action make a difference. They also happen to be residents of Panorama. If you add up their ages and then divide by two, you get 90. They have both seen and lived through a lot, and they are not stopping now. In their presence, excuses for not getting involved are weak.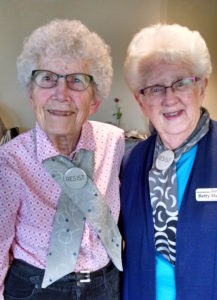 Clausen wrote and then framed this sentiment:
I have lived through
The Great Depression
Pearl Harbor
World War II
The Korean War
The McCarthy Years
The Vietnam War
The Iraq War
Mid-East Wars
And I will survive and resist injustice until light shines once again.
"I keep it where I can see it all the time," she told me.
Clausen already has claim to a legacy of activism. She used to live in Trout Lake,, where her environmental concerns inspired her to become a leader with Friends of the White Salmon River. Under her stewardship, years of dedication and diligence, a 46-mile stretch of the river was improved and restored for salmon habitat. Through legislation, the Upper White Salmon was designated a Wild and Scenic River. Phyllis recalls the large Condit dam, built in 1914, that was eventually removed. "I lived to see it come out," she says with great satisfaction. Relive the epic moment of the dam removal with this amazing time-lapse video.
Hummel was a mental heath counselor in private practice who was still seeing clients in her early 80's. She finally retired after growing a bit weary of owning a business. The eruption of the Alternative Right, often referred to as the Alt-Right, set her in motion. Horrified, she wrote a call-to-action letter to her church, Gloria Dei Lutheran. Hummel was instrumental in gathering neighbors to form an Indivisible group. The Indivisible guidebook was written by two former congressional staffers who wanted to map out strategies for local activism.
The group started small but with enthusiasm. They had planned to join with another Olympia group, but on the night they were scheduled to meet, it snowed. Instead of being discouraged, the three busloads of people agreed to form a Panorama-based group. Since then they have set up committees for membership, research and action. There are even bi-monthly gatherings for mental health and well-being. This group goes to marches, writes focused letters to legislators, attends town hall meetings and meets with political decision makers. They have also visited the local mosque. You will not find moss growing under the feet of this group, whose members receive a weekly action schedule.
Though the Grey Resistance Indivisible is politically Democratic, they are also compelled to support other issues that are not necessarily partisan, such as their participation in the Walking for Science. Hummel and Clausen remind me that there is no time like now to have my voice heard, to take action and to make conscious responses to what is happening in my world, my town and my community.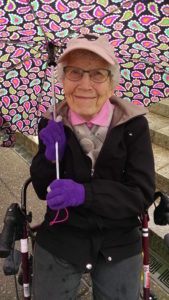 Both Hummel and Clausen read and spend time with family and friends. Clausen plays Scrabble with herself. Hummel goes to church and supports the free press by buying the Sunday New York Times. She reads the whole thing.
My new friends are the epitome of role models for life worth living. Hummel commented that her activities are "making me feel more alive." For her, life is about being involved in the journey. In a similar vein, Clausen commented, "I had to contribute. It's not me to sit by."
I asked for their advice, and they affirmed all the following:
People do listen if you persist.
Yes, it is not easy.
Keep the faith that what you do is important.
Eventually, it is bound to make a difference.
We have to speak up.
You can find more information about Olympia Indivisible here and also about Indivisible Thurston County here.