Summer is finally here in the Pacific Northwest and that means barbecue. There's nothing better than cooking outdoors and enjoying the flavors a grill offers that no oven can compete with. But barbecue is an art form that takes time to master. And, the right ingredients ensure your meal will be delicious. The biggest barbecue secret? Start with great meat. Thankfully, we have Northwest Sausage & Deli at Dick's Brewing Company in Centralia to provide us with fresh, high-quality meat in mouth-watering flavors that will make you boss of the barbecue.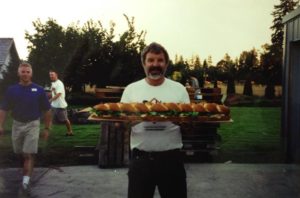 For 34 years, Northwest Sausage & Deli has been delivering fresh and flavor-packed meats. Dick Young, spent his entire life in the meat processing industry, starting as a meat cutter in high school, opening his own company, and developing his own secret recipes.  His original recipes include classics like summer sausage as well as unique flavors you won't find anywhere else. One of the best sellers is a Chinese-style barbecue pork. "This is not something people can find anywhere else. It's unique and different," says Julie Pendleton, Dick's daughter who now owns and operates the company.
"I continue to use my dad's recipes because they are tried and true," Julie explains. "Why change something that so many people have come to love over the years? I have experimented with a few new recipes over the years, but nothing has replaced the recipes we use of my dad's."
Better Barbecue Starts Here
There are two things that affect the taste and texture of meat before you even bring it home – freshness and processing. Northwest Sausage & Deli purchases their meats from Western Meats in Tumwater, who sources mostly from Oregon and Washington. Buying local means their meat is fresher than what you will find at the grocery store, which produces a better tasting barbecue.
Once a commercial processor receives the meat, it can often sit for days, awaiting processing. But, not at Northwest Sausage and Deli. They process the meat quickly so the end product is fresh. "That's the way Dad did it, so we just keep doing it that way," Julie says. Because it's fresh, fewer preservatives are used, making it a more natural options for your family.
All of their meats are hickory smoked right at Northwest Sausage & Deli in their three large smoke houses that can smoke up to 2,000 pounds of meat at a time. "The hickory smokers give the meat a flavor of its own and it's unique," Julie says. "It's not something you will find everywhere."
The deli goes to great lengths to make sure that every type of meat is smoked just right – not too long and not too short – to create the best product. Some are smoked for just 4 hours, others for much longer like the pepperoni, smoked overnight for 14 hours, locking in the hickory flavor.
Flavors for Barbecuing, Camping and Snacking
Northwest Sausage & Deli has all the traditional meats you seek including sausages, franks and hamburger meats in both classic and unique flavors to make your barbecue or camping trip special. If camping is in your summer plans, the deli has loads of summer sausage (just add some cheese and crackers) and pepperoni flavors perfect for snacks at the camp and on the trail. "The jalapeno summer sausage is my personal favorite," Julie says.
And since you'll be eating breakfast al fresco, don't forget the bacon and breakfast sausage. Northwest Sausage makes their bacon sweet with a maple syrup and their sausage is a country pork, also a little sweet and perfect for the first meal of a long day outdoors.
For barbecuing, the deli has a full line of sausages, franks and hamburger meat perfect for grilling at summer backyard parties. The hamburger meat comes pre-seasoned with a secret mix of salt, pepper, garlic and spices, ready to toss on the grill.
Their classic German frank and garlic frank are perfectly seasoned and ready to be paired with whatever condiments you prefer. Julie recommends Swiss cheese and sauerkraut, though she says they are delicious plain in a bun too.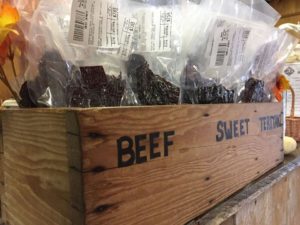 Looking for something a bit different to put on your grill? "Our bratwurst are pork and are also great for barbecuing, and we have a couple flavors including a jalapeno one that's got a bit of a kick," Julie says. The deli also has beef franks.
Since their brats and franks are pre-cooked, Julie says preparing them is easy – "Just pop them on the grill for 10 to 20 minutes at a medium temperature."
Of course, nothing pairs with burgers and franks like fresh beer straight from the tap. That's where Dick's Brewing Company has you covered. Over 20 varieties of beer (11 on tap) are offered at the deli every day. "We have many unique flavors that are perfect for summertime barbecues," Julie says. "And you can grab a jug to go that's fresh and straight from the tap."
Visit the Deli to Taste Test
Curious about these delicious meats? Unlike other meat processors or the grocery store, at Northwest Sausage & Deli is you can try many of their high-quality meats before you buy at their full-service deli. Everything on the menu is available to purchase, so you can try out something new and then purchase it for your next backyard party. The deli offerings also offer ideas on what to pair their delectable meats with. For example, their barbecue pork is served with Chinese hot mustard and sesame seeds for dipping.
To visit and taste their mouth-watering selection of meats, visit Northwest Sausage & Deli at 5945 Prather Road SW in Centralia. You can also check out their menu on the deli's website or call 360-736-7760.
Sponsored