Most of us are familiar with the term "Tools of the Trade." But have you ever thought about how someone learning a trade could possibly purchase the tools they need to learn their trade? One local family has given that a lot of thought. They decided to do something to help students purchase the tools they need to learn their craft, setting them up for success. Earlyse Swift and her family started the Rosie the Riveter scholarship for students at South Puget Sound Community College (SPSCC) in memory of Swift's mother, Jeanette Allen.
The fascinating and inspiring life story of Jeanette Allen spans 86 years and includes Democratic Party activism in her 20's and pushing Congress to create social security and unemployment compensation programs during the depression. During World War II, when there weren't enough men to work in the factories, Allen was one of the first 12 women to step up and go through a 12-week training program to become a sheet metal worker at Todd Shipyard in Tacoma. She and the other women, known to the nation as Rosie the Riveters, built the pipes and ducts for a new hospital ship being constructed to aid in the war effort.
Every day, Allen left her house at 5:00 a.m., dropped her daughter off at daycare and picked up four other women on her way to the shipyard to start work by 6:00 a.m.  Even after becoming skilled journeymen and joining the union, the women were not welcome at union meetings run by their male counterparts. They were subject to rules and requirements that didn't apply to the men despite their demands for equal and fair treatment.
A 1944 visit to the shipyard by then Senator Harry S. Truman led to big changes for Allen and the other women. When Truman walked through the sheet metal section, Allen called out to him, asking why women were paid $.90 per hour and men were paid $1.15 for the same work. Truman mumbled that he didn't know why, however in their very next paycheck the women were paid $1.15 an hour. Throughout her career and lifetime, Allen continued to push for fair treatment of all workers and citizens.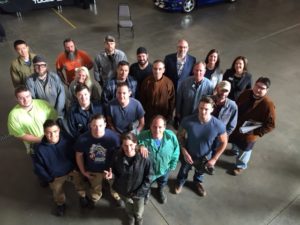 Fast forward to 2001, when Swift and her family were contemplating how they could honor Allen's life and use some of her savings to help others. "She was deeply committed to women in the trades," said Swift. "Our goal was to follow her passion, so it just seemed right do to something to help students in the vocational area." The Rosie the Riveter endowed scholarship, founded by the Swift family, provides funding for the tools vocational students are required to purchase for their training. Recently, the scholarship has helped automotive, welding and nursing students purchase the tools and equipment they need.
A first-year automotive student's tools cost $1800-$2000. They need another $2500 in tools their second year.  Seventeen students in the automotive program and 2 students in the welding program were helped this year alone with grants that averaged $300 to $350.  "Every little bit helps," said Larry Norris, the automotive program manager. In addition to the automotive and welding students that received scholarships, 14 nursing program students received funding to buy stethoscopes.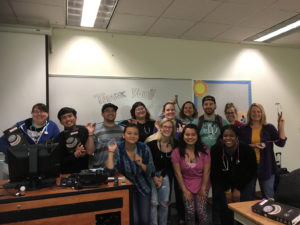 "A lot of students have budgeted for their tuition, but don't have the funds left for the tools they need," said Swift. "This scholarship is unusual because it is helping students in the trades, rather than just those earning an A.A. or A.S. degree, and the tools are something that isn't covered by traditional financial aid."
Swift inherited her mother's passion for advocating for the trades. "Today we see so much emphasis on earning 4-year college degrees, but I hope to see greater emphasis on vocational training in the future," said Swift. "We need it all – doctors, lawyers, auto mechanics and nurses. Everyone needs skills so they can contribute to society and for their own well-being. Both kinds of education are equally valuable."
Swift said of the Rosie the Riveter scholarship, "We set up a small fund and weren't sure it was going to make any difference. If it is a benefit to the students, then we are really pleased."  This year alone there are 34 students benefitting from Jeanette Allen's passion and sense of fairness and her daughter's generosity, a legacy that surely would please one of the original Rosie the Riveters.
For more information about the Rosie the Riveter scholarship, contact the SPSCC Foundation at 360-596-5430 or foundation@spscc.edu.
Sponsored