Less than 10 months ago the Oly Reign Volleyball Club didn't have jerseys for their players or even a place to practice.  The club also failed to feature a single member on its roster, but this was all acceptable since co-directors Todd Oestreich and Holly Nichols were still in the process of lining up the volleyball club.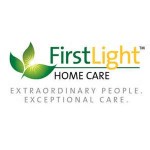 Oestreich and Nichols goal was simply to lay a foundation for the program to build on and field at least three competitive teams. Those two items have certainly been achieved, and then some. Just how successful has the club been during its inaugural run?
Consider the fact that not even a year into its existence, Oly Reign will be sending a team to the Junior National Championships next month in Minnesota.
"We have really exceeded our expectations," said Oestreich, who also serves as head coach of the Reign's 15U Gold team in addition to his overall club duties as co-director. "We were hoping for three or four teams and we have seven teams. We've had four teams finish strong in the regional tournament. We're off to a great start and our coaching will make them more competitive as they get older."
"The biggest thing for us this year was the families," Oestreich said. "The families decided to trust us and go with us even though we were new. We have the history, but they didn't know us. For this year it's really about the families trusting us and buying into the system."
Prior to starting the Oly Reign Volleyball club, Oestreich and Nichols developed an Olympia-area satellite program for the Puget Sound Volleyball Academy (PSVBA), eventually growing the club to five teams, featuring players between the ages of 12 to 17.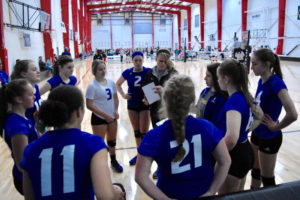 As the satellite expanded so did their realization that Thurston County could support its own youth volleyball club committed to developing and promoting the sport from entry-level players to elite athletes.
"The parents wanted to see us succeed," said Nichols, who played collegiately at San Jose State. "They knew we were a new club getting started and after it got rolling we are hearing that they are really happy with the coaching, consistency, practice times, and what the girls were learning. We were getting really good feedback."
The club sports seven teams – ranging from 12U to 17U – and feature a total of 14 coaches, including 17U head coach Kata Peterson, who led Black Hills High School to 12 state playoff appearances and was the head coach at Saint Martin's University for three seasons and 13U head coach Micah McBride, a former head coach at North Thurston High School who guided the Rams to a second-place finish at the 2012 3A state tournament.
"It comes down to organization," Oestreich said. "Our board has been great working with us on all the bylines and official stuff. Micha McBride is the gym teacher at Chinook Middle School where we practice and handles the courts. We have a person in place to handle everything and we trust them, and they do a fantastic job. Plus the parents have been massively involved."
That abundance of assistance has transpired into plenty of success on the court. The 12U squad finished third overall at regionals. "Which is big considering how young a team they are," Nichols said. "Half of them could play 12s again next year, so to be in the top flight is huge."
The Reign's 13U team finished one spot out of a national-qualifying bid at the Pacific Northwest Qualifier in Spokane and had a solid showing at the Far Western tournament in Reno.
The 14U team has "been improving significantly along the way," according to Oestreich.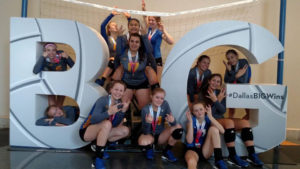 "The 15U Blue team is night and day from where they started," Nichols said. "It's been incredible. You can see they are now playing much more disciplined volleyball, and that's because of coach Megan Birge and coach Brenna Peterson."
The 15U Gold finished second in the gold bracket at the Lone Star Classic in Dallas in April.
"I don't think they quite understand what that means for this area," said Nichols about her team's high placing in the nation-wide tournament which featured 80 teams, "but they were excited."
The team followed up that performance by tying for fifth in the open division gold bracket at the Far Western tournament, where they knocked off the No. 1 seed, before finishing first at the regional qualifier in early May to earn a bid to the national tournament.
"Right now we are just focused on getting through the rest of the season," Oestreich said. "(Next year) we would like to put ourselves into a position to get even better. We want to up the bar every time. Our goal is to challenge the girls. We're not in this for us. Our goal is challenge them, to make them better, but we couldn't be happier. It's been fantastic."
To learn more about the Oly Reign Volleyball Club, visit www.orvbc.com.