Most people are excited about owning a new car. The "new car smell," the upgraded conveniences, the security of knowing it's not going to break down. However, most people are equally unexcited about the actual purchasing process, anticipating a painful, drawn-out transaction where you don't feel great until the keys are in your hand. At Toyota of Olympia, things run a bit differently and you might count the purchase process as the best part of the deal.
Joe McCorkle serves as the general manager of the 53-year-old, family-owned auto retailer owned by the Rotter family. Dustin Rotter has worked closely with McCorkle to refine the Rotter family vision and build the business into the next generation. He knows his team is selling a solid brand. Toyotas have been known for years for reliability, resale value and safety. Yet the Toyota brand isn't the only quality product coming out of the dealership. The product they are most proud of is their people.
"Our philosophy revolves around people," shares McCorkle. "Our number one focus is always on people – our employees and our customers. We care equally about the experience our employees have each day when they come to work as we do about the experience every customer has when they come in, no matter if it's for a free tire rotation or to purchase a brand-new car."
Employees know the work environment is one of support, growth and family. "Our hope is that we can take care of our people and help them become better than when they started, even if that means they move on to a different opportunity," he explains. "We want to empower them to achieve things they didn't think they could and we do that through compassion, consistency and commitment."
This employee support starts on day one where all new hires participate in an intensive three-day training to learn not only the technical aspects of the business, but more importantly, the core philosophy. A new group was just wrapping up their training recently and they were asked to describe their impressions of the company so far. Responses were varied, but all circled around a theme:
Exciting, positive and innovative
Integrity-based and honest
A place you want to work
Genuine, family-friendly and fun
Comfortable and supportive
"We are people-people," explains McCorkle. "We want the right people in the right spots and will move roles around as necessary to achieve that."
His 35 years in the car business taught him one thing: "I wanted to change the way people buy cars," he says, and he set out to do that by paying less attention to the number on the sales invoice and more attention to the expressions on the faces of new car buyers and sale staff.  And – the crazy thing is – the more Toyota of Olympia focused on making people happy, the more the dealership has grown.
"We are doing things in this store that we shouldn't be able to do," he says. Toyota of Olympia finished 2016 as the sixth largest dealership out of 73 dealers in a five-state region. "I believe we can be the number one Toyota dealership in the region with our solid vision, relentless execution and great people throughout our organization."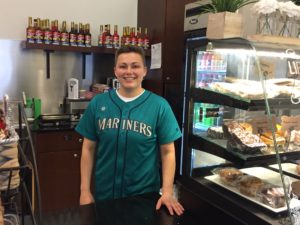 It's this successful implementation of philosophy and honoring of people that has necessitated the dealership's upcoming move. Their stellar service department, high-volume of new Toyota sales and wide selection of high-quality used vehicles keep bringing customers through the door. To keep up with customer demand while maintaining their level of service, the dealership is moving to a new, bigger location just south of Costco, Walmart and Home Depot in Tumwater.
Toyota of Olympia has been growing in our area for 53 years and has always been family owned. "The Rotter family has a vision of how to serve this community and I'm proud to execute that vision," he shares. A move to their new location is a continuation of that vision and will ensure serving people will remain number one.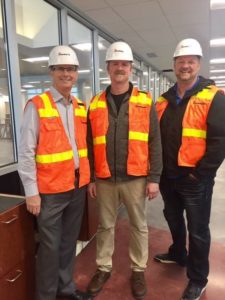 Throughout the business, the Toyota of Olympia vision is consistent, whether you are getting your car serviced, grabbing new wiper blades from the parts department, purchasing a safe used vehicle for your teen, or upgrading to a mini-van or SUV for family adventures. All members of the Toyota team work in tandem, ensuring your experience is smooth and stress free. And that's saying a lot when you consider the usual car-buying experience many people have.
The bottom line is that they are a team, all-day, everyday.
You can visit the entire team at Toyota of Olympia at their new location in Tumwater on Tyee Drive and Israel Road, just south of Home Depot.
Sponsored