When you ask Karen Conway what she likes best about her job, her answer may surprise you. "I work in a castle," she laughs. "The Old Capitol Building is the most beautiful structure in downtown Olympia. The grounds are beautiful. Every morning, I get to walk up those steps and enter a historical wonder. It was built in 1892. It is filled with student artwork. I love everything about it. We even have marble in our restrooms."

Conway has held many roles in her 24 years of service to the Office of the Superintendent of Public Instruction (OSPI). She has served as an executive assistant and agency receptionist for the last four state superintendents – Judy Billings, Terry Bergeson, Randy Dorn, and now Chris Reykdal. Her many tasks include welcoming state and national leaders to the Old Capitol Building, leading tours for hundreds of 4th grade students during their study of Washington State history, and organizing award ceremonies for the 400 employees who work at OSPI.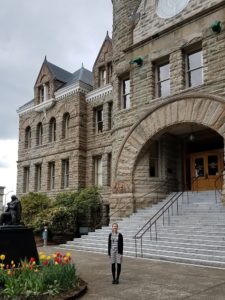 And, she smiles—not a regular smile, but an open-hearted, genuine smile that visitors see the moment they open the massive front doors.
"I have the best job in the agency," Conway said. "I spend my days greeting everyone and welcoming people to OSPI. I meet new people either by phone, email or in person. I help parents, superintendents, principals, teachers, and even students. I answer the questions I can. I help staff, too," she says. "Believe it or not, I even give directions to places all over Olympia. Every day is an adventure."
Conway is the real-life archive of the Old Capitol Building's long history. She captivates her young audience as she describes the original, nine copper towers and soaring skylights in the building at 600 SW Washington Street. The Romanesque-style building was originally the Thurston County courthouse. However, a few years later, the state purchased it and used it for the Capitol building as well as many other state offices—including the Office of the Superintendent of Public Instruction in 1906.
"When I give the students a tour of the building, I like to tell them the story of the octagonal clock tower that was part of the original building before the 1928 fire. It stood 150 feet tall, and there were clocks on each of the eight sides. Kids today don't know that watches were too expensive for people to wear 100 years ago. When the building was constructed, the architects included the clock tower so people from any place in Olympia could see the time," Conway added.
Her tours are peppered with fun facts about the Old Capitol, but she also includes information about the value of a state education agency. She talks about the transportation, nutrition, and student safety programs and the fact that all these programs benefit Washington kids.
Conway inherited an innovative program when she arrived at OSPI in 1992. The Cooperative Work Study Program (CO-OP) is a partnership between OSPI and local school districts. Students come to OSPI to practice the skills they learn in their business classes. High school juniors and seniors work several hours a week as office assistants. An extra bonus? They earn a stipend, too.
"We partner with local school districts to select students for the interview process and provide training during the school year. Many students return after high school graduation or college to become permanent members of the OSPI family," Conway explained. You can tell the CO-OP program is her baby.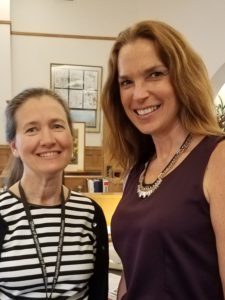 Speaking of babies, two of Conway's children grew up to become staff members at OSPI. Conway was one of the first executive assistants at a state agency to host Take Your Daughter to Work Day on April 27 each year. Daughters, Alisa Rogers and Keleen Crawford, worked at OSPI in the CO-OP program and then went on to become permanent staff members in the Student Data Department. Crawford's son Nicholas also became the first baby to come to work with his mother on a part-time basis at OSPI.
"Alisa and Keleen grew up in the building from the time they were little girls. They love the building and the people, too. I told them what I tell everyone. This is a great place to work. We have 400 of the nicest, hardest working people in the entire world," Conway said.
Debra Crawford, a member of the OSPI staff, commented on Conway's dedication to the Old Capitol Building and the people who work in it. "She comes early and she leaves late. Kindness comes to her so naturally. Who you meet is who she is."
It is hard to think about the Old Capitol Building without Conway's smile greeting visitors and staff at the front desk, but she looks forward to retirement.
"I love the outdoors and watersports. I like paddle boarding, kayaking, walking and enjoying the Pacific Northwest. I have grandchildren who live nearby, and I spend hours playing with them. My son Alex is getting married soon, and I enjoy being with my husband Craig. My parents live close and I appreciate every minute of time spent with them," she paused.
"This job is precious to me. Every day I enjoy the building and the people. Both come with so much heart. I can't really explain the joy. You have to experience it to understand it," Conway smiled that signature grin of hers.
"When I retire, I might just volunteer as a tour guide at the Old Capitol Building. We don't really have an official one," Conway concluded.
This article is one of a four-part series about the contributions of public employees to our community. The series is sponsored by WSECU, in part to support Public Service Recognition Week, which runs May 7 – 13, 2017.