Down deep, Cassie Mullin is a thrill seeker. And that's why when she turned out for track this spring as a freshman at Tumwater High School, she did the unexpected. She started to pole vault.
"I get these big rushes," Mullin said with a giggle when talking about why she pole vaults. "It's like going up a big roller coaster every time you jump. It's so much fun."
It's that attitude that's helped Mullin, while only a freshman, become a prospect for the state track tournament. She's overcome the fear factor. She likes the thrill. So does her teammate Emma Stetler, a junior with the same aspirations – qualifying for state. That excitement and affinity for taking risks, has helped them overcome that fear of getting hurt.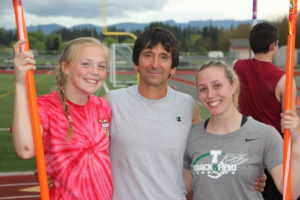 They've joined coach Dan McGuinn's group of pole vaulters, the kids with the bungee-jumping mentality. McGuinn figures he's got four or five girls who could make districts in pole vaulting. Both Stetler and Mullin have cleared nine feet and have the potential to clear 10.
"I've got two freshmen, one sophomore and a junior," McGuinn said. "If not this year, next year we're going to have a very strong girls team."
Stetler, as a junior with a year of experience pole vaulting, is the veteran on the team.
"Emma's strong suit is desire," McGuinn said.
Actually, Stetler's journey to success in the pole vault hasn't been so much overcoming the fear of getting hurt. It was overcoming her fear of her coach.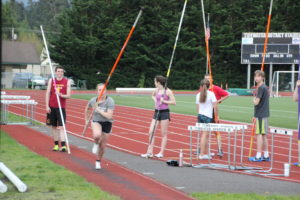 "She didn't turn out for this her first year because she thought I was kind of mean," McGuinn said with a chuckle. "She was afraid of me."
McGuinn, because of the risk of injury in the event, is strict. There's no room for goofing off.
"I'm very strict," McGuinn said. "When we're doing our warmups, I stay in shape and I expect our kids to do it. I bark out almost like a drill sergeant. The kids say 'don't cross him' and she was kind of scared of me."
So, she didn't turn out her first year. But teammates told Stetler that McGuinn wasn't a tough, mean coach. He was funny. "Now, she says she wishes she knew I wasn't that mean," McGuinn said with a smile.
Stetler laughs at her mistaken identity of her coach. "When I went out to pole vault, he was really super nice and comforting about it," she said. "I don't think if he hadn't been so comforting about it I wouldn't have stuck with it. Honestly, it's really nerve wracking trying it your first time."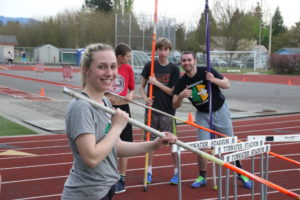 Earlier this season, Stetler was struggling with her technique. But one day, as McGuinn was working on her mechanics of putting her feet over her head and leaning back, it all clicked.
"She tried it and said, 'Oh, is that what you want?'" McGuinn said. "And it just clicked. Boom, boom, boom. She just started to go. Once she started to go she got this 'I can do this attitude.'"
The first height Mullin cleared was seven feet. Now, she's clearing nine feet and hopes to get over 10 feet. But she recently strained her calf sprinting down the runway, hurting her technique.
"My coach says if you're not 100 percent this won't go right," Mullin said. "I was running slower and I couldn't jump off of it. Everything has to be in line for this to work."
When Mullin's healthy, she's got the speed and agility to be successful at pole vaulting. She's a good athlete. She's played soccer since she was three-years-old and last fall she earned all-state honors playing goalkeeper for the T-Birds. "Yeah, I really like soccer, but I also really like pole vaulting," she said.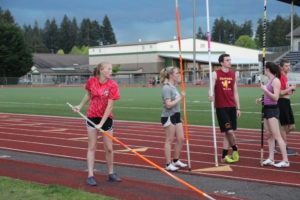 About 10 years ago, McGuinn started coaching pole vault at Tumwater and from the start he's pole vaulted with his team. He continues to do that, giving his athletes a how-to-example.
On the second day of practice this spring, Mullin decided to try pole vaulting. "Coach looked at me with this shocked faced," Mullin said. "I said hi."
It was her decision to try pole vaulting. She didn't have to get permission from her parents before trying it. "No, my mom understands my thrill seeking," Mullin said.
A couple of times a week, there will be kids from Shelton, Capital and Olympia pole vaulting under McGuinn's coaching eye, bringing the workout for pole vault to nearly 30.
"They come here and I'm kind of like their second father," McGuinn said.
For 37 years, McGuinn worked as an industrial mechanic at a power plant and now he's retired. He grew up in Chehalis and learned how to pole vault from Don Rinta, who has been coaching at Chehalis High School.
"I didn't need to work anymore so I retired and started doing this," McGuinn said. "Don taught me how to pole vault. He was a junior when I was a freshman. When he started certifying coaches in Washington I got certified by Don. When I had questions I'd ask Don."
Now, McGuinn is the answer man when it comes to pole vaulting. And he's having the time of his life.