Spring brings the promise of longer days, warmer weather and plenty of fun ways to explore Olympia and Thurston County. Spring marks the start of event season and my personal favorite, Spring Arts Walk, slated for April 28 and 29, 2017.
Arts Walk happens twice a year, once in the spring and again in the fall. Downtown Olympia businesses open their doors to both artists and art lovers to display and view the work of local creators. Every year a map is available, detailing the different locations where spectators can view art. These maps are available at participating businesses and at the Olympia Center. Procession of the Species also occurs at the end of Spring Arts Walk and is a highlight of the entire year for many in the community.
If you have never attended an Arts Walk in Olympia, are new to town or are coming to visit for the occasion, no need to sweat the logistics. I have prepared a fool-proof guide to attending. These suggestions will keep you caffeinated, well-fed and maybe even a little tipsy while not ever leaving the downtown Olympia core.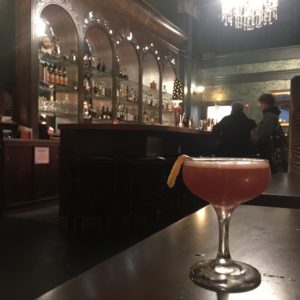 The Spring Arts Walk is a two-day affair providing plenty of time to explore local art and businesses. The festivities kick off the evening of April 28 at 5:00 p.m. If you are inclined to wet your whistle on a Friday evening before embarking on your journey, there are a bevy of beverages just waiting to be shaken for you at Dillinger's Cocktails & Kitchen. This speak-easy style bar serves up classic cocktails with plenty of delicious nibbles to accompany them.
Once you have taken a moment to relax after the workday, you will be ready to see some art. With nearly 100 participating businesses it is best to get a jumpstart on your tour Friday evening. There is no need to start the art walk at any one place, however, but remember to note where you began to ensure you do not miss anything along the way.
After soaking up come creative inspiration, you may want to leave time for dinner before the Luminary Procession. Enjoy a locally crafted pint and thoughtfully made pub fare at Three Magnets Brewing or settle in at the Peddler Bistro for a more refined dining experience.
Wherever you decide to recharge, make certain to return to the streets by 9:30 p.m. for the Luminary Procession, a procession of beautiful handmade lanterns. The Luminary Procession begins on 5th Avenue, between Franklin and Washington Streets, and ends at Sylvester Park.
At the end of the evening, you might find it hard to believe that there is more in store for you the next day, but there is and it is going to be fantastic.
Saturday mornings, as we all know, are meant for brunch. Since you will be getting lots of exercise on this second day, you can treat yourself to a big meal, hold the guilt. At Budd Bay Cafe you can treat yourself to anything from a stack of buttermilk pancakes to a Dungeness Crab Benedict. Should you decide to sleep in or prefer a lighter fare, swing by the Olympia Coffee Roasting Co. on Cherry Street for a latte and a pastry.  You cannot go wrong with either option.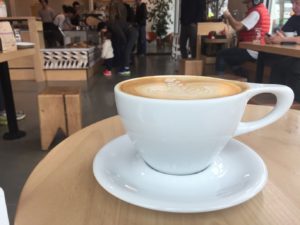 Let the coffee kick in as you gear up for your next Spring Arts Walk loop. While admiring the skills and talents of the locals, you can also delight in some retail therapy at downtown Olympia shops. You can also try your hand at some traditional crafts with a stop at Arbutus Folk School.  After you drop off your shopping bags and grab a sandwich at the 5th Ave Sandwich Shop, it is time to secure your front row spot for Procession of the Species.
If you are unfamiliar with Procession, you are in for a real treat. (Take a look at last year's pictures of Procession of the Species to get an idea of the scale of this community event.) The event is organized by the community, for the community. People spend weeks, working on floats and costumes that celebrate our relationship with the natural world around us. The Procession of the Species begins at 4:30 p.m. Spectators are welcome at any point along the Procession route.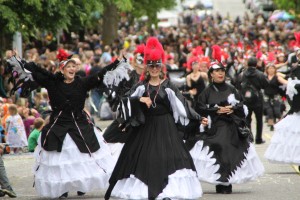 Whether you are an artist, an art lover or simply a supporter of our community, the Spring Arts Walk should not be missed. For more information about Spring Arts Walk, click here. I look forward to celebrating our diversely talented community with all of you this spring.
Spring Arts Walk
Downtown Olympia
April 28 from 5:00 p.m. – 10:00 p.m.
April 29 from 12:00 p.m. – 8:00 p.m.
Sponsored