Josh Braverman originally scoffed at the idea of running hurdles.
Now a multiple-time school record holder – a lofty accomplishment on its own considering River Ridge High School's rich track and field history – Braverman has not only become one of the state's best, he has also parlayed his success in the event into a Division I college scholarship.

Braverman, the defending Class 2A state 300 hurdles champion, knows where he will be this time next year. The answer is Iowa City, running track while attending the University of Iowa.
Before he heads to Big 10 country and becomes a Hawkeye, however, Braverman has plenty remaining on his to do list as a Hawk.
Tops, of course, is winning a second consecutive state title in the 300 hurdles, followed closely by capturing a championship in the 110 hurdles – an event he finished second in at state in 2016.
Yes, Braverman is all about hurdles now, but four years ago when he first decided to give track a try as a high school freshman in Fayetteville, North Carolina, the mere thought of jumping over obstacles while sprinting was enough to initially push him away from the sport.
"I had never done track before so I didn't know what events to do," Braverman said. "I thought I'd just do the 100 and 200. I'm thinking, I'm fast. I'll dust these people."
Things turned out a little different than what he expected.
"I immediately realized I was probably the slowest kid on the field," Braverman said. "When it became obvious I wasn't going to do those events the coach came over and asked if I want to do hurdles."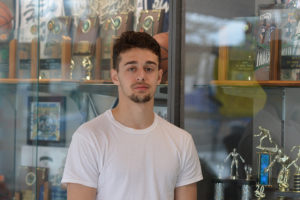 Braverman's reply? "I said, 'No. Hurdles are lame. I'm not doing those.' And I didn't do track my freshman year."
When Braverman arrived in Lacey as a sophomore it was during football season and the conversation of hurdles once again resurfaced.
Braverman, a defensive back, was covering Dejuan Frye at practice, an athlete two years his senior who eventually finished his high school career as a six-time state track champion He caught the eye of head football coach Steve Schultz, who commented, "There's our next 300 hurdler."
Next thing Braverman knows, he's in former head track coach Phil Lonborg's office discussing the hurdles.
Lonborg's enthusiasm was too much for Braverman to deny and the hurdles eventually won out.
"You're always going to get excited when you talk to Lonborg about track," Braverman said. "He always has such great things to say. He was always hyping me up. The first time he saw me he said I was going to be a star in the hurdles. Every time I saw him he would get me excited about doing the hurdles. It all just started to sink in."
Braverman collected a fourth-place finish at state in the 110 hurdles and a third in the 300 hurdles as a sophomore – a mere two months after adopting the events.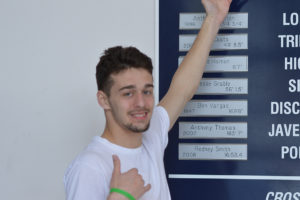 He followed that performance up last year by winning the 300 hurdles and grabbing a second in the 110 hurdles. He is the school record holder both events, covering the 300 hurdles in 37.98 seconds and the 110 hurdles in 14.06.
Braverman plans to better both those times this year.
"I wanted to win both events really badly, but things happened over the first hurdle [in the 110] at state last year," Braverman said. "[Losing] made me realize you have to put your foot to the pedal every single race. No matter who you are running against. This year that's what's going to happen. My work ethic has actually changed. I'm more focused now."
Next year, Braverman will once again be reunited with former teammate Frye, who was a letter-winner for Iowa during his freshman year in 2016, competing in the 200 and 400.
"It's going to be a really great experience," Braverman said. "I'm going to try and do some big things my freshman year. I know that the coaching staff will get me there."
And the advice his future coaches had for him this season? "They told me to go out and have fun and enjoy my last year of high school," Braverman said, "then get ready to work."
Braverman was Lonborg's 50th state champion during his 23-year career as a high school track coach before retiring last year. The goal is to be Longborg's last state champion and the first titlist for new coach Linda Huyck.
"It's just something I now love to do," Braverman said about hurdles. "College is really hard to get into and this gives me that opportunity. It's something I may not have had the chance to do if I didn't take up the hurdles. It's been the best decision I've ever made."