The tipping point for Jeanette Laffoon came in 2016 when one of her clients was charged $900 for a copy of his medical records. An attorney who represents clients in Social Security disabilities cases, Laffoon was optimistic when the Health Information Technology for Economic and Clinical Health (HITECH) Act passed into federal law in 2009, assuming that it would make life easier for those she serves.
In practice, however, the law has not made as much of a difference as she had hoped. Low-income clients in Washington State applying for Social Security benefits are still routinely charged a $25 fee plus $1.12 per page to access the medical records they need to submit. Depending on the size of the records, the cost can be hundreds of dollars for people living on $197 per month – all simply to receive copies of documents they are legally entitled to. "The practical aspect of these really high-cost medical records has prevented people from being able to prove that they're disabled," says Laffoon.
Despite HITECH, medical records companies balked when Laffoon, who runs Maddox & Laffoon Attorneys at Law with partner Steve Maddox, contacted them on behalf of her clients. "We were so excited about being able to get records at a reasonable price," she says, "but they would tell us things like, 'We're not going to send them because you're a lawyer' or 'These are mental health records and they're not covered under HITECH.' They had all of these excuses for not abiding by the law."
Fed up, she took matters into her own hands, asking Senator Pat Sullivan to introduce House Bill 1239 to the state legislature through the House Health Care & Wellness Committee. The bill would make it affordable for people with disabilities to gain access to medical records they need to apply for Social Security benefits.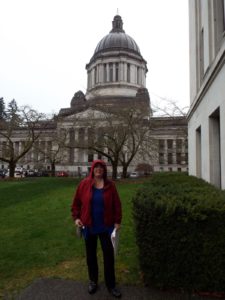 "The first step in changing the law is to find a State representative or senator who is willing to take up your cause and introduce a bill," says Laffoon. "I was fortunate to find a sympathetic ear in Representative Pat Sullivan."
Fifteen other states have similar laws on the books, some mandating that medical providers must provide a free copy of records. The Social Security Administration is a federal program that requires medical records, but how much they cost varies from state to state. Laffoon says she feels for anyone in Washington State attempting to figure out the system on their own. In many cases, doctors will insist that patients pre-pay the bill for them. "There are so many people dealing with permanent mental illness," she says. "For lawyers it's easier, but my heart goes out to people who don't have a representative."
Once she'd contacted Sullivan, the next step was making sure that he was aware of all the issues connected with the requested bill. At that point, the legislative staff drafted the bill. "I learned that the committees hold public hearings, so it's important to track your bill and sign up to testify," says Laffoon. "It may be the only opportunity you have to speak with the people who will be deciding whether or not to pass your bill."
Moving through the legislative process was eye-opening, Laffoon notes, even for a career professional like herself. For a low-income person with a disability to attempt navigating the process would be intimidating, she believes. "It's scary and nerve-wracking, and I think it would be terribly daunting. First you have to find somebody that will help you and then you need to establish that the problem affects not just you but others in your state."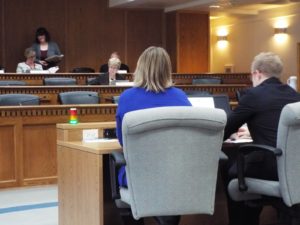 A turning point came when she testified before the House Committee. "I was really nervous, but I sat down and started talking. The Chair of the committee, Representative Eileen Cody, looked up and smiled and said, 'Yes. I understand what these issues are,'" recalls Laffoon. "I think she's a nurse at Group Health. It really struck home for me that these are individual people who care about real issues. The legislators want to do what's right for the people that hired them. They have so many things coming at them from so many directions, but if you can succinctly tell them what you need and why you want it, they will help. "
The bill has passed the House and currently sits in committee in the state Senate. If it passes, more unrepresented people will be able to obtain copies of the medical records they need to prove they are disabled and access their Social Security benefits, says Laffoon. It will also help people who have attorneys who can front the fees, but must pass those costs through to their clients at the end of the case. "They'll walk away with an extra $200 to $1,000 in their pockets which can be used for things like medicine, rent and food. Even if you're successful in your claim, your benefits are pretty small compared to what you were earning, so every penny matters.
The experience has left her with new confidence in the legislative process. "It's made me feel a little bit more part of the community and gives me a little bit of hope," she says. "We can affect change in our own government. People should feel empowered to go and talk to their representatives if they have an issue."
For more information about Maddox & Laffoon, visit www.maddox-laffoon.com. To learn more about HB 1239, click here.
Sponsored