While Lacey Glass at Home boasts one of the largest selection of glass products in Thurston County, that can be a daunting prospect to informed window selection. When considering new windows, whether for an upgrade, repair or new installation there are a few things to know.
Lacey Glass at Home has been installing and repairing residential windows and doors for over 35 years and has remained committed to offering the best and most reliable windows. They supply durable aluminum frame windows, clean and efficient vinyl, higher end woodclad options and affordable fiberglass. Regardless of preference, Lacey Glass at Home can advise on the standard practical facts regarding the look and efficiency of windows.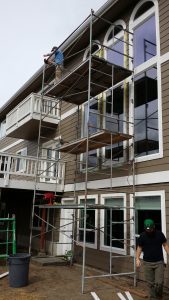 Here are things to know:
Home energy costs can be dramatically reduced through double-pane insulated glass, heat-resistant coatings, and airtight frames.
Most manufacturers claim windows should be replaced after about 20 years. Signs of a failing window include being sealed or painted shut, draftiness, and panes that collect condensation, ice and frost.
Skylights provide considerable more light than vertical windows of the same size.
Low-emissivity (low-e) glass also reduces home energy costs and blocks UV rays while allowing the majority of natural light to pass through. They have a thin metallic coating that reflects heat back to its source thereby keeping heat inside the house in the winter and out in the summer.
Between energy exemptions, savings on heating and cooling bills and the increase in home value, replacing your windows can essentially pay for itself.
To learn more about window options visit the Lacey Glass at Home website, go to their showroom at 1210 Homann Drive SE in Lacey, Washington or call 360-459-8411.
Sponsored