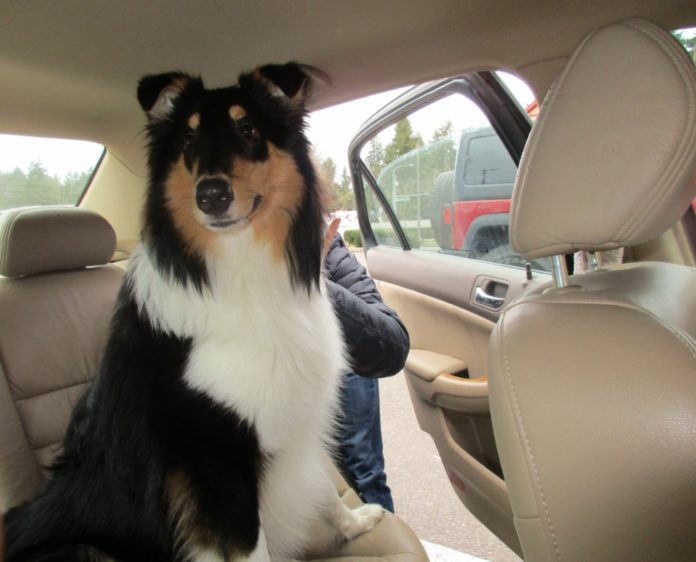 The Olympia area is known for being incredibly dog-friendly. In fact, dogs and other companion animals are pretty much considered people around here. If you are planning a visit to Thurston County with your pooch, rest assured that there are plenty of places to stay, eat and find adventure where your pup is welcome. Add in a little shopping for your canine companion, too.
This ThurstonTalk writer set out with a friend's collie, the eager and handsome eight-month-old Reilley, to check out some of the area's dog-friendly attractions. As Reilley's smile throughout his trip indicated, Thurston County is indeed a happy place for dogs. Whether it's a day trip or a longer excursion, check out some of these resources as you plan your visit. 
Where to Stay – Lodging That's Four-Paws Approved
For those staying more than a day, first things first ­– you'll need to find a place to stay. Fortunately, Thurston County has many dog-friendly hotel and lodging options. You can bring your pup to the nicely-appointed La Quinta Inn (in Lacey and Olympia/Tumwater), Best Western Plus in Lacey, or The Best Western Tumwater-Olympia.
Another option is the newly-renovated and hip Hotel RL Olympia by Red Lion overlooking Capitol Lake. The GuestHouse Inn and Suites – Tumwater also welcomes pets.  The Marriot Towneplace Suites is also pet friendly, rounding out the list of options throughout the area. Many of these hotels are convenient to the Washington State Capitol Campus making them ideal for business or vacation. Be sure to check each hotel's policy for details.
For the more outdoors-minded, there are plenty of campgrounds and RV parks to choose from where your pup is welcome to enjoy the beauty of the area with you.
What To Do – Adventuring with Your Dog
You'll find plenty of fun around Thurston County that is suited to both humans and their four-legged pals. A great way to see the area is to take a dog-friendly hike (we also have abundant options for those hiking with both dogs and kids). Note: You will need a Discovery Pass to visit most Washington State parks. A one-day pass is available, and there are free days throughout the year.
There's much more fun ahead – check out the ThurstonTalk guide to off-leash dog parks. The Thurston County Off-Leash Dog Area in Lacey even features fun obstacles for your dog.
For a more urban walk, walk your dog around downtown Olympia, then check out the many shops and restaurants the downtown core holds (check out the Olympia Downtown Association's listings for ideas).
Where to Shop
Looking to pick up some needed pet supplies or just want to treat your dog to a fun experience? Locally owned since 1988, Mud Bay's stores carry "healthy foods and well-made supplies" for your dog. The staff are very knowledgeable and always make it a welcoming experience. You can stop by their locations in West Olympia, Lacey (Martin Way and Crossroads Center), and Tumwater. Reilley had a good time picking out treats at the Lacey location.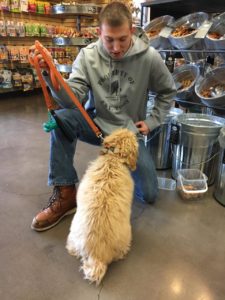 I talked with local customers Gloria and Micki who were shopping with 3-year-old Denali, a charming Collie-Husky mix. "We've been coming since he was a baby, and we come once a week. We mostly come in for him, but also for us," Micki says. Atlas, another Husky mix, confidently sat at the store's counter for a treat – clearly, dogs are important customers here.
Other shopping locations for pets include Lacey's Bark Avenue: A Boutique for Dogs and Cats  and Pet Works in downtown Olympia.
If you're looking for a hip thrifting spot in Olympia, stop by the Thrift Store Supporting Emmit's Magic Animal Rescue. Dogs are definitely welcome in this store and you'll support a good cause while seeking some bargains to stretch your travel dollar (read more about Emmit's here).
Dining Out with Your Dog
After all this adventuring, you'll probably be hungry. Did you know that you can bring along Fido to some area restaurants? There are many spots with seasonal outdoor seating where dogs are allowed at all price points (as well as some drive-thru options, for those on the go). You'll have plenty of choices for sampling Olympia's growing artisanal food scene.
Check out this list of five places you can bring along your dog with ThurstonTalk's dog-friendly dining guide.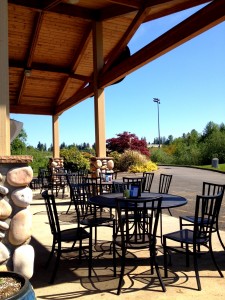 River's Edge on the banks of the Deschutes River welcomes your pooch and offers a casual, pub environment that is family-friendly and dog friendly on their extensive patio.
Another pet-friendly outdoor option is Fish Tale Brew Pub. The legendary brewers, winners of 2015 World's Best Beer award for their Beyond the Pale Ale, also offer a cozy brewpub with outdoor seating for your canine and indoor 21+ options alongside a family dining area.
And bring them along for people-watching and European-style baked goods, artisan bone broth, fresh oysters, hand-crafted gelato and more at the new 222 Market in downtown Olympia.
Services – Daycare, Boarding, and Veterinary Options
Being a dog-friendly town, Olympia also has top-notch canine services available. Your dog will look terrific after visiting the grooming facilities at West Coast K-9 Centers (with three locations, including two next to Mud Bay stores).
Do you have items planned on your itinerary where Fido can't come along? Leave him or her in good hands at West Coast K-9 or the family-owned McKenna Kennels Pet Resort (read more about them here), or pamper them at Friendly Grove Resort and Spa for Dogs. Fido's Farm also offers play-based daycare.
For More Information
Hopefully your pup is happy and tired-out from a good day's adventure. Reilley went home a happy, calm and tuckered-out dog. For more visitors' information to plan your ideal stay with your pet, check out the out the Visit Olympia website and blog. You can also follow the Olympia, Lacey and Tumwater Visitor and Convention Bureau on Facebook, Twitter, and Pinterest.
Sponsored