Thurston County offers a huge variety of outdoor activities at beautiful and expansive recreation areas.  To decide where to take your pooch for a leased walk or find a new place to let your dog run free, check out our list of Olympia area dog parks.
Off-Leash Dog Park, Lacey
Thurston County's Off-Leash Dog Park is located at 2418 Hogum Bay Rd NE in Lacey, adjacent to the Thurston County Waste and Recovery Center.  Open seven days a week, from 8 a.m. to 5 p.m, the park separates large and small dogs.
Both areas include obstacles and trick structures for the dogs to play on.  Dog and people water stations are on site.  Pets that like to dig will enjoy the sand and gravel area.
The Off-Leash Dog Park also has a dog paw shaped patio and a set of decorative fire hydrants.   Toss the Frisbee or throw a tennis ball in the expansive field area.
More information can be found here.
Sunrise Park, West Olympia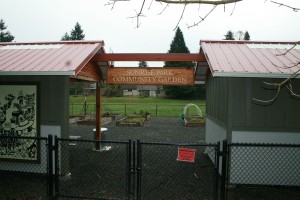 For West Olympia residents, Sunrise Park is the perfect place to bring along the dog and the rest of the family.  The park is operated and maintained by the City of Olympia and is located at 505 Bing Street NW.
Sunrise Park has two sectioned off areas for large and small dogs.  Along with the off-leash dog area, the park has a beautiful community garden, expansive grass field and a basketball court on the premises.  Water stations for dogs and humans are located inside the off-leash area, and a restroom is also included in the facility.
Opened in 1995, Sunrise Park also features a playground, picnic areas and has a perfect hill for sledding once snow builds up on the ground.  For more information on the 5.75-acre park, click here.
Dog Walking Paths
While the parks mentioned above offer dog-owners the opportunity to let their pups of the leach, sometimes owners desire a leisurely walk with their animal in a beautiful setting.
Both Capitol Lake and Tumwater Falls Park are central destinations of Thurston County that allow owners to walk their dog on a leash.  On a clear and dry day, one would be sure to see dozens (if not more) dog owners walking their respective canines on the two park paths.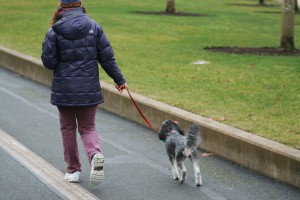 Capitol Lake is a popular jogging area.  The flat trail allows individuals to take either a leisurely or fast paced trip while enjoying the view of Budd Bay and downtown Olympia.  The trail at Capitol Lake features dog waste stations, along with restrooms and water fountains along the way.
Tumwater Falls Park has a playground area for the youngsters and a half-mile walking trail along the banks of the Deschutes River and the famous waterfalls.
Combining a trip to both Capitol Lake and Tumwater Falls would be convenient.  The two parks are located within two miles.  Read more about the history of Tumwater Falls here.
To become more involved with off-leash dog parks, check out Sound Hounds. The dog park advocacy group partners with local municipalities to help provide the public and their dogs with ample recreation activities.
Tell us about your favorite park or open space to visit with your dog at submit@thurstontalk.com.