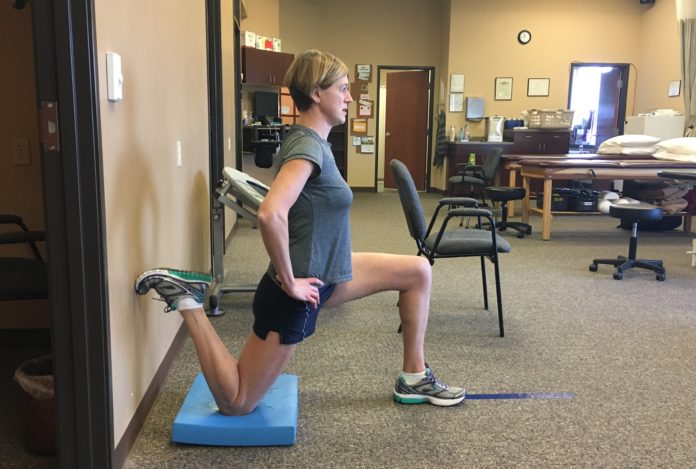 Stretching can be slow, steady and sustained, such as in the act of doing yoga. Or, stretching can be much more dynamic, with quick repetition and position changes. Dynamic stretching is what you want when preparing for a performance sport, such as running.
Penrose & Associates Physical Therapy are experts in body form and function and share the best ways to use dynamic stretching for sports and exercise.
"I think the main thing for athletes and runners is doing dynamic stretching," explains owner Jennifer Penrose. "That looks like a short swinging forward with your leg, then swinging back, for instance. It's a dynamic stretch versus a static one, such as the long duration people use when doing yoga and deep stretching."
She offers the image of watching a professional baseball player on deck warming up with fast arm circles and quick, thorough swings.
"If you ever watch a professional, they are swinging, maybe stretching 1-2 seconds and then coming out of it," she says. "Go through all your joint and muscle range of motions that you need for your upcoming performances and go 5-8 minutes for a dynamic work out."
She further explains that squats and lunges should give you a great warm-up stretch, just enough to feel the stretch. And that following up at the end of the day with a longer, relaxed stretch has benefits, especially for tight areas.
"Choosing the duration that is effective, safe and practical is an important consideration," states a stretching website Penrose like to use. "When learning how to stretch one must decide how long you should stretch, which depends on your age, activity level, the presence of scar tissue, whether you smoke, etc. All the above can affect the results of your stretching and, of course, the goals of stretching should also be considered. If you are training for hurdles, your goals are different than if you are training for hockey or basketball."
If you would like more information on what type of stretching is right for you, contact Penrose & Associates Physical Therapy at 360-456-1444, visit their website, or stop by 1445 Galaxy Dr. NE Suite 301 in Lacey.
Read more about athletes and exercise on the Penrose & Associates Physical Therapy blog.
Check out this quick video for instruction on dynamic stretching.
Sponsored