Bodymechanics School of Myotherapy and Massage is unique. For starters, the atmosphere of the school is extremely welcoming. Owner Shari Aldrich is a people-person and the school reflects that. It's not unusual to see the front office bustling with past students stopping by, clients chatting while waiting for a massage or an employee from Morningside making his daily janitorial rounds.
"We want people to be comfortable," says Shari. "We want people to know we're inclusive and to let people know who we are and how we treat people."
There are other ways the school, which also has a Vancouver location, stands out from others. Here, we explore three important reasons why attending Bodymechanics School of Myotherapy and Massage might be right for you.
Be Your Own Boss
The school is intimate, yet professional, and is unique in the high level of education provided. Advanced clinical theory, usually reserved for further education, is practiced including exploring kinesiology, disease pathogenesis for injury prevention and more.
In addition to advanced theory learning, Shari instructs her classes on best business practices, including social media promotion and tax management. After all, a big part of being a massage therapist is becoming your own boss. Washington State guidelines require 40 hours of business practice, but Bodymechanics teaches 100.
"In Thurston County alone, we need 13,000 massage therapists to keep up with the 20 percent of the population who want massages," says Shari. "At Bodymechanics, it's not just massage theory and practice, it's business models and niche marketing."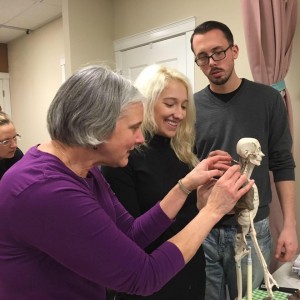 For many, massage is a second or third career for someone craving their own schedule and income.
"Many people get fed up and frustrated working for someone else. Now they are ready to be happy doing their own thing as they move forward in life," says Shari.
The massage program is comprised of 600 hours over 35 weeks. Flexible morning, evening and weekend classes are offered and Shari works with most budgets, offering personal financing for up to three years if needed. The program costs just over $10,000, shares Shari, but she assures, "Your return on investment is paid off in the first year. You've tripled that in your first year."
Help Others, Help Yourself
A massage clinic onsite gives students the opportunity to build their skills and confidence working with the public. In turn, the public has an opportunity to help massage therapy students earn their hours while receiving a massage at a discounted rate. At Bodymechanics, a one hour massage is $35. Teachers are on hand to instruct students during clinic and to help give the client individualized care.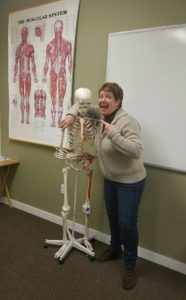 Personal training school is another way students can upgrade their education and help people live fuller, healthier lives. The 400-hour program includes two levels. Level one is a personal training certificate along with behavioral change certification allowing trainers to help clients in their relationship with food or exercise.
The second is corrective exercise and sports-specific training. This is the rehabilitation side of personal training and working with athletes, explains Shari who teaches the National Academy of Sports Medicine (NASM) curriculum. "This is the gold standard of personal training," says Shari. "Gyms will give hiring preference to those with NASM certification."
Student personal trainers are available to the public at $35 per hour as well.
Several students have gone through all three programs, massage therapy, personal training and corrective exercise, says Shari, noting that the triple certification allows graduates to help with many physical ailments at once.
"They have the ability to really work with anyone who walks in the door," she says. "They can help them overcome debilitating health conditions and improve quality of life."
Secure Your Future
Attending the school means having lifelong cohorts –people you have studied with and grown with, who will be in your network as a resource, a lead, a friend. Shari herself opens her phone line and door at any time to former students who want to touch base. Class sizes are 16 people per session and students end up like a family.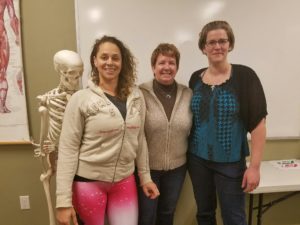 Bodymechanics also makes sure self-care and preservation are part of the curriculum. Massage work is a physical profession and Shari teaches the proper postures and technique to prevent joint and muscle pain and fatigue. Many massage schools miss self-care and personal body mechanics, notes Shari.
"Our name, Bodymechanics, shows that we focus on that," she says. "In every class we teach, we look at how students are holding themselves, how they're standing and leveraging and how their body works most effectively. For every muscle that we teach, we show the students 2-4 different ways to access that muscle."
With a support network in place, a business plan for the future and techniques to ensure longevity in the body, graduates of Bodymechanics School of Myotherapy and Massage are ready to enter the profession for the long-run.
Classes begin in May, August and November. For more information, call 360-350-0015, visit Bodymechanics online, or attend an ongoing Intro to Massage Therapy Workshop.
Sponsored