It was the first emotion the even-keeled Chris Penner had shown all game, as the Capital High School boys basketball team put the finishing touches on its sixth consecutive victory, a dominating triumph over Central Kitsap.  The win assured the Cougars the 3A South Sound Conference championship, and coach Brian Vandiver was emptying his bench.

With a student section in a frenzy, Penner exited the court, but before sitting he ventured to an assistant coach and inquired about a statistic.
Penner, while just a sophomore, is Capital's leading scorer, averaging just under 20 points a contest. He netted a career-high 31 points the previous game against Yelm, and drained a game-winning 3-pointer two games before that against Peninsula.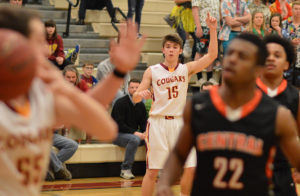 But he wasn't asking how many points he had scored – he never does. He was interested in knowing what senior T.J. Mickelson had just went off for.
The answer – 39 points on a school-record 10 triples.
Penner has come up with plenty of big plays of his own during the season. It's unlikely any produced the grin he had once he heard what one of his teammates had accomplished.
"With Chris, it's about team. I think that's why he's successful. He doesn't worry about himself," Vandiver said. "It's been an incredible turnaround for us this year and it's because of the attitude he exemplifies that we were able to do this."
What the Cougars have done behind the play of Penner and his teammates has resulted in a monumental improvement from last year – going from a pedestrian 5-15 to claiming just the fourth league championships in the school's 41-year history.
The title, however, comes as little surprise to Vandiver. He knew he had something special in the form of Penner. It's something he's known since the first time he got a glimpse of the athlete.
"Three years ago, Chris was playing at Griffin Middle School and I was coaching at Marshall," Vandiver said. "I had heard stories about him, but this was the first time I saw him play. Even back then you could tell he just wanted to get all his teammates involved. He could have taken over the game both times we played them, and he didn't. He just wanted everyone else to experience success."
With limited ball handlers on the roster last year, Penner, a natural shooting guard, immediately assumed the Cougars' starting point guard as a freshman.  It was a tough ask made even more daunting due to the fact Capital was playing in the now-defunct 3A Narrows League – which was constantly regarded as one of the tougher leagues in the state.
"He got thrown into the fire last year," Vandiver said, "but he grew from it. When you come in as a freshman and you're asked to be the starting point guard sometimes there can be some negativity from the older kids, but he immediately earned the respect of the players. They embraced him from the get go because of his demeanor."
Penner followed up his freshman season of basketball with a breakout year in football as he led all area receivers with 43 catches for 734 yards and 7 touchdowns, causing whatever self-doubts he had entering this basketball season to be wiped away.
"It just gave me a lot more confidence," said Penner, whose parents both played soccer at the University of Washington and whose uncle, Chris Juergens was an all-state football player at Olympia before playing at UW. "Last year, as a freshman I had confidence, but not nearly as much as I do now. Football really boosted it up and it's just stayed through basketball season."
With the insertion of Mickelson, a transfer from Black Hills High School, into the point, Penner has flourished this season as the 2. He opened the year with four consecutive 20-point games, the first coming in the Cougars' season-opening 31-point victory over Aberdeen.
Few defenses have figured out how to slow him down since.
"Every night we look at the box score and say, 'Oh my goodness. Chris scored 23 tonight,'" Vandiver said. "He's a low-volume shooter. He's not someone who jacks it up all the time. He is efficient. His stroke is a thing of beauty. It's picture perfect."
Capital, which has won 10 out of its last 11 games, closes out the regular season at Gig Harbor on February 2 before moving on to the playoffs.
"It's been a blast," Penner said. "We're a tight-knit family here. I just want to go as far as we can. It's been a long time since Capital went far in the postseason. I just want to keep this going and play as long as we can."
The Cougars (16-2) are currently ranked as the No. 5 team in the WIAA's RPI standings. They will begin West Central/Southwest District tournament play on February 8 by hosting the sixth seed out of the Pierce County League.
"Chris is an All-American kid in the best sense of the word," Vandiver said. "He's a great human being. He's a 4.0 student. He's a great basketball player. He's a great football player. He's selfless. He's humble. He just does the right thing all the time. You think about what he could be as an athlete here at Capital High School in football and basketball by his senior year and you know there's going to be records broken. There just is."
Very true, but it's unlikely you will hear Penner ever mention it.