One of the state's best scorers, T.J. Mickelson, hasn't taken a shot during the final 20 minutes or so of practice.

The senior is all about distributing the basketball in this full-court five-on-five scrimmage. Most of the passes have plenty of style to them, a pretty no-look pass in the lane is followed by a near half-court bounce pass from the 6-foot-1 point guard that perfectly finds its streaking target for an easy layup.
T.J. looks about as comfortable as he's ever looked on the court, and there's a big reason for that. His brother, Matt Mickelson, is on the receiving end of several of his assists.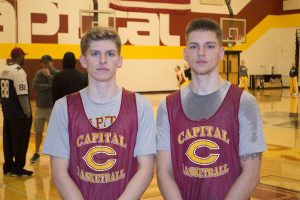 It's a scenario neither believed would ever take place in high school – both brothers playing on the same team with dad, Troy Mickelson, serving as an assistant coach.
T.J., who is the older of the two by 11 months, and Matt are both seniors Capital High School, playing their last year of high school basketball. It's the first time since eighth grade they have been on the same team.
Three years ago, as freshmen T.J. opt to enroll at Black Hills High School, while Matt became a Cougar.
"I was originally supposed to come here (to Capital)," T.J. said. "I played in elementary school and middle school with all these guys. It was tough decision, but at the time my family and I just thought it was best for me to go to Black Hills."
T.J. flourished during his first three years of high school as a member of the Wolves basketball team, averaging approximately 25 points a game during his time at Black Hills High School while becoming a two-time 2A Evergreen Conference MVP and Associated Press All-State selection.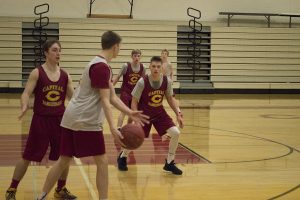 But something was notably missing despite all the success.
"We had gone to school together since kindergarten," said Matt about his relationship with T.J. "I remember that first day of high school being a little nerve-wracking. I had always had him by my side, but now he wasn't there. It was difficult."
That feeling stretched across the entire family. Troy, a teacher at Capital and former head basketball coach, took an assistant coaching posting with the Wolves, while the boys' mother was forced to decide which game she would attend during frequent conflicting schedules.
"I've actually missed a good part of Matt's seasons," Troy said. "We wanted to be able to support both of them, but it's been tough the last three years."
That all changed in early October when T.J. made the decision to transfer to Capital and re-join his brother for their last year of high school.
"It all happened so fast too," Matt said. "One day I just came home from my girlfriend's house and they said, 'He's transferring to Capital and I'm going to be an assistant coach.' I was really surprised. It was two weeks before the season started, and something I really didn't expect. It was disappointing we couldn't go to school together for those three years. Playing together was just something I ended up accepting would never happen, but now he's here."
And the Cougars are off to one of their best starts in recent years because of it, opening the season by winning six of their first seven games, including posting a perfect 4-0 mark in the newly formed 3A South Sound Conference play.
It was as if that three-year hiatus did little to change the relationship between T.J. and the teammates he grew up playing with as the squad clicked on the court from the jump.
"We definitely have that chemistry," T.J. said. "They know me and I know them. There's a lot of trust. I know they're going to be in the right spots and they know I'm going to make the right play."
"There's a lot less pressure for me to score than precious years," he continued. "I always really thought passing the ball was my best attribute. I really get to display that here. It makes the game a lot easier for me and our team. Teams can't just come out and double team me like they used to. If they do that we have guys like Chris Penner and my brother out there on the perimeter."
And while the Cougars are piling up victories with their new lineup, it is actually secondary to what the Mickelson family is getting out of the experience.
"We have a pretty special relationship," Troy said about his sons. "It's a special season too. It's their last year. They're both seniors. They are both phenomenal kids. They both work very hard in school and in basketball. I feel honored to be able to have the chance to be able to coach them."