A new year is upon us, meaning we have new goals, an optimistic outlook, and an opportunity to accomplish this year's hopes and dreams. For many the new year represents a time to start getting into shape or, at the very least, trying to shed those pesky five pounds we gained by eating and snacking too much over the holidays. In January, gym memberships skyrocket as we all hope to get into shape and make this year our best one ever. However, by March most of us bail on our attempts to get fit, resorting to the habits of previous years. This year, instead of hoping that going to a gym sticks as a regular routine, why not head outside and completely change your life by experiencing nature every week?

Going outside and hiking isn't a fad like joining a gym. It suggests a new way of life and offers a change to the regular routine. Hiking can lead you to an adventure every weekend in the beauty and splendor of the Pacific Northwest. If you can make time for your favorite TV show or a football game every Sunday, you can prioritize going outdoors and connecting with nature. After all the health benefits of hiking far outweigh nearly any other activity. Studies have shown that hiking helps get both your body and mind in shape as the fresh air and physical activity are known to help fight depression, anxiety, and stress.
Make It Part of Your Week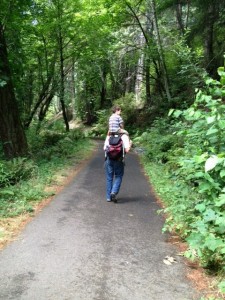 There are 52 weekends each year, meaning you have the potential for 52 unique adventures in and around the South Sound. To make hiking a priority, take a little bit of time each Monday night to find your next perfect hike for the coming weekend. By planning just a few days ahead, you will be able to make sure that the weather cooperates with your goal.
You can find incredible hikes through guidebooks specifically designed for giving you a stunning hike each week, or by joining a hiking community on social media, or even by checking websites like All Trails or Washington Trails Association. The hardest part of hiking every week is getting started, which is why you need to make sure you begin with a short hike and work your way up to epic adventures. Don't get discouraged if you miss a week. Instead, use that as motivation for the following week in order to go somewhere a bit farther away and even more beautiful. We also recommend finding a friend or family member to go on these adventures with you, that way you have someone else you are accountable for. This will help motivate you to stick to your plans.
Start Small, Then Expand
When most think of hiking, they picture long treks that take hours to complete and require tons of gear. However, all around the South Sound, we have a chance to hike short trails to beautiful destinations in our city, county, and state parks. Saving you driving time, hiking in one of the parks is much easier and even becomes a quick, family-friendly activity, no matter what the weather.
Near Olympia there are six perfect places to start your outdoor adventure each and every week. South of Olympia, McLane Creek and Millersylvania State Park both offer miles of easy to follow trails through beautiful forests and along waterways. McLane Creek's trails are only a few miles in length, making it the perfect place to start out. Millersylvania has over five miles of trails that are well-marked, providing you both distance and some solitude in the tall trees.
After you have hiked those two, check out the triple combo of Tolmie State Park, Priest Point Park and Burfoot Park. All three give access to the Puget Sound, allowing you to hike through the woods and along the beach for a best-of- both-worlds outdoor experience. Tolmie State Park offers you nearly five miles of trails as does Priest Point Park. Burfoot Park has less mileage but is a great place to walk when you only have a little bit of time to enjoy being outdoors. Nisqually Wildlife Refuge is another great, local trail system, providing over five miles of hiking opportunities on very flat, easy-to-follow routes along the Nisqually River Delta.
Once you have hiked the local parks, it is time to start looking farther away toward our state and national forests and our numerous regional national parks. The closest and best place to begin exploring after local parks requires you to head up the Hood Canal and hike to the Staircase Loop Trail or up to Lena Lake. Both are longer, offer some elevation gain, and reward you with stunning wilderness views. These two places are almost guaranteed to whet your appetite to start exploring further on our protected federal and state lands. If you need more options, pick up guidebooks written by locals and get motivated.
Set a Serious Goal
To inspire a year of going outdoors and getting into better shape, setting a goal is extremely important. For many finding a backpacking trip or choosing a long day hike is the key to maintaining a work ethic for the year. Your goal should be a destination that you crave reaching, be it a waterfall, a mountain, a beach, or a river. For those new to hiking and who love the coast, a fantastic goal is to hike to Shi Shi Beach and Point of the Arches in Olympic National Park. At eight miles round trip, the stunning stretch of wilderness coast will leave you speechless with its spectacular beauty. This is one of the seven wonders of the Olympic Coast and is sure to be the place of your daydreams for years to come.
Those hoping for mountain views and stunning panoramas should aim for the awe-inspiring trek up the Burroughs Mountain Trail out of Sunrise on Mount Rainier. Offering hikers jaw-dropping panoramas of the Cascades and Mount Rainier, this trek gives you some of the best views of glaciers in the country. At 6.3 miles round trip, this is an excellent goal hike. Those already in shape and looking for amazing backpacking trails should head into Olympic National Park over the summer months for miles of the purest wilderness in the nation.
Hiking as a lifestyle will get you into shape, leave you happier, and give your weekends adventures you never dreamed of. While it may seem intimidating to start hiking, all you have to do is drive to a local trail and put one foot in front of the other. With each step, you'll find the stresses of your work and worries about life fading away, replaced by the euphoria that only nature can bring. Filled with fresh air and a sense of accomplishment, you will be closer to your goal of living the happy, healthy life you have always wanted with each hike you take. All you have to do is go outside.
Thrifty Thurston highlights inexpensive family fun in Thurston County. The weekly series focuses on family-friendly activities throughout our community. If you have a suggestion for a post, send us a note at submit@thurstontalk.com. For more events and to learn what's happening in Olympia, Lacey, Tumwater and the surrounding area, visit our complete event calendar.