She does it all. In fact, calling her a "superwoman" seems quite an understatement. Olympia's own Vanessa Postil is a one-woman dynamo. Among her many other roles, she is the Coordinator of the Young Arts Ambassador program at the Washington Center for the Performing Arts. The program, founded in 2014 by the Center's Executive Director, Jill Barnes, serves to give teens in grades ten through twelve the opportunity to develop their arts education and become life-long advocates for the performing arts. Postil has been with the program from the start.
I caught up with Postil for a cup of coffee at Batdorf & Bronson to learn more about the program and the woman who makes it thrive. Postil's infectious smile, high energy and quick, creative mind that makes her a superstar mentor for teens.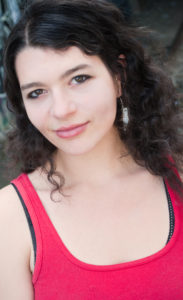 Postil grew up in Hollywood, the daughter of actors. "I was born in Hollywood on a Saturday night," she says, laughing. "That pretty much describes my personality." After attending an arts high school and developing a love of musical theater, she moved to Olympia to attend The Evergreen State College. She majored in film and quickly became involved in the local filmmaking and theater communities.
After teaching a successful Winter Break theater workshop for Olympia Family Theater (OFT), Postil had her "Aha!" moment. She realized she wanted to teach theater to teens, both the performance and technical aspects. She loved the way youth bonded and blossomed in a safe theater setting and brought excitement about the arts to their peers.
Since that moment, she has continued to contribute to local theater as a performer, teacher, producer and board member. Currently, she leads the Young Arts Ambassador program and is the Marketing Coordinator for the Olympia Film Society. She's active with the Olympia Family Theater and Theater Artists Olympia and still works with The Midnight Sun (read about Postil's work at the performance space here). On top of all that, she is a graphic designer and runs her own design business.
Catch your breath – there's more. Postil is a single mother to 7-year-old daughter Evelyn and lights up even more when talking about her. "It's all for her," she says. In addition, she is a doula (birth attendant) for local parents-to-be. "I'm a human Swiss Army knife," she laughs.
Postil has that intangible quality of someone special, someone with many talents they can use all at once. Yet, with all her commitments, the Young Arts Ambassador program has a special place in her heart. It is a partnership meant to be.
This year, ten students are participating in the program to "develop the leadership, workforce, and life skills to achieve their highest potential as citizens in the global community." The teens navigate a rigorous application process to ensure commitment to the program. Throughout the school year, they participate in monthly gatherings on topics such as theater tech and arts advocacy. The meetings feature a workshop and a discussion period. The teens also must volunteer once a month at an arts event and attend a monthly arts event as a patron, giving them well-rounded exposure. They write about the events on the Center's blog. The program culminates with an annual Arts Showcase event in the spring.
The program is a substantial commitment for the teens. Postil loves seeing the students individually flourish and bond with each other. "I give a lot of love in the program. My goal is to give voice where there was none," says Vanessa of her goal in creating a safe space for youth to thrive creatively. "The program components go hand-in-hand – volunteering time, contributing to the community and developing teamwork, writing, and advocacy skills."
The program has many success stories. One young woman became a "repeat Ambassador" for a second year on top of full-time studies and a serious dance career at Debbi's Dance, Etc. Another student, now graduated, wrote a speech for the annual Showcase so moving that it has been used by program staff for grant writing and other purposes.
"I'm constantly impressed by the youth," says Postil. Though she may be older and have more experience, she is also open to feedback from them, and always thinking of new innovations for the program. "I'm always learning," she says.
By now, there are many bodies of research that testify to the benefits of arts involvement for teens who are particularly receptive to the arts as a creative means of expression during these often-challenging years. As an executive at the Xerox Corporation, Joseph Calahan, says, "Arts education aids students in skills needed in the workplace: flexibility, the ability to solve problems and communicate, the ability to learn new skills, to be creative and innovative, and to strive for excellence." The Arts for Life! website also presents a good discussion of the value of arts in making youth exemplary world citizens.
To support the Young Arts Ambassadors the public can attend the annual Youth Arts Showcase on May 6, 2017 and donations are always welcome.  "We're empowering teens to become future arts leaders," she says
Inspired rather than set back in adversity in her own life, Postil sees herself as a natural "helper" to others. She wants to teach the teens both that "there's always a helper out there," and that "if you can be a superhero and help others, you have to be that superhero. I want to give them confidence."
Despite her many accomplishments, Postil is humble and quick to thank the staff at the Washington Center for their support of the program.  "If one teenager sees me as a mentor, it's all worth it," she says.
For more information about the Young Arts Ambassadors program, visit their page on the Washington Center website. You can also follow the Washington Center on Facebook and read more about their current season on ThurstonTalk here.
Sponsored