The Washington Center for the Performing Arts is a cornerstone of downtown Olympia. The premiere arts and entertainment venue in our region, The Washington Center is truly a community hub. With a wide variety of mainstage shows throughout the year, it's easy to find something that piques your interest,and, this year is no exception. With performances ranging from Broadway and stand-up comedy shows to National Geographic presentations and country music superstars; there's something for everyone. Check out the highlights listed here then hop over to The Washington Center's page to view the entire 2016-2017 season lineup.
The season opener this year is a stunner with multiple award winning vocalist Rita Moreno performing on October 13. Her legacy in American song spans genre (Broadway, jazz, Latin, and more) as well as generations. Moreno will share classic tunes everyone knows along with highlights from her new Spanish album, "Una Vez Mas." Join your community to celebrate the start of another season with a champagne (or sparkling cider) reception, free for all ticket holders, before the show.
Throughout the season, The Washington Center has included performances to delight Broadway show lovers. "Men are from Mars, Women are from Venus – Live" and the National Broadway Tour of "Once" kick off the fall with comedy or drama, something for everyone. These are joined by "Sister's Christmas Catechism," described as a hilarious CSI: Bethlehem mystery for the holidays followed by the classic Gilbert and Sullivan musical extravaganza, "Pirates of Penzance." With nearly 1,000 seats, and all of them terrific, these Washington Center shows will give your family the experience of big city theater right in downtown Olympia.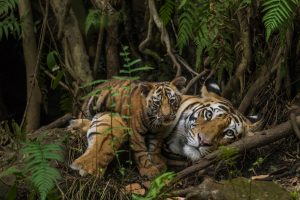 Spread throughout the season are the National Geographic Live presentations. These multi-media presentations focus on The Center's mission to not only entertain, but enrich and educate as well. "The National Geographic Live series fills an important role in The Center's seasonal lineup," explains Marketing Director Michael Cordier. "The educational component, coupled with the fascinating topics appealing to kids and adults, make these evenings one of our favorites."
The duo of shows begins November 10 with forest ecologist Nalini Nadkarni, PhD sharing her insights found in the treetop canopies of our worlds rainforests and the connections she's found to even the most urban environments. The second installment, held February 2, enters the world of wildlife with photographer Steve Winters in "On the Trail of Big Cats." His lighthearted and nerve-wracking anecdotes about photographing the world's beautiful big cats will engage and educate the entire family, as will his incredible images.
Many of us mourned the loss of rock legend David Bowie this year. Celebrating his legacy, The Washington Center welcomes Seattle Rock Orchestra for a night of David Bowie classics shared as only this renowned orchestra can. Mark your calendar for November 18 and start planning your outfit now for what will undoubtedly be a night to remember.
Another much anticipated performance this year is the March 28 show, Black Violin – the creative creation of two classically trained black musicians, Kev Marcus and Will Baptiste. The talented duo hits the sweet spot between classical sounds and hip hop beats, creating a sound that engages audiences and invites investigation into the meshing of seemingly unrelated genre. Marcus and Baptiste describe their sound as "something you can listen to if you don't listen to hip hop, or if you don't listen to classical – we bridge that gap."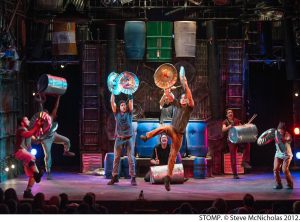 Cordier is especially excited for this show explaining that Black Violin is "beautifully crafted music and a piece of performance art desperately needed at this time in our history." Expect violins, violas, percussion and a live DJ meshing the two styles with outstanding results.
The 2016-2017 season includes shows throughout the year that showcase the diversity of The Washington Center. The return of Body Vox, a unique blend of modern dance and acrobatics will delight dance fans. The Time Jumpers, the Grammy-nominated country swing band led by Vince Gil, will showcase the best of the best out of Nashville. Newly retired (from Prairie Home Companion), Garrison Keillor visits Olympia with his beloved charm and storytelling that has captured a generation of radio listeners. And, an electric non-standard percussion performance by STOMP is sure to get the audience's blood pumping and toes tapping.
Add these mainstage highlights to The Washington Center's annual events such as the Silent Movie Series, Comedy in the Box and Black Box Jazz and you have a full season of top-notch arts and entertainment at your fingertips.
Ticket sales from mainstage shows help The Washington Center to fulfill its mission as a non-profit, community venue. The financial support opens the doors, and stage, to smaller groups such as Ballet Northwest and Masterworks Choral Ensemble and to host school groups such as Olympia Junior Programs who would otherwise not be able to afford to rent the professional theater space.
The only remaining decision now is what tickets will you purchase first?
View the entire Washington Center for Performing Arts 2016-2017 season brochure online here.
Sponsored