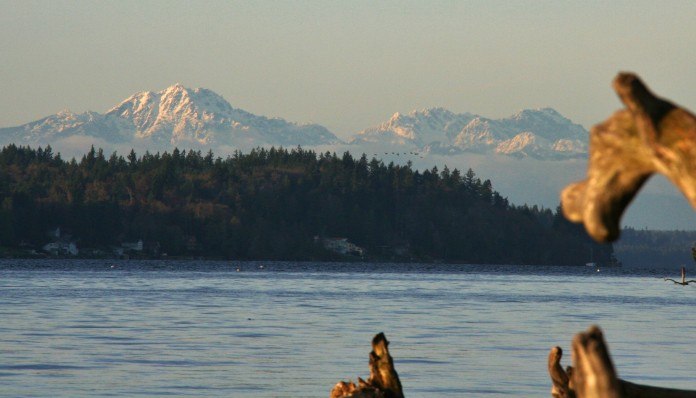 By Douglas Scott
Burfoot Park, near Boston Harbor, is a classic Thurston County destination, visited year-round by thousands of locals and tourists alike. Perfect for families, dogs, and those looking for an incredible view of the Puget Sound, Burfoot Park has been part of the Olympia experience for roughly 40 years, helping give those lucky enough to live nearby a perfect destination to experience the beauty of life in the Pacific Northwest.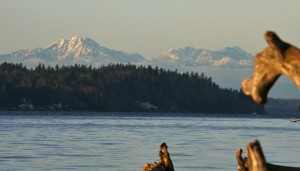 Proposed as a park in 1973, it took two years before Burfoot Park became a reality. In September 1975, the County Commissioners of Thurston County called for bids to begin clearing and setting up what is now Burfoot Park. Today, over four decades later, it is hard to imagine life in Thurston County without this gem. Burfoot Park is consistently mentioned as one of the best parks in the south sound, and with access to solitude, silence and stunning views, it is easy to see why.
Even though the park is small, just 50 acres in size, when you head into this park just south of Boston Harbor, you escape the I-5 corridor and are transported to a timeless stretch of beach along Budd Inlet. With over 1,000 feet of salt water shoreline giving off views of the State Capitol to the south and the Olympic Mountains to the northwest, Burfoot has also cemented its place as one of the best views in Thurston County.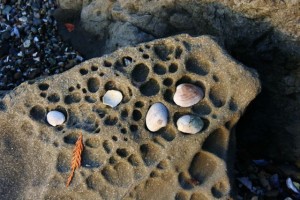 Experiences at Burfoot vary, depending on the season in which you visit, but one thing that strikes most everyone who visits this tiny park is the silence. Far from the noise of cars, 3.8 miles of trails await your adventure, leading through second growth forests, along small creeks and down to the magnificent view expanding across the Puget Sound. The trails are well maintained, though there are a few sections that can be steep for those not used to the terrain. Along the beach, the view is often impossibly beautiful. As you stand on the shore, listening to small waves crash against the rocky shore, eagles soar overhead, blue herons stand silent and seals pop their heads out of the water, looking at you with curiosity.
With the Olympic Mountains towering in the distance, all seems right in the world at Burfoot Park. Look for sand dollars, agates and sea glass along the shore; they are plentiful after a stormy day. In the summer, beach naturalists answer questions and educate guests about the amazing diversity of life in the region. Burfoot is also a fantastic place for clam digging, swimming, wading and bird watching. More information on clam digging and the animals of Burfoot Park can be found through the good people at Stream Team.
Once you have left the beach, trails dart in every direction, leading those curious into second growth forests with ferns as far as the eye can see. The path weaves around, showing off nurse logs, as well as the beauty and silence of the woods. The best bet after the beach is to stick to the right side of the trail following it up a short, but steep, hillside before being led to a picnic area and a short trail through a gorgeous stand of trees. When walking here, keep an ear open for woodpeckers above, knocking at trees in search of grubs.
If you aren't wanting to walk or enjoy the panorama of the Puget Sound offered on the beach at Burfoot, you can hang out at the playground, run around in the acres of field enclosed by the loop drive, or even host an event at one of the three covered shelters. The grassy area in the middle of the park is nice, open and perfect for a picnic lunch or just lying back and looking at the clouds overhead. With a few shady areas around large trees, relaxing here after a long work day or on a sunny weekend is sure to diminish your stress level.
If you are hoping for a family-friendly picnic environment, Burfoot has you covered, literally. Rain or shine, Burfoot is able to host large groups of people under their three shelters. The main shelter, located in the middle of the field, has four picnic tables, a large barbecue grill, an electrical outlet and can hold 32-40 people. To the south, the Meadow Shelter is a bit smaller, seating up to 30 people on the three picnic tables. A large barbecue grill is also available. The final shelter is a bit more removed from the parking area, making it ideal for those looking for a more private picnic. The Meadow Shelter has a large barbecue area, but just one large picnic table. Luckily, it can hold 24-30 people, making it a great place to host an event.
Burfoot Park is one of Thurston County's true gems, giving nature lovers of every age a perfect place for short hikes, majestic views and fantastic picnic areas. For the last 40 years, Burfoot has been a family destination, giving young and old a lifetime of memories just six short miles from Olympia. Whether you have been here 100 times, or are looking to go for the first time, there is never a bad day at Burfoot Park.
More information on Burfoot Park and other Thurston County parks can be found here: http://www.co.thurston.wa.us/parks/parks.htm.
Thrifty Thurston highlights inexpensive family fun in Thurston County. The weekly series focuses on family-friendly activities throughout our community. If you have a suggestion for a post, send us a note at submit@thurstontalk.com. For more events and to learn what's happening in Olympia and the surrounding area, visit our complete event calendar.