By Gail Wood

Because of her last name, Kylie Otton is part of local sports royalty.
Her grandfather, Sid Otton, is the winningest football coach in state history and has coached at Tumwater High School since 1974. Her dad, Tim Otton, played college football at Weber State and now coaches the linemen on the Thunderbirds' football team. Her uncle, Brad, played quarterback at USC and led the Trojans to a Rose Bowl victory. Her aunt, Tana Otton, is the volleyball coach at Tumwater. Kylie has cousins playing football and volleyball in college.
The Otton legacy is rich. Her name has been an incentive, a pep talk to always try hard.
"Even as a young girl, it's always been 'never give up,'" Kylie said, quoting a long-time motto for the Thunderbird football team. "My family is really talented athletically."
But growing up, Otton wasn't sure where her sports niche was. Volleyball and soccer didn't click for her.
"They said Kylie wasn't that athletic," said Laurel Smith, Tumwater High School's longtime swim coach.
But, with the help of Smith, Kylie found swimming. It turns out she's part fish. Kylie, now a senior, has qualified for state every season since her freshman year. Last year, she went to state in the 100-yard butterfly, the 50 freestyle and the 200 medley relay. With true Otton passion, Kylie is hoping to break the school record in the 100 butterfly.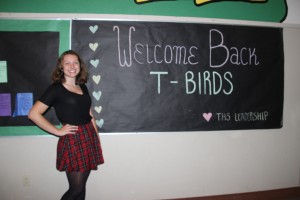 "The record is 59 seconds and I'm at 1:05 right now," Kylie said. "I feel like if I get my kick together, I'll be able to make it."
Kylie isn't just dreaming about that record, wishing it might come true. Kylie, and teammate and friend, Nicole Howard, recently began two-a-day workouts. The duo will be in the pool at the Valley Athletic Club at 5:30 a.m., getting in a one-hour workout before school. Then after school they'll head to practice for another workout.
"Kylie is one of my hardest workers by far," Smith said. "She knows that what you put into it is what you get out of it. She puts in the time."
Otton's get-it-done approach in meets and practice is infectious.
"Kylie certainly pushes herself," Nicole said. "That causes me to push myself, too."
Like Kylie, Nicole has the ability to give a gutsy, push-the-pedal-to-metal effort. Last year, the day before the district meet, Nicole was diagnosed with pneumonia. But that didn't keep her out of the pool or even out of school.
"I went to school every day with pneumonia so I could go to practice," Nicole recalled.
The day before districts, Nicole had a 102-degree temperature and she still showed up for practice. And Smith sent her home.
"But I showed up for districts still feeling horrible, full of antibiotics and an inhaler," Nicole said. "I pushed myself. Kylie pushed me."
Amazingly, Nicole made it through districts and went to state with pneumonia.
"I had an awesome time even though the circumstances weren't good," Nicole said, flashing a wide grin.
Smith didn't have any other options with her determined swimmer.
"I know Nicole well enough to know that she was coming no matter what," Smith said with a smile.
In response to her coach's comment, Nicole said, "Oh yeah, you couldn't keep me away."
Kylie isn't just focused on swimming, forgetting about grades. She's the true definition of student athlete. She has a 3.9 GPA, getting one B in high school.
"I had a B in Algebra 2," Kylie said with a grimace. "That was it. That was the lowest grade I've ever gotten."
Like Kayle, Nicole's focus isn't the pool. Oh, she's committed to swimming – she qualified for state in the 100 breaststroke, the 200 freestyle relay and the 200 medley relay last season. But she's not single minded. Swimming doesn't eclipse school. An A-student, Nicole, who is a junior, wants to become a nurse to travel as a missionary overseas.
"It's because I love my God and I want to serve people," Nicole said when asked why she wants to become a missionary.
Smith, who became Tumwater's coach in 1991, is excited and optimistic about this year's team. With 27 turning out, Smith has some talented depth. But unfortunately, she doesn't have a pool. Construction at River Ridge High School, where Smith's team swims, isn't finished and the T-Birds are pool-less.
"It's tough," Smith said. "We're hoping the construction gets done soon."
Under Smith, Tumwater has had a successful record, sending someone to state every year she's coached the Thunderbirds.