It's the surefire way of knowing they put on a spectacular performance.
The moment the music stops every member of the Tumwater High School dance team shifts their eyes to this section of the football stadium.

"All the girls will look at the opposing team's fans," said head coach Kim Hille. "Our school is very supportive and they're always going to cheer for them. They will always make us feel special no matter what. But to hear cheers from the other side of the crowd? That's when they know they did a great job."
More times than not that has been the case for the Thunderbirds during Hille's 20-year watch over the extremely successful program, which will achieve yet another major accomplishment in March when the team travels to Orlando, Florida for the national dance team championships.
The T-Birds will compete March 4 and 5 against the nation's premiere high school dance teams in the Contest of Champions Nationals at the ESPN Wide World of Sports Complex in Walt Disney World.
"We get to mix in some competition with some fun," Hille said. "Some of these girls have never been on a plane before. A lot of them have never been to Disney World. It's just a great experience for them."
Tumwater will participate in four national categories – hip hop, pom, jazz and kick. The T-Birds have advanced to nationals every other year since 2003 with their best finish coming in 2015 when the squad finished 8th nationally in the hip hop division.
The team will bring plenty of familiarity into the event as the roster sports nine current dancers who have previous nationals' experience with five members returning from Tumwater's 2015 national-placing varsity team.
"The goal is to improve on what we did last time. We never believed we would get eighth," senior dance captain Kyler Reid said. "When we didn't get called for 10th place we thought that was it. We were out of it and our names were never going to be called. When they did call our name it was jaw dropping. It was so exciting. It was immediate tears when we heard our names."
Joining Reid on the list of national returnees are fellow seniors in hip hop captains Tia Matautia and Rachel McDaniel and four-year member Morgan Schlottmann.
"It was probably one of the best experiences I've had traveling all the way to Florida for nationals last time," Schlottmann said. "We have a whole bunch of different personalities this year. It makes it fun. We balance each other out. We're really close and focused on the same goal."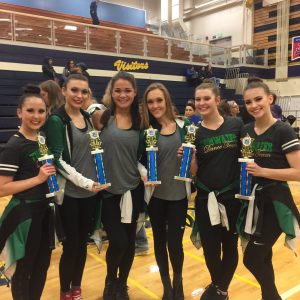 The team warmed up for nationals by participating in a state competition in Bellevue last month. The varsity finished as the overall high-points leader, sweeping four categories – kick, pom, hip hop and dance. The JV squad didn't go home empty handed either as they grabbed a fourth-place finish despite competing against other varsity teams.
While the year-round pom routine will carry over to nationals, the team recently began learning the routines for the hip hop and dance portions of the competition.
According to Hille, the choreography alone for the routines take upwards to 16 hours to creatively piece together while the learning of the routine takes approximately 80 hours.
"They are meticulous. We film everything and have a private YouTube channel. They go over and look at their performance, they look at their practices and they go over everything," Hille said. "They are constantly critiquing it and improving on it. It takes a long time because the thing is it's not just learning the choreography. They have to work together as a team so that everyone is completely in unison."
Adding to the process is the fact that the T-Birds are known for constantly upping the ante on the difficulty scale of the moves, leading some dancers wondering how exactly they are going to pull things off.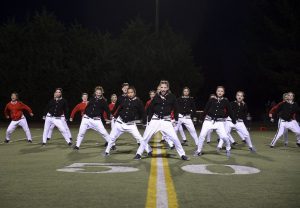 "Those are the thoughts that go through my mind when we first are taught something new. I don't think I'm alone," McDaniel said, "but once we see someone do it, it becomes a lot easier."
"Sometimes we struggle with that. It's a lot of hard work getting everyone on the same page, doing the same stuff, looking the same. We put in a lot of hours," Matautia said. "It's our goal to make it look easy."
And that's something the T-Birds plan on doing once they arrive in Orlando.
"They make me so proud. Some of these kids I have been working with since they were in fifth and sixth grade, and just to watch them develop and mature and move forward you can't explain it," Hille said. "To have them feel that sense of accomplishment is what you want for them."
Coach Hille Enters Hall of Fame
While her Tumwater squad continues to prep for nationals, Hille capped 2016 by being induced into the Washington State Dance and Drill Coaches Association Hall of Fame.
The WSDDCA Hall of Fame recognizes coaches in the Washington State Dance/Drill community who have contributed to building a well-rounded program at his or her school while also contributing to the coaches association, district, or state through service and/or mentoring of others.
Hille was nominated for the Hall of Fame by 2011 inductee Sally Kaatz, who coached Curlew High School for 42 years.
"To be recognized and nominated by (Sally) was such an honor," Hille said. "(2012 Hall of Fame inductee) Teri Rowe spoke at the induction and delivered a moving speech in which she had spoken with several of my alumni. I wish I had recorded it. I was in tears the entire time. It was such a special night for me. It is an honor to represent Tumwater and be part of the Washington State Dance and Drill Coaches Association Hall of Fame."