When you think of what you're grateful for, 1980s power ballads may not be at the top of your list. Driving lessons also may not make the cut, depending on whether or not you have teenagers. But if you work at SCJ Alliance, every holiday season is an opportunity to consider what inspires gratitude, the more specific, the better. For the record, this year merlot, big fat cats, and the new Star Wars movie also made the cut.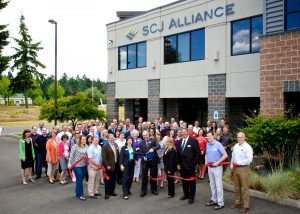 Every year, the company sends out a unique holiday card that includes a collection of items from every member of the staff. "We show our clients we're grateful for them as well as all the other things we're grateful for," says Jean Carr, Senior Vice President and one of the company's founders.
SCJ Alliance specializes in civil engineering, transportation planning and design, environmental and urban planning, landscape architecture and design, and public outreach. They have clients both within the South Sound and throughout the Pacific Northwest and other western states.
The tradition began five years ago. "It was one of those organic things that started out of a conversation," says Carr. Initially, like a lot of companies, SCJ Alliance sent out commercially produced Christmas cards. "Nothing quite fit for us," she says. Then, during a discussion about Thanksgiving traditions and what people were thankful for, a light bulb went on. "We thought, 'Wouldn't it be fun to do a card that we actually create?'"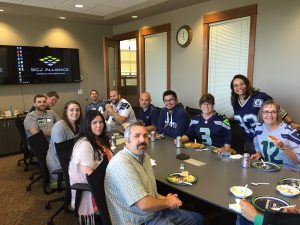 They asked their staff to make a list of what they were thankful for, one that could be as sincere and quirky as they wanted it to be. Then they had to winnow that list into selected bullets to be included on the back of the card. "We aren't able to include everything," says Carr. "We have to kind of pick and choose. We try to make it fun to read. It's a really fun way to put out a taste of our staff and who we are in our message to our clients."
The card has been incredibly well-received, and clients look forward to it every year. "Everybody loves the card," she says. "It often inspires them to reach out and tell us how much they appreciate getting them. It brings them a little bit of joy." Carr often posts the card on her refrigerator and leaves it there all year. "It's a great reminder of what we stand for and all the little things in life." She also makes sure her parents are on the mailing list.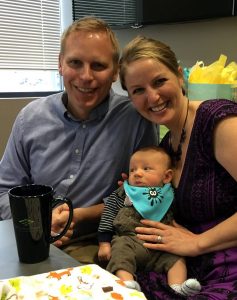 For the staff, the card is a chance to take stock of their lives and have a little fun at the same time, creating inherent value, Carr believes. "It shows in the variety of things people tell us they're thankful for. Everybody's list has something that tugs at your heart strings and something that makes you smile. Giving people this opportunity is a great way for them to get in touch with what's important to them."
That's true for Vice President Amy Head. "I look forward to our Christmas card every year since we started our thankful list.  It is fun and unique and encourages our staff to reflect over their year," she says. "I like to see which things on my list made the cut as well as see what everyone else said. Then I try and figure out who said what. I also think it's a much more authentic way to share holiday spirit with our clients than just a canned message in a holiday card."
Planner Laura Barker believes the card is indicative of the culture at SCJ Alliance . "I love working for a company that thinks outside the box and beyond the standard holiday card," she says. "It's really reflective of the overall culture at SCJ Alliance. The fact that the card encourages us to reflect on what we're really thankful for each year is an added bonus."
Staff members respond quickly when the annual request goes out, says Carr. "This is not one of those things where we have to send nagging emails. It's also one of the best received things that we send to our clients."
Kind of makes you want to put on a 1980s power ballad.
For more information about SCJ Alliance, visit www.scjalliance.com or call 360-352-1465.
Sponsored