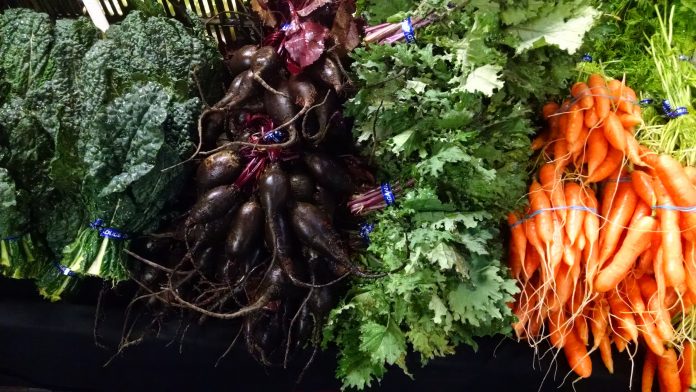 Although November marks the time when the Olympia Farmers Market shifts to weekends only, the energy is festive as fall fades and the holidays begin. There's still fresh produce and lovely edibles to behold. I am reminded how fortunate we are to have a cornucopia of choices that include vegetables, meats and more. Let's peek in a few stalls.
OlyKraut
For the past eight years OlyKraut has been handcrafting sauerkrauts, pickles and sipping brines. Owner Sash Sunday's commitment to sustainable agriculture has led to forming deeper relationships with local farmers. Using local produce supports everyone involved. Consumers get outstanding products that not only taste wonderful, but their probiotic content is integral to creating thriving, happy microbes. They live in your digestive tract and contribute to optimal health and improved immunity. Probiotics can also aid in relieving indigestion, a helpful tool during the holiday season.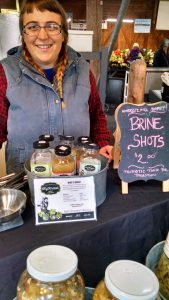 Check out the ruby-red pickled cranberries. Soaked in saltwater brine with ginger, cloves and sugar. They'll add an elegant touch to your holiday cocktails. Make appetizers with crackers, goat cheese and berries on top. Throw into your kale salad. You can even use the brine.
OlyKraut's products are certified organic. The time-tested recipes are ready for your table. There's spicy garlic and another with smoke and kale. You can eat your sauerkraut on a classic Reuben sandwich, but don't stop there. Mix a jar with sour cream for a fabulous dip. Mix the brines with miso paste and oil for a dressing. Or, make a version of okonomiyaki, a Japanese cabbage pancake (sounds weird but it's easy to make and wonderful to eat). A few jars on hand will spice up any meal and make great party food.
The sauerkraut is naturally fermented and will keep in your refrigerator for many months. I promise you will eat it way sooner than the expiration date. Find updates on the OlyKraut Facebook page.
Twin Oaks Creamery
Visit Twin Oaks Creamery, a Chehalis based family farm spread over 100 acres. Gary and Heather Howell keep busy with cheese production with milk from their goats and cows. They also raise Angus cattle. "My husband grew up on a dairy farm," said Heather, who is at the Olympia Farmers Market to answer any of your meat or cheese questions. "It's in his blood," she added.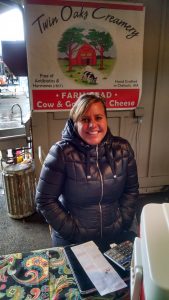 A popular dairy product is cheese curd, sometimes known as squeaky cheese. Twin Oaks Creamery seasons curd with garlic, rosemary and thyme. Giovanni Shore, a familiar market face, is always cooking something interesting. He was picking up a container of cheese curds and I asked him for his recipe plans. "I might put them in a salad. Or I might just eat the whole thing as is!" Other cheeses available are plain and seasoned feta as well as Brie and aged cheddar.
Twin Oaks Creamery also sells sausage from their own pigs. Heather noted that they also have tongue, heart, lard and ox tail, which are in demand. Their son Zach, a sixth grader, has been raising chickens since he was in kindergarten, so the market stand usually sells eggs. However, winter is a slower time for laying egg, and Twin Oaks allows their poultry to naturally slow down. Zach also manages his own beef herd and he is building up his bee population. It's advisable to call ahead if you want something special.
Stoney Plains Organic Farm
Fresh vegetables are in season at Stoney Plains Organic Farm, started by Patricia and Robert Meyer. You'll usually find their grandson Jason Meyer tending to the vegetables at the market stall. He's been working on the farm since he was 10-years-old, including driving the tractor. Stoney Plains has been a part of the Olympia Farmers Market since 1978. Produce is grown on ten acres in Tenino. Root vegetables like carrots and beets are plentiful. Plus there are gorgeous greens.
Their stall is full with winter squash. Each one has its own taste and texture. I love them all. Squash is easy to roast – don't worry about cutting it into pieces if the skin is too hard. One of my favorite ways to use squash is to roast it, put it in the food processor with sautéed onions and coconut milk. Blend the mixture until it's smooth, adding water if it's too thick. Throw in whatever spices you like – cinnamon, ginger, curry, garlic. Soup is perfect for rainy day lunches and light dinners. It also freezes well.
The Olympia Farmers Market accepts WIC, EBT and senior checks. You might consider supporting the local economy with an Olympia Farmers Market Gift Certificate. Have you seen the Sustainable South Sound Coupon Book? You can save up to $5,000 while doing your local shopping. Sign up for the Market's newsletter. Follow the Olympia Farmers Market on Facebook or Instagram and Twitter #olympiafarmersmarket.
The Olympia Farmers Market is open on Saturday and Sunday from 10:00 a.m. – 3:00 p.m. on Saturdays and Sundays in November and December. Add special holiday shopping days on December 22, 23, and 24 to your calendar.
Eat Well – Be Well
Sponsored