It's one thing to look at shoes online or in a catalogue, another thing entirely to see them in person, says Naot representative Tom Sowards, who will be at Belleza Ropa in Olympia on November 19 for a trunk show featuring the company's shoe line. "Nothing replaces being able to see something in person," he says. "You get to see what the material and the leather look like. When you buy things online, you really don't know what they're like, even if you blow the picture up to a larger size."
During the November 19 show, which will last from 1:00 p.m. to 5:00 p.m., Sowards will explain the history of the company, which is based in Israel, and showcase multiple styles and colors. "There aren't a lot of products manufactured in Israel, particularly shoes," he says. "We'll show what's available right now as well as the best of what we've sold this fall based on what's popular in Washington and Oregon."
Belleza Ropa has been carrying the brand since the owner of Bonaventure stopped offering it. "They've been very popular," says owner Jeannine Kempees. "When she retired, we picked up the line. These shoes are very familiar for a lot of people in Olympia." Sister store About Time in Port Townsend has been carrying them since 2004.
Naot shoes have a unique foot pad that conforms to the wearer's own foot pattern by creating a 'negative' print of the foot. Made of natural cork and latex, the footbeds help to absorb shock and support the heel, which makes them great for travel according to Kempees. "A lot of customers take them on trips to Europe. They make one sandal called the Vogue that three of my staff members and I wear all the time. They're great for women who are looking for exceptional comfort, and there's a tremendous variety of leathers and colors." People who spend a lot of time on their feet also appreciate the brand, she adds.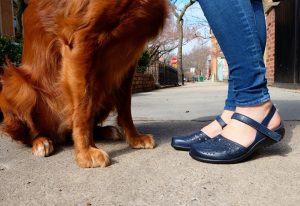 Sowards will be bringing over 100 pairs of shoes for guests to try on. "They can order the size, color and leather combination that they like," says Kempees. The store will offer 10% off on all Naot products during the show and will hold a drawing for a free pair. "Tom will bring items to be given away with purchase as well," she says.
Any products that the store doesn't carry can be special ordered, says Sowards. "Orders take between 10 – 14 days to arrive. Jeannine will usually wait a couple of days to place an order so that women can still come in a day or two later and choose something."
Belleza Ropa carries 120 different styles of shoes, and has introduced a new customer reward system featuring digital gift cards that can be emailed or texted to someone in time for the holiday season.
For more information about Belleza Ropa, visit www.bellezaropa.com or call 360-352-7672.
Sponsored