Savvy shoppers know there are few universally exciting gifts, but kids of all ages and abilities love LEGO, and rightfully so. Time Magazine recently awarded LEGO the number one spot in their Most Influential Toys of All Time rankings. "Since its debut in 1958, LEGO has also redefined the potential of playthings, allowing kids to build permanent structures from scratch, in all kinds of shapes and sizes…That has had a massive impact on the toy and gaming industry—Minecraft was born from its creator's experience playing with LEGO—and especially its younger players."
This freedom to build and create is not only entertaining, but fosters coordination, problem solving, and basic science, math, and engineering know-how. It is this pairing of education and entertainment that led owner Jennifer Chevalier to start the e2 Young Engineers Program.
e2 Young Engineers is an international STEM-based curriculum primarily using LEGO sets. With approximately 600 e2 programs worldwide but fewer than 10 in the United States, Chevalier expects weekly classes to fill up quickly for students of all levels.
These are no ordinary LEGO sets however. High-end e2 builds include gears, pulleys, robotics, and basic software and mechanical engineering options. Creations can spin, drive, and move thanks to creative minds and skilled instruction.
Chevalier and her staff have studied the e2 curriculum since April and love that it "covers all age limits and abilities." Soon she hopes to add more LEGO Birthday Parties to their calendar as well as preschool offerings in early 2017.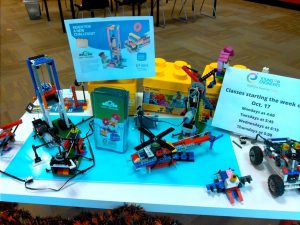 A long-time educator, Chevalier is currently on a leave of absence from teaching. In the past she taught at Shelton and Tumwater High Schools as well as Grays Harbor College. A Capital High School grad, she hires local students as instructors for both Mathnasium and e2. Of her current six employees, four are college engineering majors, while one is pre-med and another studies education. They attend Saint Martin's University and the University of Washington's Tacoma campus and love what they do so much it's not unusual for them to drop by even off the clock.
Sessions are available for children ages 4 to 12, run approximately an hour, and meet once a week. Enrollment fees are paid monthly but there is no cut-off date to sign up. Prorated month is available for the first month. Contact Chevalier at 360-763-9963 or via email.
Currently classes meet on Mondays at 4:00 p.m., Tuesdays at 5:45 p.m., Wednesdays at 6:15 p.m., and Thursdays at 5:00 p.m. Pioneer Elementary students have the program running on Fridays with no early release. "We allowed for 32 students with two classes running concurrently. Thirty nine students were interested so we created a waitlist," says Chevalier who encourages families to apply online or call to inquire.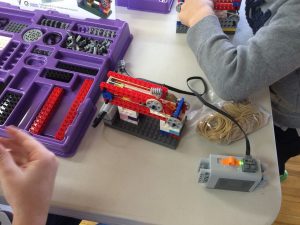 Enrollment is limited to 16 children per time-slot, but new times will be added as needed. With e2 doors only open since mid-October, current class levels mean lots of direct interaction time.
Looking for a hands-on activity for your party, scout troop, organization, home school, or camp? Young Engineers LEGO Workshops are perfect for one-time classes, either at their Lacey location or your site. These workshops are also ideal for senior citizens, special needs audiences, or business gatherings.
President Obama praised STEM education as "more than a school subject, or the periodic table, or the properties of waves. It is an approach to the world, a critical way to understand and explore and engage with the world, and then have the capacity to change that world." And this can be as easy as an hour spent playing with LEGO sets.
Parents are excellent at sneaking vegetables into mealtime, old toys to donation bags, and beloved stuffed animals through the wash. While these are for the greater good, sometimes our little ones don't see the bigger picture. Continue your parental genius by turning playtime into life-long success; shhhhh, I won't tell.
Puget Sound e2 Young Engineers is located at 4331 Lacey Boulevard. You can also find updates, photos, and information on their Facebook page.
Sponsored