It's the time of year for pumpkins, skeletons, and if you're lucky a few good scares. And the students at Avanti High School in downtown Olympia are prepared to help you celebrate the season. For the fourth year in a row, Avanti students are hosting an annual haunted school. I caught up with some of the students and staff as they were preparing their scares, and believe me this is not your usual haunted house.

The building which houses Avanti is almost 100-years-old and many parts of the school have seen minimal upgrades or remodels, including the basement of the gym. Eerie old locker rooms and strange closets lend a perfect backdrop for their haunts. "Students don't like being down here alone, and I don't either," says Avanti High School teacher John Hanby who organizes the student-led event.
Hanby says people come expecting a standard school haunted house, but that's not what they get. "I think a lot of the responses have been surprise by how good it is. They truly do get a little bit freaked out. Each year has a very different personality. Because it's actor driven, the personalities of the students come out. What scares they're going for are completely different than other years."
Hanby says the haunted school exhibits were created in his class where students explore aspects of fear, such as why people like to get scared. Putting together the haunted school is a way to bring what they've learned all together. Then other students, staff, and community members help make the event actually happen.
Austin Wright, a sophomore at Avanti High School, is participating because he says he loves doing it and thinks this year will be even better than the last. "It's the same level of creepiness, hopefully even creepier. Prepare to get scared."
Freshman Lance Rechner leads me on the tour haunted school guests will take and his excitement is catching. "This is when it gets real, downstairs is terrifying. This is the first time I've done much today, and I love it. I'm going to plan on trying to do it every year." Some students say they kind of got talked into participating, but now are really enjoying the experience. Violet Beltran tells me, "It's supposed to be weirder than last year, and last year was pretty creepy."
But it's not just about creating a scary experience for the community – the haunted school serves as a fundraiser too. Money raised goes toward a spring field trip for students to Ashland, Oregon for the Shakespeare Festival. Because of the smaller size of Avanti, opportunities like one-of-a-kind field trip are able to be a possibility.
Hanby has been teaching at the school for 13 years and says he values being able to provide opportunities to kids they might not be able to do on their own. "It's an opportunity for students to really take hold of their education, mold it in a way that they want and follow their interests. We don't fit the stereotypical alternative school hat."
And the students agree with Hanby. "I actually love this school. I think I like being more of an individual, such as being seen as a person and not just a student of hundreds," sophomore Zoe Ortega explains. Size was also a big reason Lance chose to attend Avanti after attending private school for many years. He tells me the teachers are very approachable and meet you on your level. "You get the personal help you need, in the places you actually need it." Hanby says that's a big reason he has stayed throughout the years. "I work in a small school where I don't have a student that's anonymous to me. We all know each other and value each other."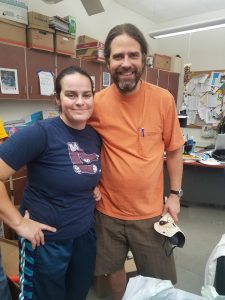 Aside from size, students tell me the flexibility of Avanti is also a huge draw. Violet explains how a lot of her classmates are very involved in sports or have a lot of family issues going on. So the shorter days and more self-led studies fit their schedules easier.
Find a great scare, and support an amazing school. Pick a colored bracelet based on your tolerance for being scared. And, maybe if you're lucky, you'll hear some of the real ghosts the staff say exist, walking the floors above you.
Avanti High School Haunted House
1113 Legion Way SE in Olympia
Wednesday, Thursday, and Friday from 5:30 – 8:0 p.m.
Saturday from 12:00 – 3:30 p.m.
Admission $7