It's another late-night bus ride home, following another impressive win for Tumwater High School's red-hot volleyball team.
And Brooke Hare, the Thunderbirds' all-league player and team captain, has her head in her books, studying. This is her library on wheels.

"She's very diligent with her school work," said Tana Otton, Tumwater's coach. "As a matter of fact, we had a bye-week this week and she said, 'Oh good, now I can have lots of homework time.'"
Whether Hare is on the volleyball court spiking a game-winner to an opponent's floor, or she's on the basketball court blocking another shot, or she's in the classroom taking notes, she always takes the same approach – all out.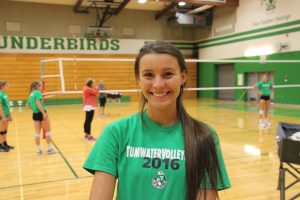 This 5-foot-11 senior is the true definition of student-athlete. Besides being all-league in two sports, she has a 4.0 cumulative grade point average. She's never had anything lower than an A on her report card.
Sometimes all-league athletes become so focused on their sport that athletics eclipse the classroom. Scoring averages becomes more important than grade point averages. But not for Hare.
"For me, school is really important," Hare said during a recent volleyball practice. "Academics always come first. That's what I was taught by my family."
From grade school to high school, it's always been grades before sports for Hare. And helping her keep that perspective is Otton.
"Tanna is really flexible," Hare said. "If you're late for practice because you're talking with teachers, it's not a big deal. She talks about grades all the time."
Academics, not sports, are Hare's key to opening doors.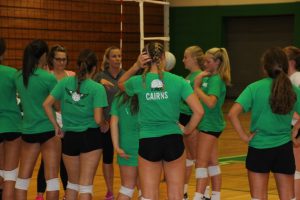 "When you're older and you blow out a knee, you can't continue sports," Hare said. "But you'll always be able to continue your knowledge."
Her favorite subject is AP Lit.
"It's really a lot of fun," Hare said.
Two careers are calling. Her tomorrows might be spent in a court room as a lawyer or in a newsroom as a journalist. To get there, she's taking care of today by studying hard, whether it's on the bus, in a gym or at home.
"It's a lot of late nights," Hare said. "But it's worth it."
And if academics and sports aren't enough, she's got another activity to juggle. She's the senior class president.
"I've just always loved being involved with school and doing things, and trying to inspire other people to be involved," Hare said. "I think a lot of kids take for granted the community we grow up in."
Like Hare, teammate Cristina Hegarty has that same inner drive to excel. They both follow the same equation – effort plus talent equal success. Hegarty has started on Tumwater's volleyball team since she was a freshman. She caught the volleyball bug by genetics. Her dad, Brian Hegarty, played volleyball professionally.
"He was a huge inspiration to me," Hegarty said. "He's been playing since my age. I knew he played professionally for a while. When I was little I wanted to play volleyball with him."
They'd bat around the volleyball in their backyard.
"She's been playing volleyball for a long time," Otton said. "It comes pretty naturally to her. She and her dad have been playing together since she was a little girl. A lot of touches have made her good."
As a freshman, Hegarty played as an outside hitter and now she plays libero.
"It's been a great fit for her," Otton said.
As two of the seven seniors on the T-Birds' varsity, Hegarty and Hare are cherishing every match and every moment because they know this is their last. And this team is making the most of it. They've been enjoying the wins, winning their first four matches and knocking off 4A schools Olympia, Bellarmine, Curtis and Emerald Ridge. And there's been the team get-togethers and bonding moments. These T-Birds have weekly team dinners at players' homes and every Monday they have goal setting meetings. To kick off the season, Otton gets her team together for a big two-night unity camp.
Winning tops losing, but Otton, who is in her 14th season as head coach at Tumwater, always makes sure it doesn't trump having fun.
"It's funny. I have players who played a long time ago and they don't even remember the matches," Otton said. "They remember the unity camps. They always remember the fun things."
Winning sometimes comes with a serious face, the grit your teeth and go after it. But on Otton's teams, it's okay to smile and have a good time.
"Oh yeah, we play better when they're in the mind set of having fun – playing as a team," Otton said. "You can be competitive and have fun at the same time. And it's really fun to win."
These seven seniors on varsity have been friends and teammates since grade school. The get-togethers have helped bring them closer together.
"It's why I love playing for Tumwater so much," Hegarty said. "Not only off the court are we best friends but on the court too. I think it shows that we're so close. The atmosphere is just amazing. That's the main factor."