The roll of the eye from teenagers, turning away as if not listening, coupled with some sassy back talk. All of these typical adolescent behaviors make parents feel as if children are not listening. However, study after study indicates that even if it appears that our children are not listening to their parents, they actually are. More specifically, local research from the biennial Washington State Healthy Youth Survey proves the significant influence South Sound parents have when regularly talking to their teen. The critical importance of parental involvement with teens led to the recent development of the local Parents Matter Campaign, launched to spread positive messaging throughout our community encouraging parents to simply to talk with their kids.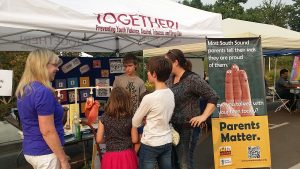 Johnna Knoerr, lead for the Parents Matter workgroup explains, "Sometimes people in the lives of teenagers can feel like their voice does not matter. But they do! Parents Matter is a Community Norms Campaign that was designed with parents, other professionals and community members who want to celebrate those in our community who have important conversations with their teens and inspire them to continue having these important conversations."
The Parents Matter Campaign is a workgroup of the Education and Resilience Action Team, one of the nine action teams that makes up Thurston Thrives.
The Parents Matter campaign works on spreading good parenting messages throughout Thurston County using venues such as 30-second advertisements at Century Theatre at Capital Mall and Regal Cinemas Martin Village. Additionally, Parents Matter Campaign messages are seen on Intercity Transit buses, community banners, bookmarks at Timberland Regional Library, school lunch menus and the organization's website. The Parents Matter Campaign uses different locations to accomplish the most effective way of reaching parents.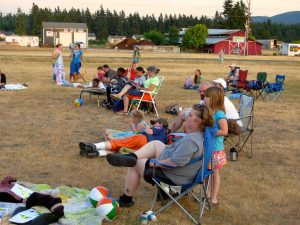 The main messages of the Parents Matter Campaign have encouraged parents to talk about drugs and alcohol as well as sharing how proud they are of their children. In 2012, the Washington State Healthy Youth Survey questioned tenth graders about their parents' discussions pertaining to drugs and alcohol. The survey indicated that most South Sound parents have discussed drugs and alcohol with their teen. The Parents Matter Campaign uses that data to further encourage and remind parents to continue talking with their teen.
Knoerr comments, "The Parents Matter Campaign is research based and follows social norms theory, which essentially means humans act in a way they believe is normal for other people. For example, we believe if parents know most other parents talk with their teens about drugs and alcohol they are more likely to do so with their own children. The teens are then able to make healthier decisions due to the influence and involvement of their parents."
Other primary campaign messages have been encouraging family meals and reminding parents to talk about their pride for their kid's accomplishments. Results from the 2014 Washington State Healthy Youth Survey indicated that most South Sound parents tell their kids they are proud of them. Additionally, the survey reported that most South Sound parents share a meal with their kids. The Parents Matter Campaign messages promote the questions, "Have you talked with your teen today?" and "Have you eaten a meal with your kids lately?" The campaign outlines evidence suggesting that kids who take part in family meals eat healthier foods, have higher academic achievement, less delinquency, improved mental well-being, positive family interactions, and are less likely to be overweight.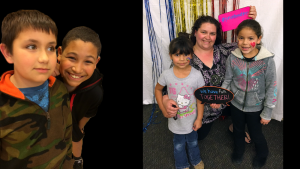 "The main objective is that we want parents to get talking to their kids and get involved in their lives whatever that may look like for each family. The parents are the experts and know what is best for their particular family. Our purpose is taking the most significant data indicators from what is shared by our local middle and high schoolers, such as parents talking to their teens about drugs and alcohol, parents telling kids how proud they are of them, and parents eating meals with their kids and spreading the positive message that encourages parents to stay involved with their teens. Then we are able to use the baseline data from the survey to measure whether our messaging is making a difference by whether those actions have increased or decreased," shares Knoerr.
The Parents Matter Campaign encourages and welcomes community members to join their efforts in identifying positive messaging and ensuring the health, safety and success of youth and families in the South Sound. To learn more about the Parents Matter Campaign visit their website or contact Johnna Knoerr directly at 360-493-2230 ext, 11 or jknoerr@thurstontogether.org to inquire about becoming involved in the Parents Matter Campaign.
Sponsored