South Puget Sound Community College (SPSCC) is a bustling campus hub nestled on 102 acres in west Olympia. Most Thurston County residents recognize the corner signage at the busy Mottman Road – Custer Boulevard intersection or have visited the beautiful Kenneth J. Minnaert Center for the Arts.
However, once you venture beyond the parking areas onto the wooded, thriving campus, the pathways, public art and picturesque buildings giving you a true "college" feel. The 6,000 + students wandering those paths and studying in those buildings can attest to the depth of learning and engagement found once enrolled and a part of the campus community.
Yet, the path to college life isn't always easy and straight. It's often full of financial and logistical roadblocks. To clear the way, the college works with the South Puget Sound Community College Foundation, a non-profit formed in 1982 to support student success at SPSCC through scholarships, grants, and programmatic support.
Foundation Executive Director Tanya Mote shares the foundations' roots in the early 1980s. "The first donation to the Foundation was from the West Olympia Rotary. That initial donation funded the articles of incorporation, allowing the Foundation to get up and running to help students," she explains. Since then, the Foundation has grown to provide over $400,000 annually in scholarships and emergency grants, helping SPSCC students and educational programs reach their goals.
Mote joined the Foundation in 2014 with a background in non-profit management in the Seattle area and locally with United Way of Thurston County. A Shoreline Community College grad, she was attracted to the community college setting. "Personally, I found my community college experience to be very eye opening and supportive. With small class sizes and the ability to focus on my own area of study, community college helped me find my direction and I knew I'd found a place where I could thrive," says Mote. "I am very grateful for my community college journey and now my work is about providing access to an incredible educational experience for students every day."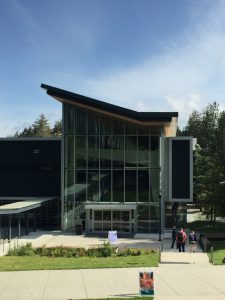 The SPSCC Foundation focuses on connecting donor dollars to real students and real programs, creating real change for the better. Mote describes the SPSCC faculty and staff as "passionate" and "rock stars" who really care about supporting students to succeed. "Our work is about creating access for students and our job, as the Foundation, is to help eliminate barriers so students can thrive," she explains.
Responsiveness to community needs is a key aspect of the partnership between SPSCC, the Foundation and local industry partners. The partners provide insight to Foundation staff sharing their employment needs and how SPSCC can serve them better through educational programs. Some of these programs include dental, paralegal, hospital nursing, culinary arts and automotive mechanics. "We work with community partners in all these industries so that our students can hit the ground running when they graduate," Mote states. The Thurston County Economic Development Council, housed in the new Lacey campus is a perfect example of this type of collaboration.
In November of 2015, Mote was joined by Development Manager Anne Larsen and the two make a powerful pair advocating for student access and educational opportunity. "I enjoy removing barriers to education. It's always been a passion of mine throughout all my roles working with non-profits," Larsen shares.
One aspect of the SPSCC Foundation's work that both women find rewarding is the immediacy of support they can offer. "A student might struggle to buy books or to continue their studies because grant money ran out or they are short on tuition," Larsen explains. "These are needs we can fix." And, with 100% of every dollar donated to the Foundation going directly out to students in the form of scholarships, emergency grants and program support, the SPSCC Foundation has the ability to create real impact in real time.
The rest of the Foundation Team, Accountant Beth Schulter, Development Coordinator Sarah Clarke, and Executive Assistant Jessy Johnston support the mission of student success with compassionate professionalism and a strong commitment to student's succeeding in life.
Like most non-profits, the SPSCC Foundation works tirelessly to share their mission with the community, seeking support through private donations and support for students. Donations can be unrestricted or ear-marked by donors for specific programs, or even matched with students using specific criteria. The Foundation supports students before, during and after college, creating a qualified workforce to support our local economy.
The Foundation provides scholarships and much more, such as emergency grants, microlending, program support, and community engagement. "A favorite part of my job," says Mote, "is seeing the sense of accomplishment a student has when they feel proud of their growth and success. And then seeing a donor's face when they witness a particular student succeed. We connect them together – the donor with a desire to help and a student that has that need."
Donors can create scholarships in honor of specific family or community members, for example a scholarship created for a Baking and Pastry Arts student in honor of a beloved grandmother who loved to bake. Or, funding provided by a local automotive shop set aside specifically for an Automotive Technology student. And, each fall a reception is held in honor of donors and recipients where they can meet, share stories and celebrate the success felt by both parties. "The Scholarship Reception is one of the best things we get to do," shares Mote.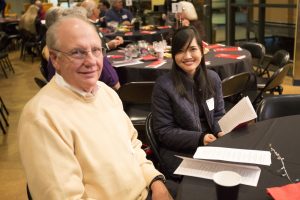 In addition to private donors, the group has tremendous support from the Thurston County business community who sponsor major annual events including The Experience – An Evening of Innovation and Excellence, scheduled next for October 1, 2016. The Clipper Scramble Golf Tournament is another annual event bringing together industry partners and SPSCC supporters for a fun day on the links, all to support the mission of the SPSCC Foundation and the students who will ultimately give directly back to our community.
No matter if the SPSCC Foundation team is organizing events, meeting with community partners or helping a student pay for their books, the goal is always the same – support student success. And at its core, this support benefits us all. "This is economic development," says Larsen. "We are improving family lives, educating citizenry, boosting economic vitality, keeping families strong and increasing the opportunities for the next generation of college students. It's through all these ways we improve and directly impact our community every day."
To learn more about the South Puget Sound Community College Foundation visit them online or call 360-596-5430.
Sponsored