Guess who grew 9,000 pounds of organic produce last year and donated 7,500 to two local food banks? Guess who is on track to do it again? The Intel Dupont Community Garden, located on Intel property, maintains a bountiful, well-organized garden that supports the Thurston County Food Bank and Lakewood's Lakes Area Fish Food Banks, as well as gives the individual gardeners plenty of produce to take home. Co-managers Stu Vannerson and Gurbir Singh use science, sense and ample elbow grease to create impressive results.
In 2009, with the encouragement and leadership of Vannerson, now retired after 31 years, the garden began. The project continues to hold the beliefs that "people should have access a to healthy, local, eco-friendly food supply regardless of economic status, and that corporations and their employees can have a very positive impact on the communities in which they operate."
The garden maintains admirable goals:
Raise healthy, organic produce for local food banks
Promote environmental responsibility by composting food and yard waste
Educate and explore the innovative ways to grow food in abundance in small areas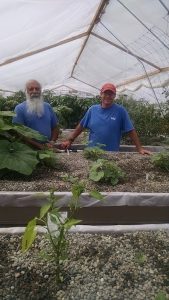 Since its inception, many elements have evolved. Initially, only Intel employees were allowed to work on site, but in 2011, facilities management gave the go-ahead to bring in people from the community. Now, 50 families tend to 80 beds. For $50 per year people utilize raised beds outside or have the support of a greenhouse. All participants agree to donate half of their production to the food banks. Over the course of the year, it actually exceeds that amount.
I was especially intrigued with the hydroponic systems in place within the greenhouse. Tall beds (waist high) are filled with gravel and planted with crops including rainbow chard, tomatoes, leeks and poblano peppers. Collected rainwater and nutrients are pumped through the root systems and then deliberately drained.
This flooding and draining system uses less water than traditional in-ground methods. As we face the challenges to feed the world with smaller spaces, limited soils and scarcity of water, hydroponics have clear advantages. Stu and Gurbir take careful notes to create detailed spreadsheets on nutrient content, timing, production and harvesting. (Truly, their analysis skills shine through.) The greens are prolific!
Another advantage with hydroponics is that they can grow food virtually year round. "We look at a planting schedule to maximize off peak production and harvesting," explains Vannerson. This means the food banks can get fresh supplies that are off the regular season, including eggplant, basil, cantaloupes and tomatillos.
The Intel Foundation provides a generous program where company employees and its retirees can turn in the number of their volunteer hours, and the associated non-profit organization can receive $10 for each hour donated. The Intel Dupont Community Garden is, in fact, a 501(c)(3), so Vannerson and Singh (and others) turn in their time. Both work several mornings or afternoons each week. The Garden reaps double benefits. Funds are spent on garden improvements, most notably the large greenhouse. Three people have also been supported to complete the Master Gardeners Program.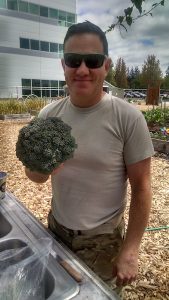 Over time, improvements have been made on the quarter-acre piece of land. Three solar panels charge up giant batteries that power the pumps, vents, irrigation and computers. There are fruit trees, children's areas and a covered gazebo with a picnic table. There's a composting area, too.
The Intel Dupont Community Garden is a shining example of what happens when corporations and those who work there come together for the good of the whole community. The gardeners get to spend time outside and ultimately eat their bountiful produce. People in need of food get high quality, organic vegetables.
Gurbir, who retired from Intel after 29 years said, "I never did any gardening before this." He liked the engineering side but has come to appreciate the many aspects of being in the garden. It's a creative integration of engineering, science and nature. Being in service by participating in a project that helps so many people is a win for everyone.
You are welcome to set up a garden tour. Contact information is available on the Intel Dupont Community Garden Facebook page.
Eat Well – Be Well