You may have heard someone, with big eyes and a bit of awe, mention The Wonderland Trail. Spoken in a reverent hush, or perhaps with boisterous excitement, by backpackers everywhere, this world-class trail is the adventure of a lifetime, and it is right in our backyard.

Before I moved west of the Cascades, before I could even point to Mount Rainier on a map, I had heard about the Wonderland Trail. When I was a fledgling backpacker a friend said, "You should try this trail. It's 93 miles around Mount Rainier."
"93 miles? Yeah right!" I thought at the time. "I'll never hike 93 miles…" Another time on a hike in Oregon a fellow hiker nearly insisted that I check out the Wonderland Trail, it was the best trail he had ever hiked, he said. And he ought to know a good trail, he was over halfway through the 2,650 mile Pacific Crest Trail.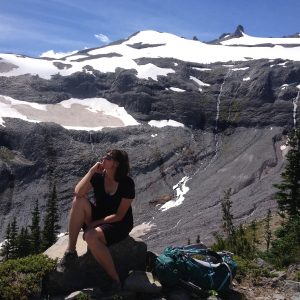 The seeds were planted, and it seemed almost inevitable that the Wonderland Trail would become a part of my life. Every day (okay, at least the sunny ones) we love Mount Rainier from distance here in the lowlands, and the Wonderland Trail offers a chance to get up close and personal with the mountain.
First, a little background on the trail. The 100-year-old Wonderland Trail was initially developed to increase ranger patrols throughout the Mount Rainier National Park. Immediately upon completion of the trail, The Mountaineers made the first circumnavigation of Mount Rainier on the newly-built trail, spending three weeks hiking the trail and camping each night.
The park began advertising the trail as a tourist destination in the 1920s, making trail improvements, shortening the length, and christening it the Wonderland Trail. Eventually the trail became quite popular with Boy Scouts and then backpackers, and it continues to gain popularity, with record reservation requests in 2015.
Reservations? For hiking? Yep. Because Mount Rainier is a National Park, and an extremely popular one at that, permits are required for all backcountry camping. If you're headed out for a day hike on the Wonderland Trail you don't need to worry about permitting. But if you plan to spend one night or 14 nights in the backcountry, you'll need a permit. A limited number of permits are available on a first-come first -served basis, with walk-up reservations available the day before your proposed start date. The park is completely revamping their reservation system this year and all permits are first-come first-served, this season only. Starting in 2017 the park will unveil an online reservation system, with permit applications due between March 15 and April 1 (30% of sites will continue to be set aside for walk-up permits). So, if you plan to hike the trail in 2016, you'll need to get a walk-up permit, and if you're planning for future years you'll need to get your application in by April 1 each year.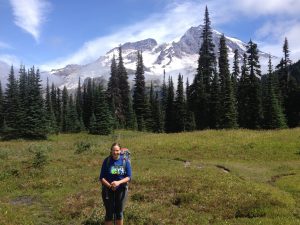 The Wonderland Trail is truly breathtaking and offers a variety of itineraries, with 18 backcountry campsites and 3 developed non-wilderness campgrounds along the 93-mile route. With so many options, planning your hike takes time and consideration. Where will you start? Will you hike clockwise (by far the most popular direction) or counterclockwise? Perhaps most importantly, how many days will you spend on the trail? The Park Service allows a maximum of 14 nights to complete the trail, while most folks do it in 9 or 10 days. Some especially ambitious runners and athletes take 1-3 days, usually with someone else schlepping the load.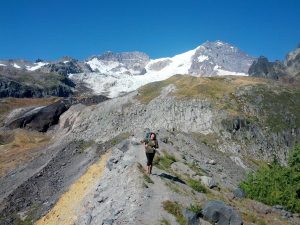 I spent 11 days on the trail, with an average day covering about nine miles and 2,000 feet of elevation gain. There is nary a flat spot on the trail, which gains a total of 22,000 feet, so being realistic about your pace and ability is vital. Expect to climb, and then descend, and then climb, and then descend, and expect, at some point, to question exactly why you undertook this in the first place. And then expect that feeling to quickly fade as you catch another breathtaking glimpse of the mountain, watch a black bear in the distance, see baby marmots frolic through wildflowers, or take a refreshing dip in a crystal clear lake.
The Wonderland Trail is a true feast for the senses, with enchanting, ever-changing views of 14,416 foot-tall Mount Rainier and its 27 glaciers, myriad wildlife, wildflowers, huckleberries and blueberries galore, cascading rivers, streams, and waterfalls, rain, snow, sleet and sunshine. The weather can be intense and unpredictable, and it is important to prepare for the possibility of snow in August (or sunburns in October).
The Wonderland Trail is aptly named, and it is a grueling and rewarding way to spend a dozen days. For the outdoorsy Pacific Northwesterner the trail is a legendary, bucket-list activity. Many hikers, even those who at some especially arduous point in their hike swear to never return, often return. I spoke with hikers who have completed the trail a dozen times, and keep coming back. Something about the personal challenge and the transcendent beauty of the trail pulls you in and has you almost immediately planning your next trip.
I'll see you up there.