Kuinn Karaffa recently transformed from the young girl growing up on the farm to Miss Thurston County 2016. Still interested in animals, Karaffa explains her journey from showing birds for 4-H to pageantry as a logical leap requiring similar public presentation skills. As Miss Thurston County 2016, Karaffa was awarded over $5,000 in scholarships to continue her college education. Karaffa is currently completing her Associate of Arts degree at Grays Harbor College and will transfer to Saint Martin's University in the fall to continue her studies in pre-law. Her hope is to someday practice law in Thurston County.
Karaffa shares, "I started showing horses as a little girl when I was six years old. When I was picking up feed for my horses, I noticed cute little chicks and begged my dad to get some. I had no idea where raising chickens would lead me. I loved raising them. I even built my first chicken coop with my dad."
"I then joined a local 4-H club where it was required to give a public presentation and show your birds in front of a panel of judges," Karaffa continues. "I now look back and realize how similar that experience was to pageants but without the beaded ball gowns. I started out as an awkward and shy little girl in pigtails and missing teeth. I have since been recognized as Junior Poultry Person of the Year at the Washington State Fair in Puyallup."
The Miss Thurston County Scholarship Program is a local pageant that was founded in 1975. The program has distributed more than $80,000 in scholarships and is a preliminary pageant to Miss Washington and Miss America. The purpose of the Miss Thurston County program is to empower young women ages 17-24 through scholarship, style, and service by helping them achieve success and promote community involvement.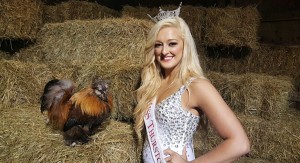 "This year, the Miss Thurston County Scholarship Program was blessed with awesome contestants," explains Kevin Huffer, President and Co-Executive Director of the Miss Thurston County Scholarship Program. "Actually, we've been fortunate the last couple of years with amazing young women and a growing scholarship program."
"This program helps young women to develop who they are and grow in themselves," Huffer continues. "Kuinn Karaffa will serve and represent Thurston County well. And thanks to the superb support from local businesses this year, Kuinn will receive $5,000 in scholarship money, and every contestant will be awarded some dollars towards their education."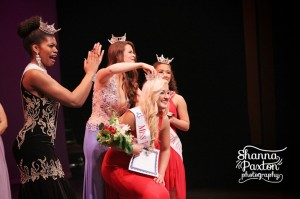 "I'm honored to see the regrowth of this program, and I look forward to being part of the continued growth including the expansion and outreach for talented new board members," he also adds.
Board members for the Miss Thurston County Scholarship Program help to provide opportunities for young women to fulfill their potential. Huffer states that the participants are some of the most promising women in the area. He says that they are goal-oriented role models who strive to take advantage of the resources to help achieve academic goals. The scholarship program is made up of dedicated community members who believe in the idea that talent, commitment, and hard work can help achieve personal success and better the community.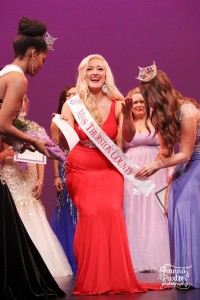 Karaffa will go on to represent Thurston County at the Miss Washington contest in July with an opportunity to be awarded $10,000 in scholarship money. Miss Washington is an official preliminary to Miss America, which according to Karaffa is the largest scholarship provider for young women.
Karaffa comments, "As a little girl I always watched and admired Miss America. I loved all the glitz and glam. When I grew up I realized it was much more than that. They were young, intelligent, caring women with a purpose. And as I got older I wanted to be a part of this amazing program. The Miss Thurston County Scholarship Program has been one of the best experiences of my life."
Karaffa admitted that since being crowned as Miss Thurston County she has been swept up in a whirlwind of wonderful activities. As a Montesano High School graduate, Karaffa is well known in the area for having top state chamption show chickens and rabbits and has been featured in the State of Washington's Agriculture Calendar for the last three years. As Miss Thurston County 2016, Karaffa will also be a Habitat for Humanity spokesperson and advocate.
Swapping out her straw hat for a glimmering crown, Karaffa reveals, "Now I can't wait to return to all the local fairs and the Washington State Fair in Puyallup as Miss Thurston County."