In the morning, you'll find Dexter Mitchell lifting weights or sweating it out in the front row of a spin class. He looks like someone who takes working out seriously.
The rest of the day he's doing hair. That means he's cutting, washing, styling, twisting, curling, and maintaining all kinds of hair in his own salon, Triage Hair Design. Dexter has been working in Olympia for over twenty-six years and can proudly say that he was the first African-American man to successfully own and operate an upscale salon in the area.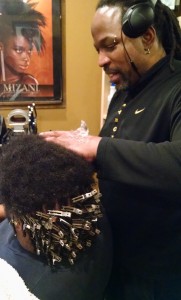 Dexter served in the U.S. Army for eight years, though he never planned to make it his career. His eyes were on the music business. Knowing how to be a barber, however, would be handy for income until playing music fully supported him. But while attending barber school, Dexter was coached into becoming as cosmetologist as well as a barber.
This designation would allow him to provide many services beyond cutting hair including coloring, adding extensions, doing chemical treatments, as well as treating nails, skin care and make-up application. Ultimately, he pursued the salon business over music and has honed his skills to be someone who can help you with your self-image.
Dexter grew up in Atlanta, Georgia, which is called the hair capital of the south. All three of his sisters knew how to take care of their hair, which he thought was true for everyone. Later he learned that many women had neither the time nor the desire to do their own hair care. They wanted someone to do it for them.
His early hair experiences happened in the neighborhood barbershop called Shorty's. A cut was $5, but you got more than that. "They taught you life," recalls Dexter. This was a culture driven environment where people brought in food and hung out for hours, engaging in lively conversations from gossip to current events and politics and anything in between.
Dexter's salon certainly looks like others I've seen, but depending on who is there, the atmosphere shifts. Clients may sit quietly in the waiting area and read a magazine, yet it's perfectly normal for others to drag a chair into the styling/cutting area and dive into the conversation. That's where it's all happening.
Dexter's own locks have grown past his shoulders and they are usually tied up in back. He's used to styling African-American textured hair. Long ago he mastered the finger wave, a classic look for anyone. "I learned how to do every type of hair. There's not anyone's hair I can't do – just a different grade," he explains.
Over the years, Dexter has appreciated the relative recession-proof qualities of his profession. People need to look good all the time. When the economy is great, people like to get their hair styled because it feels good. When the economy is down and people are out looking for jobs, they still need a good haircut. "It's an amazing business," comments Dexter.
Triage Hair Design is located on Pacific Avenue near Carpenter Road. Dexter is pleased to talk about your particular hair needs and concerns and offers various maintenance packages to keep you looking the way you want.
Call Dexter Mitchell at 360-456-8153 to schedule an appointment or learn more about his services.