Our world is electronically connected in amazing ways, but often at the expense of personal interaction. With almost 25% of workers telecommuting and the rise of such philosophies as Aging In Place and connected parenting, housing communities where you can live, work, shop, and play are vital.
Centrally located in Olympia at 2400 Lilly Road NE, The Village at Mill Pond is unique. Zoned a "neighborhood village" and the only one of its kind in Thurston County, it is a microcosm of all the best our region has to offer and an embodiment of the philosophy of living where you work and play.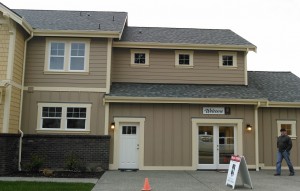 The Village at Mill Pond's grand opening will occur in early March 2016 but its grounds and stunning Craftsman-styled homes are open to visitors daily from 12:00 to 6:00 p.m. RE/MAX Parkside brokers are on-site to answer questions, provide tours, showcase building finishes, and explain the community's many upcoming features.
Built in five phases, The Village at Mill Pond will culminate with 130 single family homes in 11 different floor plans, townhouses, rental apartments, and 10,000 square feet of commercial space. There will also be a large community building, five parks, gardens, ponds, and three access points to the bordering Chehalis-Western Trail.
Comprehensive projects like this are very much a labor of love. This has been more than a decade in the making, thanks to architect Ron Thomas, RE/MAX agent Paul McLain, and builder Greg Amendala. "This is Ron Thomas' brainchild but it's all about the project, not just RE/MAX or another company," explains McLain. "We want the whole team to succeed."
Unlike other strictly residential neighborhoods, the pet-friendly Village at Mill Pond will offer wider streets, city and school bus stops, shopping, restaurants, garden and composting plots, and even stocked fishing ponds for family outings. McLain is proud that "every house will be within one block of a park" and the eventual commercial space will include "whatever the neighborhood wants to have."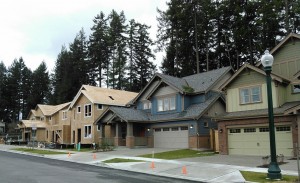 Phase one will open to single family homes, with townhomes planned in phase two, and commercial buildings and high-end apartments in phase three. To date, several homes are under contract with open houses available daily from 12:00 p.m. – 6:00 p.m. Prospective buyers may browse layouts of the home styles which range from the 3 bedroom/1,900 square foot Cypress 1-floor model to the 4 bedroom/3,800 square foot Oak.
These Craftsman homes are all energy efficient with landscaped, fenced lots and stunning 42-inch wide, 4-hinge Clear Fir front doors. The finishes are high quality throughout and very few cost extra to the home buyer. Minimal homeowners associations fees will not only maintain the parks and community building but include front yard grounds keeping as well.
Visitors are welcome to walk the grounds, but remember that it's still a bustling construction zone. Thanks to their partnership with RE/MAX Parkside, interested home buyers are encouraged to chat with the brokers onsite about their timeframe. The Village at Mill Pond offers an estimated build time of only 90 days but can accommodate a wide-range of schedules and needs, such as if you have a home to sell.
The onsite brokers are also happy to provide price opinions of your current home as well as listing services. But there is no high-pressure sales pitch when visiting. McLain reports that "visitors really appreciate the disposition of our highly trained brokers" and leave with questions answered.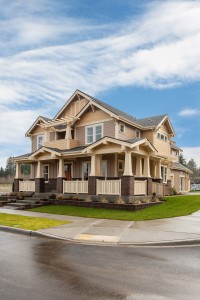 While there, be sure to view the scale model of the entire development, exactingly printed with a digital printer. From this layout, buyers can visualize which lots fit which home model and the location of The Village at Mill Pond's many amenities.
In real estate, there are benefits to the live-work-play lifestyle.  Whether it's the ability to move from apartment to single family as your family grows, or downsizing in the same development as you become an empty nester, complexes like The Village at Mill Pond offer variety, flexibility, and quality no matter what your situation.
Enjoy a sunny spring walk exploring a welcoming new neighborhood that could be your next home sweet home.
With so much going on, follow the construction on Village at Mill Pond Facebook page or arrange a visit by calling 360-972-8623. A downloadable brochure is also available or you can email your questions to millpondoly@gmail.com.
Sponsored