By Ken Balsley for Lacey 50th Anniversary Historic Committee
1961 was a good year to own a business in Olympia. Some 80 percent of all retail sales in the entire county emanated from a four block area of downtown Olympia where everything you would ever need could be found – including all three major automobile dealers.
The Olympia government was controlled by a three-member city filled by downtown Olympia business owners. The Olympia Chamber was also dominated by downtown Olympia business interests.
A few miles outside of the city limits, to the east, in a unincorporated area called Lacey, a handful of young men were about to shake up the entire South Sound area.
Most of them were veterans of World War II and some also served in Korea. They settled in Lacey after discharge because it offered them opportunities to meet the needs of veterans for housing and for the children they were having as part of the nation's "baby boom."
Al Thompson had built Tanglewilde and Thompson Place. Mo Loveless had purchased the old Mountain View Golf Course and was building the largest retirement community in the Northwest, Panorama City. Bob Blume was operating a sporting goods and selling real estate. Not only had he been building the housing developments of Belair and Brentwood, but was purchasing land to build a regional shopping center. Other young men, including Lee Bensley, Gordy Schultz, Tommy Martin, Ken Wilcox, Mike Ostrander, Al Homann, John Rupp, and Arden Deering, were also making their marks on the Lacey community.
Many of them would gather every morning for coffee and conversation at the Burger Bar, a drive-in restaurant on Pacific Avenue. Most were members of the Olympia Chamber and in 1961 talk began of starting a chamber of commerce in Lacey that would serve their interests.
By September, the group had drafted by-laws and in October the Lacey Area Chamber of Commerce was formed with the motto, "Where Free Enterprise Thrives." Retired businessman Ray Kidwiler was elected as the first president and served two terms. He died of a heart attack at a Lacey Chamber meeting after giving a talk about the need for economic development in the community. The Kidwiler scholarship fund was established by his widow and continues through the Chamber to provide funding for students in the Lacey area who are majoring in business.
Agnes Kenmir was selected as the first secretary. She preferred the title "Secretary" to that of Chamber Director. Agnes went on to spend more than two decades leading the Lacey Chamber's management.
Instead of cutting ties with the Olympia Chamber, the Lacey Chamber made their president an ex-officio member of the board of directors. They also organized joint chamber committees and called for a joint meeting of the two chambers once a month. These were a staple of the relationship between the two chambers for nearly a decade.
With Christmas coming on, the Lacey Chamber created a sub-committee to procure a community Christmas tree and Bob Blume volunteered to head that committee. In his exuberance, Bob cut a very large tree and spectators recall seeing his car drive down the road with its front wheels almost off the road.
Almost immediately, the Chamber took on two project – the need for streetlights and a flooding problem in Market Square. The Chamber worked with Puget Power (now Puget Sound Energy) to get streetlights installed along Sleater-Kinney and Pacific Avenue. The longtime flooding problem in Market Square was due to a lack of sewer systems. The Chamber contracted to build a flood control ditch that ran from the shopping center to a drainage ditch that ran along the railroad, thus alleviating some of the problems. Long-term relief would come later with cityhood and a municipal storm water system.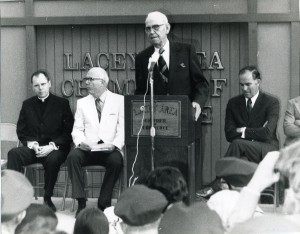 For several years, the Chamber operated out of rented or donated space. After South Sound Center opened in 1966, it even operated out of a storefront donated by KGY Radio. Through fundraising campaigns, in 1980 the Chamber was able to purchase its own building on Pacific Avenue next to the Lacey Fire District headquarters, now the site of Pope John Paul II High School. Washington Governor Dan Evans cut the ribbon for the dedication ceremony.
Over the decades, the Lacey Chamber has changed its name, changed its location and changed executive directors. But it has always had the best interests of the Lacey business community as its first interest.
It forced the U. S. Postal Service to improve service at its Lacey branch. It fought with the City of Lacey over its restrictive sign ordinance, and eventually secured some relief. It supported Lacey schools by its backing of levy and bond issues and it continues to offer programs and information of value to anyone who owns or does business in Lacey.
To learn more about the Lacey South Sound Chamber of Commerce, visit their website.