Outside the automotive industry, Fred Jorg may be Germany's largest export.
And he's landed in Lacey – all seven feet, 300 pounds of him.
Born in Saarbrucken, Germany, Jorg is a center on the Saint Martin's University men's basketball team, one that certainly gets noticed regardless if he's on the court or not.

"He obviously catches your eye," first-year Saints coach Alex Pribble said. "There's not too many 7-foot 300-pounders walking around campus. He's such a unique kid, not just in his physical stature, but in the way he's so personable. His size is the first thing you notice, but the reason people love him, the reason why we love him on the team and people love him on campus is because of his personality. It's the biggest thing about him."
Jorg, a red-shirt junior, is in his first season with the Saints, having transferred from Eastern Washington University where he was a member of the Big Sky Conference All-Academic team last year.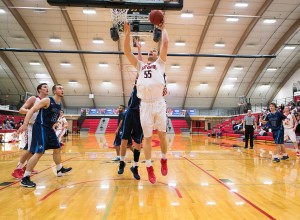 It was his relationship with Pribble that brought him to SMU – a place that has turned out to be a perfect fit for both player and coach.
Prior to accepting the Saints' head coaching position, Pribble was an assistant at EWU for two seasons.
"Coming in, I already knew a little bit about Fred. Two years there with him was a great experience," Pribble said. "In those two years I built a strong relationship with him. We spent a lot of individual time together developing his game."
Eastern Washington coach Jim Hayford, who was responsible for bringing Jorg to Cheney from Germany, was the first to inform Jorg of Pribble's departure.
"When I found out he got a new job I went over and said goodbye to him the next day," Jorg said. "Two hours later he gave me a call and said, 'What do you think about playing for me at the Division II level?'"
If he was ever going to transfer, Jorg had two standing rules. First, it would have to be a school in Washington. He didn't want to leave the state. Second, he had to already know the head coach. With both requirements fulfilled, the offer immediately intrigued him.
The frontcourt had been a strength for the Eagles during Jorg's three seasons there, and with a bevy of young talent, he had seen his minutes dwindle. He appeared in 15 games, averaging 4.5 minutes a contest, during his sophomore season which saw Eastern capture the Big Sky Conference and advance to the NCAA Tournament.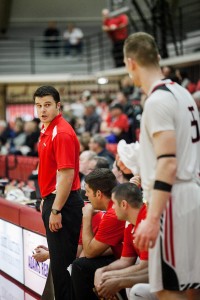 The thought of receiving more playing time under a coach he had already built a solid relationship with was just too much to keep Jorg in Cheney.
"As a player you always want to compete. Your first year you're fine with it. You don't really mind (not playing in games) because you're a freshman and still learning," Jorg said. "But it's different after three years. You're there every day putting in all the work with the guys, and its rough not getting the opportunity to play. I have no regrets about my time in Cheney. I will always look back at it as a something that made me better as a person and as a player."
"To coach Hayford's credit, he saw the writing on the wall and for Fred, he knew for him to have the best shot at developing into the best player he could be, this level would be right for him," Pribble said. "So, we worked together and brought him over here with us."
The Eagles' loss proved to be the Saints' gain, but it wasn't just Jorg's basketball skills that Pribble was determined to infuse into his newly acquired gig. It was everything outside of the game that he liked about Jorg, who will graduate this year with a business management degree before pursuing his MBA at SMU.
"More than anything I knew what kind of person he'd be in the locker room. I hoped he'd have a great impact on the court like he is having, but I knew he'd bring the cultural stuff over with him. That was really important," Pribble said.
"Basketball for him is secondary to being a good person. He's a great teammate because he's a great person. He truly cares about the people around him. There's nothing fake about him. We're trying to develop a culture here. We want guys who not only play basketball the right way, but act the right way off the court as well. Fred's is a shining example of that," said Pribble.
The biggest challenge now, for Jorg, is regaining that comfort and conditioning of playing in games on consistent basis.
"I'm still in the process of getting a feel again for the game," Jorg said. "My body has to get used to it again, but I really enjoy it here. You always want to challenge yourself and have new experiences, not only basketball, but life experiences."
Jorg has started all 13 games for the Saints this season and is second on the team in scoring at 10.1 points a game and pulls down a team-high 7.1 boards a contest.
"People love him. He's talkative. He's caring. He was the same way at Eastern," Pribble said. "Everyone on campus knew him. He was a fan favorite and that's happening here now."