I love the holidays. I love downtown Olympia's streets dressed up with garlands and lights and the sophisticated style that accompanies long coats and cold. I love the smell of cinnamon, pine, food and having an excuse not to go running in the morning. And I love buying toys for my kids without that inevitable nagging feeling that I'm spoiling them.
But the holidays aren't without their stresses, and one of the greatest sources of stress is the need to buy meaningful gifts for our friends. For me, that's especially true for my male friends. What am I going to get another guy that isn't going to find its way to the back of a hall closet or the bottom of a box?
To make that a little easier (and to support shopping local right here in Olympia) I wandered around downtown to find some gift ideas for one guy to give to another.
Olympia Gear Exchange
My first shopping stop this holiday season will be the Olympia Gear Exchange at 104 4th Avenue W, and for good reason. They have a wide variety of apparel and outdoor gear, both new and consigned, so I'm certain to find affordably priced gifts for my friends who love the outdoors.
In particular, I'll be buying socks for several friends. Socks, you ask? Isn't that the definition of pedestrian? Not necessarily. No man can have too many pairs of truly high quality socks, and for years Joe Hyer made The Alpine Experience Olympia's go-to source for great socks made by companies that use top grade materials and treat their employees and the earth with respect. It's a tradition he has continued at the Olympia Gear Exchange. And while a pair of normal socks might easily fall into the blah category of holiday gift-giving, a pair of great socks will not. (I have proof of this. One year after buying socks from Joe to give as gifts, I'm already getting requests for this holiday season.)
Cascadia Homebrew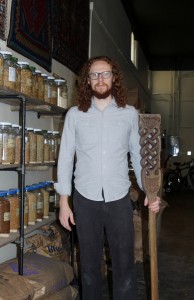 Just down the street at 211 4th Avenue E, Cascadia Homebrew is the newest addition to the Olympia home brewing community. Owner Chris Emerson is, himself, an immensely talented brewer – a fact you can verify by trying one of the four original beers he has on tap – and he's also extremely creative with his recipes. Gift idea #1 for a home brewing friend is a one-of-a-kind ingredient kit, tailor made for your friend's unique palate. (The advantage of this approximately $50 gift is that after your friend brews the beer, you can be pretty sure he'll share.)
Gift idea #2 is entry to one of Cascadia Homebrew's monthly home brewing classes. Each class focuses on the technical aspect of boiling a five-gallon batch of brew, during which Chris talks extensively about what beer is, explains how different types of hops and yeast affect outcomes, and introduces students to a wide variety of grains. The classes are limited to eight students, so a couple of weeks after the class each student gets a six-pack.
Glacier Gun Club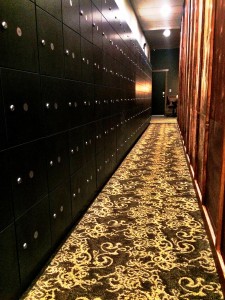 The Glacier Gun Club is a new members-only indoor pistol range and lounge at 417 Plum Street, and owner Mike Thielen plans to cap membership at 1,000 (500 men, 500 women) to maintain a controlled, safe, and supportive environment. The club features a high-tech, high quality indoor range with six lanes. On the other side of a bullet-proof, sound-proof is the club's lounge – an opulently comfortable sitting room of hardwood and leather that wouldn't be out of place in Manhattan – where they'll be welcome any time to watch a game or drink a cappuccino. Those who purchase an exclusive Summit membership will receive a locker and access to the Summit Room, where they can enjoy a cigar and a cocktail after shooting.
One way to give the Glacier Gun Club experience as a gift is to pay the initiation fee for your friend, granting him a membership any pistol enthusiast will love. Another way is to buy your own membership, which allows you to purchase guest passes to give as gifts. Call that the gift that keeps on giving back.
g.miller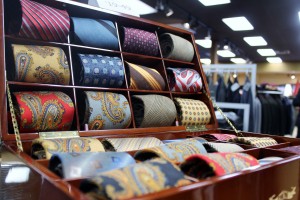 Finally, no shopping excursion for any man is complete without a visit to g.miller at 501 Capitol Way S. Owner Greg Miller has stocked a healthy supply of higher quality Seahawks gear in time for the holidays (always a good gift), and during the holidays they'll feature exceptional accessories, like shaving accouterments from Edwin Jagger.
But the special thing about g.miller is that Greg, Wyatt, and the rest of the staff place service and relationships at the top of their priority list. They're smart, creative, and helpful, so if you're at a loss for what to get a good friend, drop by and talk to them about the friend you're shopping for.
Although men's fashion is the store's bread and butter, there's a surprising quantity of novelty in the periphery – like Pendleton caps with sturdy built-in bottle openers ($38), or a stone-age tissue dispenser named Rudy ($25). They'll be glad to work with you to find something that fits your friend's taste and your budget.