Ed and Laurie Moerke were raising their family in the early 1980s, living and working in Adna, Washington. Adna is a rural community and as is the case in many rural communities, neighbors pitch in and help each other when needed. The Moerkes were no exception and never hesitated to lend a hand to friends and neighbors in need, who would no doubt return the favor. After a time, however, Ed began to notice a pattern. Many of the projects he was called to help with involved a private or shared well. And, when issues arose with a well or pump, local help was hard to find.
Ed recognized a void in the community and aimed to fill it, purchasing an old drilling rig for cheap. From this humble start, Moerke and Sons Pump and Drilling was born. While he started small, Ed saw a future in the business and soon had his sons, John and Luke, learning the ropes. The company showed steady growth as they added family and close friends to the payroll. "The company has always been family, customers and community first," explains General Manager Sean Brattain. "It was a founding principal for Ed and Laurie and it remains at the top of the priority list today."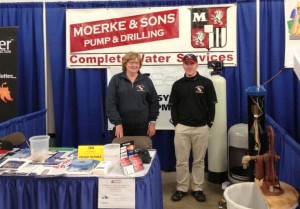 Now located, after several moves, on NW State Avenue in Chehalis, Moerke and Sons employs 13 full time staff and serves customers throughout Thurston and Lewis counties and beyond. Drilling wells was the foundation service of the company and remains their number one job, but it became clear many years ago that adding pump services was good match. "It's just natural that we got into pumps," says Brattain. "When you get a well, you are going to need a pump, too." And, as is often the case, well water in regions near the Puget Sound often need filtration and softeners to provide safe service to a home. To meet this need, Moerke and Sons offers in-house water quality testing along with filter system installation.
Moerke and Sons isn't just focused on installation. The service and repair team are top notch, handling nearly any situation. For those with a bit of know-how, the parts department stocks fittings and supplies for water systems and irrigation. And when disaster strikes, Moerke's 24/7 emergency services have often saved the day.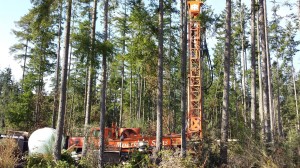 In 1999, Moerke and Sons lost their founder when Ed Moerke died of a sudden heart attack. Without Ed's guidance, many thought the company would quietly fold. However, Laurie knew what Ed had built must be sustained in his memory. While it wasn't always easy, the tight-knit team of family and neighbors dug in and have built the company to the large operation seen today.
While he holds the reins today, Sean Brattain wasn't always part of the company. Prior to joining Moerke and Sons in 2003 he worked at Les Schwab, on track to become a manager in the national organization. "They asked me to join [Moerke and Sons] and it was really a risk, moving from the stability of a big corporation to a smaller, locally owned business," Brattain admits.
However, the flexible schedule and family values were too enticing. "Working here has given me the opportunity to be with my kids more. I can coach their teams and be home for dinner. That means a lot to me and to the company, too," he says.
In 2013, Brattain became general manager and feels honored to fill a role Ed established years ago. A self-proclaimed perfectionist, Brattain sees his job as manager and mentor. "I really try and help my guys learn from their mistakes and try to help them become better at their job through guiding them and teaching them what I know from when I was in their shoes," he explains.
The Moerke and Sons family feel extends beyond the walls of their big, sunny office. Their presence throughout the community is well respected. "We really try to give back to the community as much as possible," shares Brattain. It's not uncommon to see the Moerke and Sons logo at sporting events on as sponsors on a team's jerseys.
During fair season, Brattain's office is filled with 4-H projects brought in by local 4-H participants. Brittain requires an in-person presentation before agreeing to sponsor the students. "We want to see the hard work the kids have done and want them to present what they've learned," he says. Moerke and Sons has sponsored the Pe Ell School Robotics Club and donated 200 feet of a new well for the Mossyrock Fire Department.
Ed Moerke's original rig from 35 years ago has long since been retired but one thing hasn't changed a bit: Moerke and Sons commitment to a family-first atmosphere where providing outstanding service and community support is just business as usual.
Moerke and Sons Pump and Drilling
1162 NW State Avenue, Chehalis
360-748-3805
Sponsored