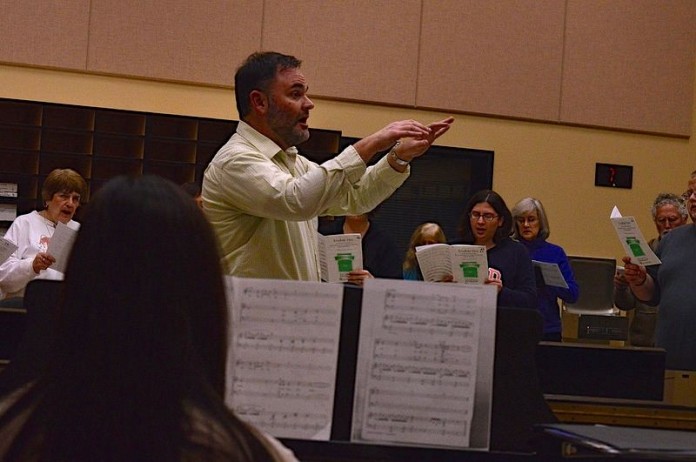 They're not starting from scratch, but with two new Adjunct Professors and a brand new band program, South Puget Sound Community College's music department has become a bit of a draw for the school. SPSCC has rehearsal and performance facilities that rival those at many bachelor degree programs. Plus, full-time students taking courses for credit, mix with community members who are involved through continuing and community education programs, creating a diverse pool of talent.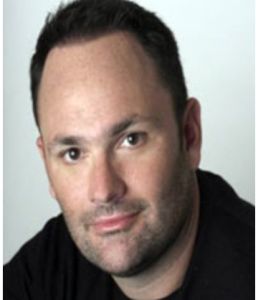 "My only chorus this term has 44 singers, seven of whom are 'for-credit' students with the remainder being comprised of community members. The age range is from late teens to senior citizens with a nice mix of most ages and abilities," says Adjunct Professor John Lehrack who took over as the choir director at SPSCC this fall.
Chip Schooler, who serves as the head of the Music Department explains that there has been a steady ground swell of interest for community based music programs. "SPSCC is serving a broad range of musical needs from high school Running Start students to regularly matriculated college students and adult community members seeking beginning and intermediate training to highly capable and trained adult musicians looking for ensembles to participate in."
According to Lehrack, while the community-based program is wonderful, he definitely wants to offer more options for full-time students. "I think the biggest benefit of a combined class at this time is that it allows the chorus to flourish. With so few regular SPSCC students enrolled, it would be difficult to have a choral program just for them. The community members help give them this chance. On the flip side, the college students bring much diversity to the chorus along with a generally strong skill-set."
He goes on to explain that there is one drawback for pulling in more full-time students. The weekly evening class is held at a time when most college students don't want to be in school. He hopes to remedy that with a more select ensemble that meets during the day. "The re-introduction of the Chamber Singers next term will give day students the opportunity for another class and hopefully expand the program." This new group will also be available to community members, but he hopes the twice-weekly daytime course will attract more college students.
"(The Chamber Singers) will be much more musically intimate in nature: fewer students, more time to work on vocal issues, more time honing the music and with a focus on a cappella works, mostly by classical composers," says Lehrack. "In the long term, I hope to add other choral groups that meet during the day." In addition to his choir offerings, next quarter Lehrack will be teaching Applied Voice for those students wanting more individualized instruction.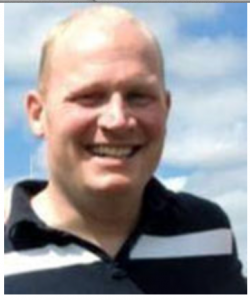 Also new to the SPSCC Music Faculty this year is Adjunct Professor Scott Pierson who directs the newly formed South Puget Sound College Band. Pierson is currently the full-time Director of Bands at Yelm High School and is a candidate for the Doctor of Musical Arts degree in Wind Conducting at the University of Wisconsin-Madison.
For a brand new program, the band is already showing good growth says Schooler. "(Band) isn't as selective yet," but that is the ultimate goal. Like the South Puget Sound Community College Choir, the band meets for about two and half hours each week on Wednesday nights, and most of the members come from the community at large.
Lehrack and Pierson both bring a wealth of experience and community involvement to their positions.
Lehrack's undergraduate degree in Music Education was earned at the State University of New York at Potsdam, and his Master or Arts in Music Education is from the University of Hawaii at Manoa. He recently moved here from Hawaii and is also serving as the interim music director of St. Alban's Episcopal Church in Edmonds and has been involved with several musical theatre productions in the greater Seattle area.
Pierson earned both a Bachelor of Music and Master of Music Education degrees at the Oberlin College Conservatory of Music and pursued further graduate conducting studies at the University of Missouri-Kansas City. He has served as the Commander and Bandmaster of the 133d Army Band of the Washington Army National Guard since 2006. Prior to that appointment he served as a clarinetist in the United States Marine Corps and United States Air Force from 1994 – 2006.
Lehrack and Pierson will be helping build upon the foundation established by Schooler, who directs the college orchestra, and James Schneider, who directs the jazz ensemble. According to Schooler, both of these programs have shown steady growth over the past few years and each has had to become selective for participation. There are already two levels of orchestra instruction at the college.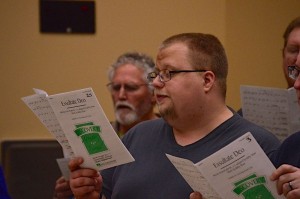 "I would like to see music as a strong major for students at the school with the opportunity to study conducting, aural training, composing and a wider variety of topics related to music history, as well as more opportunity for private study on instruments and ensemble performance," says Lehrack.
It seems that the SPSCC Music Department is well on its way toward achieving those goals.
Upcoming Concerts:
On Friday, Dec. 4, the SPSCC Community Choir and SPSCC Concert Band will team up for a holiday concert. The concert will begin at 7:30 p.m. and will feature a variety of holiday favorites. The concert will be on the Kenneth J. Minnaert Center for the Arts Mainstage.
Tickets are $10 general admission and free to all SPSCC students, staff and faculty with ID. Purchase tickets here.
The next day, Saturday, Dec. 5, the South Puget Sound College Orchestra offers two performances; one at 3 p.m. and another at 7:30 p.m. for its performances of holiday classics. Those concerts will also be on the Minnaert Center Mainstage. The $10 general admission tickets can be purchased here. SPSCC students, faculty and staff are free with a valid ID.
Tickets for both nights are available online at OlyTix.org, or by visiting or calling the Washington Center for the Performing Arts Box Office at (360) 753-8586. More information is available online at spscc.edu/entertainment, or at (360) 596-5411.