For over 10 years, Iron Rabbit Restaurant and Bar has been serving great food and drinks on Olympia's west side to loyal regulars and new guests alike. Fresh, inventive menu items make Iron Rabbit a regular stop for many diners, and seasonal food and drink specials keep them coming back for more.
After celebrating Iron Rabbit's 10th birthday with a remodel that included new lighting, interior and exterior paint and an expanded kitchen, owner Christian Skillings and his team have rolled out some new food and drink flavors to celebrate fall.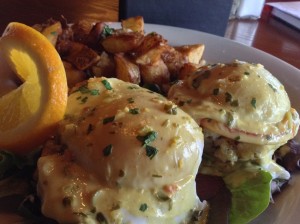 The brunch menu features the Victorious Egg Sandwich, with prosciutto, spinach, a fried egg, pepper jack cheese and chipotle sour cream on an English muffin, as well as my husband's favorite, the Blackened Seafood Omelet which is loaded with blackened spot prawns, wild sockeye salmon and Alaskan true cod. On a cold, wet morning, try the hearty Steak and Eggs, which includes Painted Hills top sirloin steak and two Stiebrs Farms natural, cage-free eggs prepared any way you'd like.
New at lunch is the Falafel Pita, featuring house-made falafel, spring greens, tomato, cucumber, red onion, hummus and a side of creamy tzatziki sauce. And you can never go wrong with any one of Iron Rabbit's delicious burgers. Stewart Johnston, an Iron Rabbit returning guest loves the Iron Burger that pairs Painted Hills grass fed beef and Tillamook white cheddar cheese.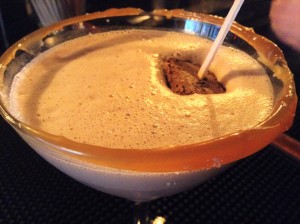 New seasonal cocktail offerings include the Rabbit Reviver, a delicious blend of Uncle Val's Botanical Gin, Fruitlab Orange Organic Liqueur, lime juice and a few other select ingredients served in a chilled martini glass. Other unique cocktail offerings include the Decadent Mocha Martini and an Olympia Manhattan. Beer drinkers can tip a pint of Fa La La La La Double Mountain Winter Ale to get in the holiday spirit. Also featured in both the restaurant and the bar is locally produced Lattin's Apple Cider.
Iron Rabbit dinner appetizers include my family's favorite Pot 'O Fire, with house-made potato chips topped with crumbled gorgonzola and fire sauce, and the Trio with Crostini. Lemon chevre, roasted red pepper hummus and castelveltrano olive tapenade are served along with crispy, golden crostini slices. One of the new fall entrees featured is Marsala Gnocchi, with pillowy, hand-rolled potato dumplings in a creamy marsala sauce with Portobello mushrooms and pecorino romano cheese. General Manager Crystal Kampling recommends the Coconut Thai Curry, loaded with chickpeas, spinach, red quinoa and jasmine rice.
No matter how good your dinner is, make sure to save room for one of the delicious house made desserts. The flavorful Bread Pudding drizzled with whiskey caramel sauce and fresh whipped cream is unforgettable. Seasonal Apple Ginger Cobbler has all of the flavors you expect, finished with a big scoop of vanilla ice cream on top, slowly melting into the cobbler.
The Rabbit Rewards program offers diners points for every dollar spent. Every 200 points earns a $10 gift certificate. Diners earn double points on Tuesdays, and all Rabbit Rewards members receive exclusive email offers and birthday rewards. No membership card is necessary – simply sign up online or in the restaurant and then provide your phone number to the server when you pay your bill and your points will be applied to your account.
In December, Iron Rabbit's traditional Red Envelopes are back. You will receive one sealed red envelope that you will bring back in January. No peeking! Keep the envelope sealed and open together with your server to see what you have won.
Whether you are an Iron Rabbit regular or a soon-to-be first time diner, you'll surely find satisfying fall flavors in the food and drinks at Iron Rabbit. Stop by for a cocktail or dinner with friends, a family brunch or a weekday lunch and pick up a Red Envelope so you can treat yourself in the New Year.
Iron Rabbit Restaurant and Bar
2103 Harrison Ave. NW, Olympia
(360) 956-3661
Monday – Thursday from 11:00 a.m. to 10:00 p.m.
Friday  from 11:00 a.m. to 11:00 p.m.
Saturday from 9:00 a.m. to 11:00 p.m.
Sunday from 9:00 a.m. to 9:00 p.m.
Hoppy Hour in the bar 3:30 to 5:30 p.m. and 9:00 p.m. until closing