By Grant Clark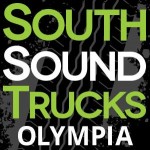 It is race night and Lyle Sexton can't walk 20 yards without his phone going off.
The title under Sexton's name on his business card reads "Advertising Consultant." But like many other employees at South Sound Speedway, Sexton wears plenty of hats; and it appears his newest occupational title is that of weatherman.
"It's supposed to pass," said Sexton into the phone almost immediately after he answered it. "Maybe 30 minutes."
The conversation is brief. This isn't the first, nor would it be the last time he assures someone the weather will improve.
A light rain has started to sprinkle over the Rochester short track. It's early July and South Sound Speedway has hit its mid-season mark.
The less-than-desirable weather, after weeks of temperatures hovering around the high 80s to low 90s, has done little to slow down the scramble in the pit areas. Legends, 5/8-scale fiberglass versions of famed NASCAR modifieds, zip from the pits to the track as last minute adjustments are made prior to the evening's races.
It's a hub of activity filled with atmosphere, and it's been this way for nearly five decades.
It's the 44th year of racing at South Sound Speedway with the last 20 under the ownership of Butch Behn.
"You see that old building," Behn says pointing to the middle portion of a grandstand which houses race officials, scorers, sponsors and concessions. "When I bought this place all we had was that old building and the race track. Everything else we've put in."
Behn purchased the track and the 40 acres it was built on in 1995 and over the last two decades has transformed it considerably. It now features a racing parts and auto body business, a recently re-paved track, VIP suite rentals, a beer garden and a sizeable parking lot that also doubles as a camping ground site.
His wife Maureen and son Nick are among the approximately 40 employees who work the racing season, which runs from early April through late September.
"Butch came to the races in 1994 and liked the place so much he bought it the next year," Sexton said.
At the time of the purchase, Behn also owned and operated a track in Canada, and was looking to expand. Two tracks were in the running before one aspect tipped the scales heavily in favor of the South Sound Speedway.
"I didn't have the $8 million the other place wanted," Behn chuckled. "So, I bought this one. We made the right decision. Originally, we tried to run both tracks. It was just too much work and we ended up selling the one in Canada in 1997. We moved down here to focus on this one and have been here ever since."
Billed as being the fastest three-eighths mile track on the West Coast, South Sound Speedway's asphalt course is overlooked by a grandstand that can host 5,000 spectators with each seat providing full view of the on-track action.
"We always say, we will sell you the whole seat," Sexton said, "but you're only going to need the edge of it."
The racing season draws drivers from Washington, Oregon, Montana, California, Idaho and Western Canada, and features eight divisions with Super Late Models being the most advanced class. Additional divisions include Late Models, Mini Stocks, Hobby Stocks, Bumblebees, Legends, Baby Grands and Stinger 8's.
Highlighting the race schedule is the Super Late Model Miller 200 on August 8 and the Dennis Smitham Memorial 100 on September 6. Specialty races, such as Big Rigs on July 18, also appear throughout the season.
"I think that's the race people enjoy the most," said Nick Behn about the 1,000-horsepowered diesel Big Rigs. "There's not a lot of room on a three-eighths track for normal cars. These things weigh 10,000 pounds and race three wide. It's quite a sight."
Sexton, who has been with the track since 1980, followed up his driving days by moving over to the promotional side of operations with a top priority of creating new race fans, something, he states, the track has been successful at the last few years.
"We don't have an ATM here. A couple weeks ago we had a family show up who didn't know that," Sexton said. "So, we let them in for free. The thinking is if you give us a try you'll become a fan. The next weekend I was walking around and they were back watching the races. They came back. They had such a great time we turned them into fans. We see that a lot. Come once and you're hooked."
Following the races, the track opens up the pit area to the fans, allowing free access where they can meet and take pictures with the drivers and their cars.
"It's the way it has to be," Behn said. "The two most important things here are our fans and the drivers. We want interaction between the two."
Racing takes place every Saturday through Sept. 26 with gates opening at 5:30 p.m. Admission is $22 for adult, $20 for active military, seniors 62+ and teens 13-17, and $7 for children 6-12.
The South Sound Speedway is located at 3730 – 183rd Ave SW in Rochester.  For driving directions, click here.